EWin started out making white-label office furniture for other brands. In 2016 they launched a gaming chair division. In recent years, they have geared their chairs to big and tall computer users. The Flash Series XL is their biggest gaming chair. In fact, it's one of the largest gaming chairs in the world. This E-Win Flash XL chair review looks at a monster of a chair that supports up to 550 pounds.
If Andre the Giant needed a gaming chair, the E-Win Flash XL would be his first pick. This juggernaut has a super-wide seat and reinforced parts. It also ranks as the biggest, most luxurious, and most expensive E-Win gaming chair.
Its weight capacity is even strong enough to support a fully-grown silverback gorilla. Beyond the massive size, Flash XL chairs also come with a full suite of adjustable features. In fact, head-to-head, Flash XL features match up to the very best pro esports chairs in the world.
Where to buy E-Win chairs
E-Win sells their chairs on Amazon and also directly from their website. Prices are usually the same in both places. But they offer two incentives to buy directly from their website. First, if you register for an account on their site before you buy, you get $20 off any chair. Second, they offer free shipping for orders in the contiguous United States and EU.
Another incentive to buy direct is a wider selection. There are several Flash XL models to choose from on the E-Win site, but only a few available on Amazon. Further in this review, we'll provide links to buy direct or from Amazon where possible.
The FLash XL is also available on Amazon for Price not available.
E-Win Flash XL chair review
This E-Win Flash XL review begins by looking at Flash XL chair specs. Then we compare the Flash XL chair to competing big and tall models. That will provide a clear idea of the value the Flash XL offers compared to the asking price.
Sizing
There are a few standout aspects of Flash XL chairs. One is the massive size. Check out the numbers compared to our other top-rated big and tall gaming chairs. The Flash XL dwarfs the next biggest chair, standing six inches taller than the Anda Dark Knight.
[table id=42 responsive="scroll" /]
If you're looking for a super-sized chair, there are none bigger than the E-Win Flash XL. This chair will fit Andre the Giant, Shaquille O'Neal, Akebono, and even Chewbacca.
Features
Flash XL chairs have outstanding pro features. For instance, you can tilt the backrest forward to 85°. That gives you the benefit of back support even when you lean forward in the chair. Secretlab and Maxnomic are the only other chairs with this feature.
In fact, Flash XL chairs are the only we know of that match all features of Secretlab and Maxnomic chairs.
Functionality: 4D adjustable armrests; recline from to 85°-155°; multifunction tilt-lock.
Comfort: ultra-dense cold foam padding; neck and lumbar pillows.
Cover material: premium gold PU leather (stain resistant).
Warranty: two years on parts, ten years on the steel frame.
There aren't any chairs out there as large as Flash XL chairs. The only other brands that match the features of these chairs is Secretlab and Maxnomic. As those are the top two brands in the industry, that puts the Flash XL in elite company.
Warranty
All E-Win chairs come with a two-year warranty on parts and a 10-year warranty on the frame. This is the same as what Maxnomic offers. But it falls behind the five-year warranties offered by Secretlab and AKRacing.
E-Win Flash Xl style options
At present, four models of Flash XL chairs are available. Here"s a summary:
B Series: black with colored trim
The B-Series model comes in black PU leather with blue, red, or grey leather trim. This is a good choice for those who prefer classic racing style gaming chairs.
C Series: red or blue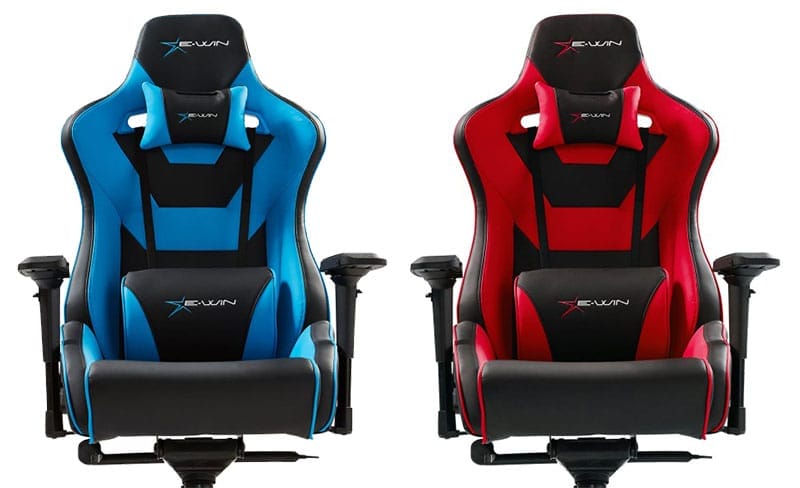 This version is the reverse of the B-Series, with red or blue dominant colors and black trim. C-Series chairs are a good choice for those who prefer a brighter, less conservative look.
H Series: All Black
The all-black H-Series is the most conservative Flash XL chair. It's also the only version that comes with a flat seat instead of ridged edges. That means users can enjoy even more legroom than with other Flash XL models.
I Series: golden leather
The striking golden-colored PU leather is our favorite model. It's an attractive chair with a luxurious look ideal for big-bodied executives.
Flash XL chair advice
This section sheds more light on the FLash XL chair to help users make an informed buying decision.
Who should buy an E-Win Flash XL?
First, the most obvious group who will enjoy these chairs are big and tall users. That said, there are several models on the market that cost half what the Flash XL costs. The reason to pay more for a Flash XL is for the pro-quality features.
In the gaming industry, chairs of this quality are worth it for pro players. They're also ideal for big & tall content creators and others who sit for long periods.
In the office world, most professionals also spend their days sitting in front of a computer. But that doesn't mean everyone in an office needs to buy a Flash XL. The point of a pro computing chair is to boost performance when sitting at a computer. That's the reason people pay extra for the features and quality.
Thus, the ideal person to buy a Flash XL chair would be:
Extra tall, wide or heavy.
Sitting 8-10 hours per day at a computer for their job.
Driven, passionate and hungry to improve.
There's no point buying a chair like the Flash XL unless you're driven to excel. People just going through the motions have little need for a performance-boosting chair.
But if you're driven and hungry like the top esports pros are, a Flash XL is a sound investment. Using one will support your back, improve your posture, and help to strengthen your core muscles. As a result, you can expect many benefits including a brighter mood, better concentration, and improved output at work.
Looking for a performance edge? The Flash Xl chair is a good pick for heavyweights. Consider it an investment to help you sit longer, work smarter, and be more productive.
Flash XL alternatives
Below are two of the strongest big and tall competitors to the Flash XL:
Secretlab Titan XL
The Secretlab Titan has been the top-rated chair on ChairsFX for two years running. The Titan XL is a super-sized version of that chair. As such, the Titan XL is our top-rated heavyweight model. Compared to the Flash XL, the Titan XL has similar features. Those include 4D armrests, multi-function tilt-lock, and backrest incline to 85°.
The Titan XL is a bit more expensive than Flash XL chairs. However, it comes with a longer, warranty. Another plus for the Titan is that it uses an internal lumbar support system instead of a pillow. That gives more precise back support. Turn a knob on the side of the chair until you reach your preferred lumbar depth. Then set, forget, and enjoy back support customized for your own needs.
Detailed Secretlab Titan XL review
Anda Seat Kaiser Series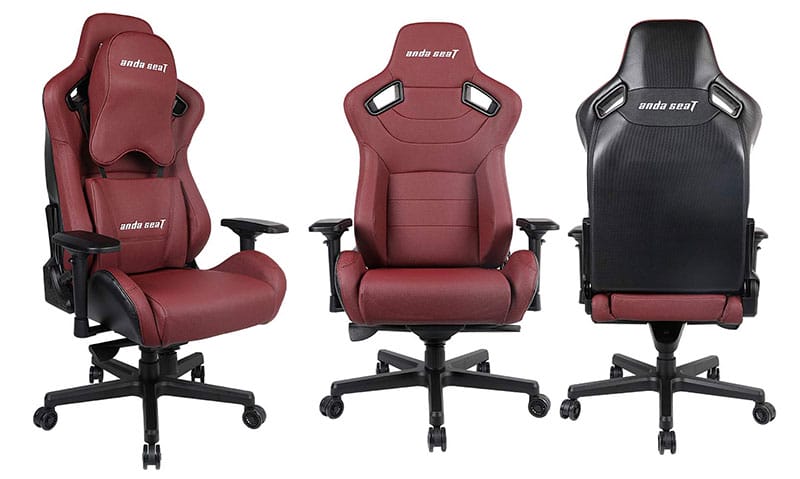 The Kaiser Series is Anda Seat's most expensive and luxurious gaming chair. It's a striking wine-colored model with extra-large cushions and super-heavyweight support. It matches up to the Flash XL's features (minus the backrest incline to 85°).
Detailed Anda Seat Kaiser Series review
Other high-end big & tall gaming chairs
There are several other quality gaming chairs on the market that support big and tall users. Check out our detailed review of the best big and tall gaming chairs:
Conclusion
The Flash XL gaming chair is a very unique product. No other chair offers such rich features — combined with such a massive size. Extra-large users looking for the best back support will struggle to find a better chair.
The point of this chair is to improve your potency at the computer. Sitting in a Flash XL while gaming or working at a computer will improve your posture and wellness. With your posture aligned and your body comfortable, great things can happen.
Are you big-bodied? Need a comfortable computing chair? Check out E-Win Flash XL chairs. Enjoy a spacious seat, rich features and super-luxurious support.
The FLash XL is also available on Amazon for Price not available.
Related