Language evolves as products do. In 2018, the term 'gaming chair' described any type of seating for video game players. At ChairsFX, we've used the term to describe racing-style ergonomic desk chairs. Today, a 'gaming chair' doesn't only mean a seat for playing video games. Rather, it describes any type of ergonomic chair that supports PC desk work or gaming. There are social and commercial reasons behind this shift. This 2021 Q2 Ergonomic Industry Report explains.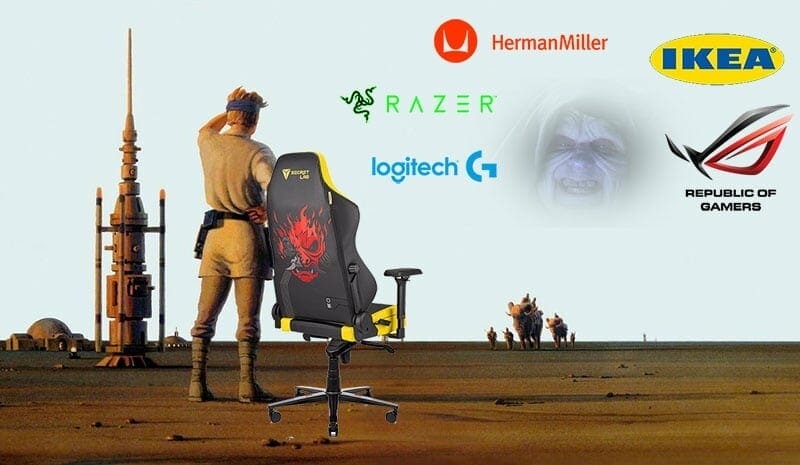 When millions locked down at home, consumer demand for ergonomic seating skyrocketed. At the same time, business demand for office chairs crumbled. That sparked massive changes in the multi-billion-dollar office seating industry. As the world re-opens, those changes will likely yield positive effects.
Ergonomic seating goes mainstream
The 21st century began on January 1, 2001. Over the past 20 years, ergonomic seating has grown from a niche industry to a red-hot mainstream one.
I bought my first gaming chair in 2017. Back then, there wasn't much information online about gaming chairs that wasn't negative. Many articles focused on the racing-style car seat as a gimmick meant to 'fool' gamers.
History has proven that theory wrong. Millions of experienced gaming chair users know better. The 'racing style' aspect of gaming chairs is aesthetic, not functional. The actual value of a gaming chair is the ergonomic support it provides.
History of ergonomic seating: 2001-2021
Once, ergonomic seating was only for rich people. The gaming chair industry deserves credit for bringing ergonomic awareness to the masses. First, with simple, affordable products that meet ergonomic guidelines. for healthy sitting. Second, by perfecting an online B2C sales model that taught bigger brands how to transition.
Big brands enter the B2C seating market
Before the pandemic, the gaming chair industry's grip on the consumer ergonomic market went unchallenged. When lockdowns dried up B2B office furniture sales, multi-billion-dollar companies entered the arena.
To date, IKEA (the world's largest furniture retailer) is the most powerful entrant. Its revenue in 2020 totaled $28.8 billion dollars (around $2 billion net profit).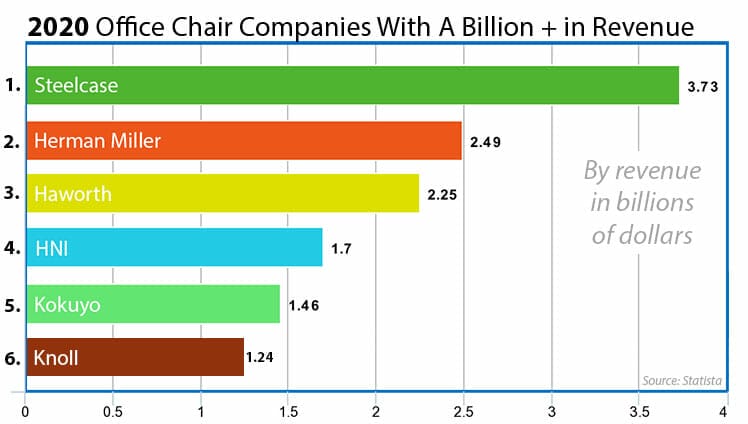 Other power players entering the arena include some of the world's top office furniture companies.
IKEA
In mid-2020, IKEA announced a partnership with ASUS Republic of Gamers (ROG). The goal was to release a gaming furniture collection in China by Feb. 2021. In October 2021, it's planned for a global release.
The February release went as planned. IKEA's new gaming furniture is now available for sale in China.
The collection includes chairs, desks, and accessories. The chairs aren't anything special.
Even so, IKEA has 446 stores in 52 countries. When this collection releases globally, it will surely sell like hotcakes.
Herman Miller
The second-largest office furniture company in the world earned $2.49 billion in 2020. When the lockdown struck, the company reacted swiftly. In April 2020, they slashed salaries by 10% company-wide.
Herman Miller CEO Andi Owen noted the company had huge cash reserves to ride out the slump. "Just as we entered this crisis in a strong financial position, we are taking immediate actions to reduce expenses and manage liquidity…"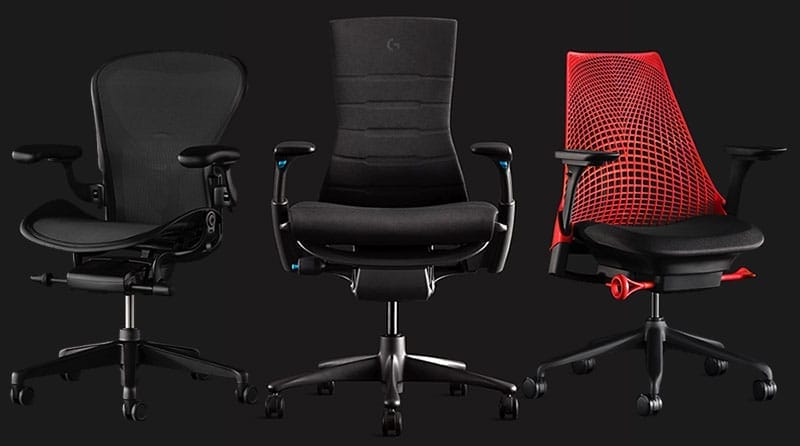 In mid-2020, Herman Miller built a slick e-commerce portal into the HermanMiller.com website. In autumn 2020, the company released the Herman Miller Gaming Collection.
It contains classic Herman Miller products with aesthetic tweaks appealing to gamers. The release has been well-received. Today, many of the world's top streamers use Herman Miller Gaming Chairs.
To ramp up the hype, Herman Miller is also flexing with high-level partnerships. Recently, Herman Miller partnered with Timthetatman. He has 6.4 million Twitch followers, 2.4 million Twitter followers, and 3.9 million Youtube subscribers.
HNI Corporation (Respawn Gaming)
HNI is the fourth-largest office chair company in the world. In 2020, it earned $1.95 billion, with $41.9 million in profits.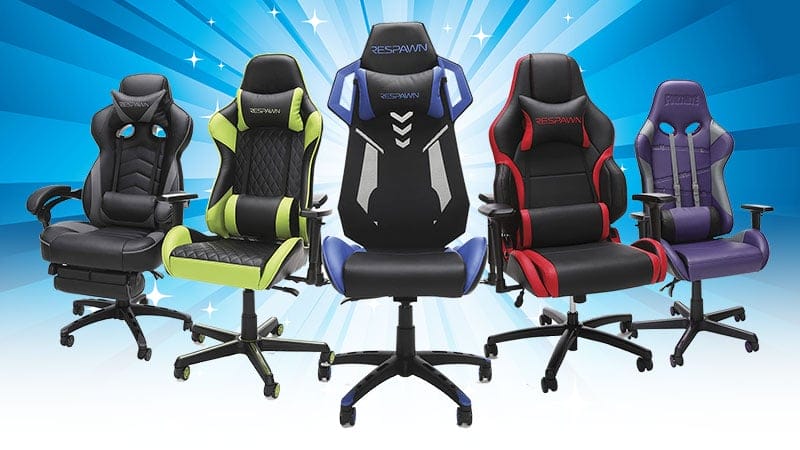 The company owns Respawn Gaming. The best Respawn gaming chairs are all affordable models with mid-range features. Sales are booming.
In a Q4 2020 conference call, CEO Jeffrey D. Lorenger laid it clear:
We continue to drive growth greatly above market rates with our line of RESPAWN branded ergonomic gaming chairs. These products… are expected to continue to fuel our e-commerce business in 2021 and beyond.
Ergonomic trends since 2020
Here's a look at some defining trends since the gaming char industry peaked in 2020.
Secretlab is the gaming chair industry leader
Secretlab is the gaming chair industry leader. There are a few reasons behind the company's success. First, Secretlab makes the best premium gaming chairs on the market. On paper, Secretlab chair features and design options are unparalleled. In practice, Secretlab chairs are comfortable, attractive, and luxurious.
Second, the company's after-care support is superb. Secretlab offers a 5-year warranty and takes pride in honoring it.
Third, in 2020, Secretlab worked some logistics magic. While many businesses shrank during the lockdowns, Secretlab aggressively expanded. In 2020, the company opened up distribution centers in Australia, Japan, New Zealand, all of Europe, Malaysia, and more.
In most major parts of the world, consumers can now buy a Secretlab gaming chair online. That includes a top-quality product delivered to your door, with reliable support, just in case.
DXRacer powers gaming chair evolution
Most gaming chairs on the market are copies of other designs. In fact, DXRacer's 2006 gaming chair remains the blueprint for many chair brands in 2021.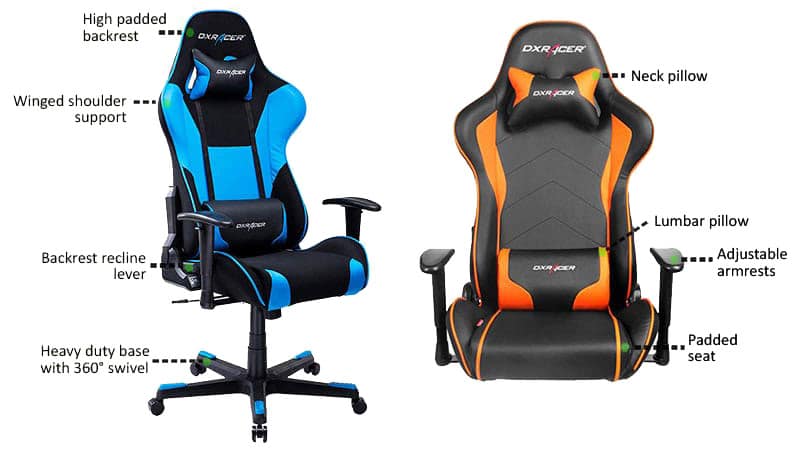 As another example, Secretlab's popular Titan chair is one of the most imitated. These days, there are tons of integrated lumbar gaming chairs. Most are straight-up Secretlab Titan clones with different skins. Boring!
Leave it to DXRacer to spark a fresh round of evolution. Earlier this year, the company released some groundbreaking products.
The first is a Modular Gaming Chair concept introduced with the DXRacer Master. At a glance, it also looks like a boring Secretlab Titan knockoff.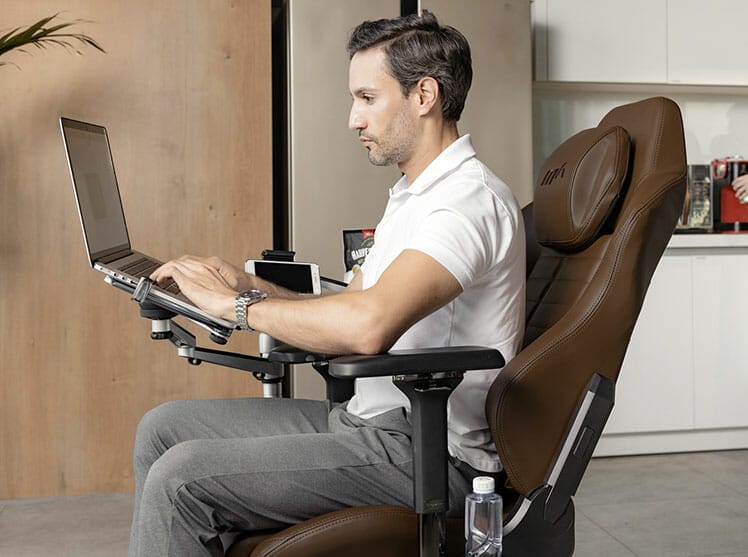 But a closer look reveals a groundbreaking modular concept. You can attach a footrest or laptop stand module to your chair.
You can also swap out the padded faux leather seat for a mesh one. To learn more about the new modular options, check this article:
Emerging gaming office hybrid chairs
The DXRacer modular gaming chair concept wasn't the only brilliant innovation. The company has also developed the world's first hybrid gaming chair.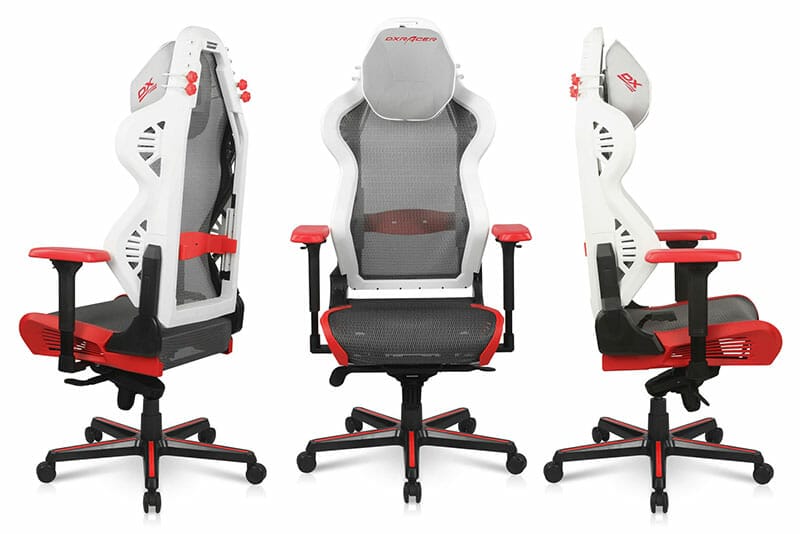 The DXRacer Air has the shape and functionality of a premium gaming chair. But instead of padded upholstery, this model uses office chair-style full mesh.
But that's not all. The DXRacer Air is also fully modular. You can add a laptop stand, footrest, or cup holder. Leather and fabric skins are also available.
This model is in pre-release. It's slated for launch in July, 2021. Check this DXRAcer Air Gaming Chair review to learn more.
A second recently-released hybrid is a pair of Sidiz T80 superhero chairs. These are classic ergonomic office chairs with flashy styling that appeals to gamers.
Are these gaming chairs or office chairs? They are technically office chairs but also qualify as gaming chairs.
That explains why our breakdown of ergonomic chair types in 2021 works out like this:
Ergonomic office chairs
Ergonomic PC gaming chairs
Hybrids (part gaming chair, part office chair)
Ergonomic industry leaders 2021
Many 'market experts' publish ergonomic seating industry reports online. Most contain sneak previews of information you need to pay thousands of dollars to access. It's a scam.
Many of the big office corporations publish annual earning reports. Most gaming chair companies do not. Thus, it's impossible to know how each gaming chair company is performing.
Even so, our team at ChairsFX has enough data to make roughly informed guesses. These picks using internal website traffic, product sales data, social media trends, and Google search trends.
Herman Miller: they make the best ergonomic chairs in the world. They also have the deepest pockets and lots of mainstream media clout.
Secretlab: they make quality chairs, partner with many big names, and serve many global markets. These qualities should keep Secretlab as the gaming chair industry leader for a while.
HNI Corp. Respawn Gaming: Respawn gaming chairs are far from the best in the world. Even so, they're insanely popular, thanks to a robust marketing campaign. Respawn partners with a growing army of up-and-coming streamers. Each post on the Respawn Twitter account gets flooded with replies from devotees.
GTRacing: this company makes cheaper clones of more popular chairs. Like Secretlab, the company put lots of effort into building a smooth global delivery system. Based on its tight logistics and affordable products, GTRacing has thrived.
DXRacer: as gaming chair design innovation sputtered, DXRacer answered the call. Its modular and hybrid gaming chair concepts will further blur gaming chair/ office chair definitions.
Other brands to watch out for in the coming months include Sidiz and Anda Seat. Both have cool surprises incoming.
Conclusion
By the end of 2021, we predict a further blurring of 'gaming chair' and 'office chair' definitions. We also foresee a flood of new hybrid chairs designed to appeal to both gamers and office workers.
The huge variety of choices might intimidate first-time buyers. If so, stick with ergonomic fundamentals. To qualify as 'ergonomic', a chair needs three components. Adjustable lumbar and armrests, plus a reclining backrest are essential.
For the budget-minded, the best ergonomic office chairs under $300 do the job. They're comfortable, affordable, and they support the back. On the downside, they're not very durable.
Paying more will get you more adjustability, a longer warranty, and a higher quality of upholstery.
To keep up-to-date on the latest ergonomic trends, check out our news section: