Behold the original gaming chair. DXRacer first released this model in 2006, helping to kick off the global esports boom. Fifteen years later, the Formula Series (aka F-Series) remains an all-time favorite. It's basic, comfortable, and impressively durable. This DXRacer Formula Series review summarizes the modern-day versions in DXRacer's 2021 collection.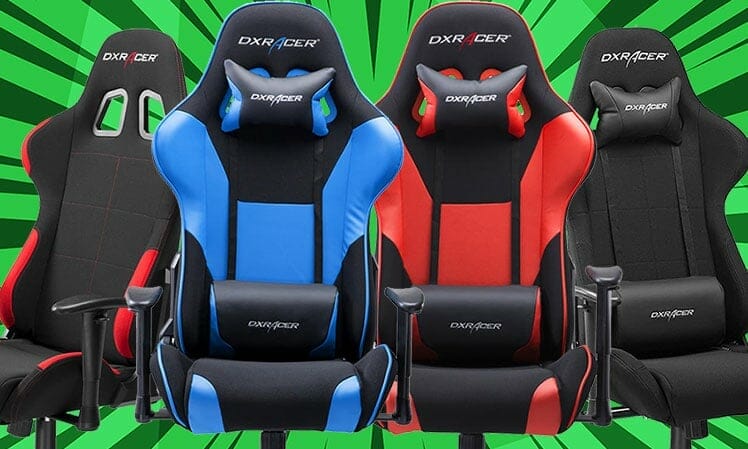 As reported in our DXRacer brand review, the company streamlined its 2021 collection. Many racing-style DXRacer gaming chairs (Drifting, Iron, Boss, Valkyrie Series, etc) were phased out.
Many Formula Series gaming chairs were also discontinued. Only two F-Series chairs remain in the 2021 collection.
ChairsFX was founded on a DXRacer Formula Series FD101. Using that chair changed my life. It helped me to improve my posture, lose weight, and improve my productivity at work. Those results were the inspiration for this website.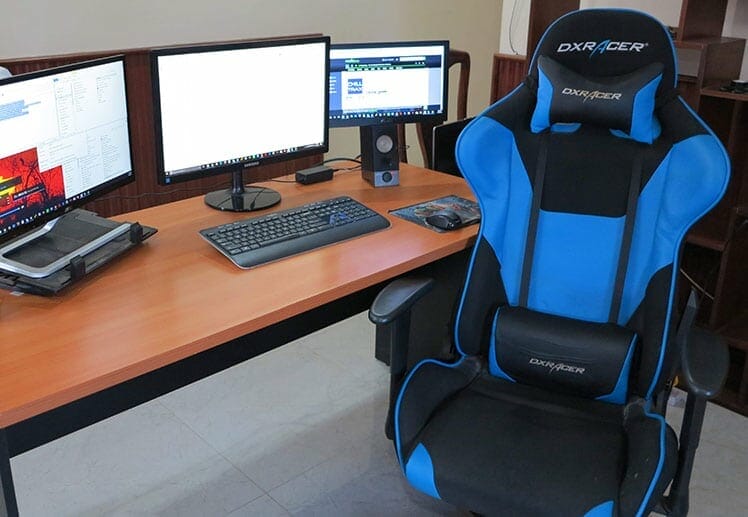 By modern standards, Formula Series racing-style designs look dated. The dimensions are small, and the features quite basic. Even so, they're very comfortable, extremely comfortable, and well worth looking into.
DXracer Formula Series overview
This section covers the features, dimensions, and durability of F-Series gaming chairs.
Combo leather and fabric upholstery
The DXRacer FD101 comes in two versions. The original has a breathable mesh fabric base, with PU leather accents on the backrest and seat. It's a brilliant model that gives you the best of both worlds.
On one hand, you get the cool, soft, breathability benefits of breathable mesh. On the other, you get flashy, colorful PU leather accents that give the chair more character.
In general, PU leather looks flashier, while fabric is softer, more breathable, and more durable. Most who start with fabric chairs become devotees for life.
For hard-core fabric fans, the F-Series collection also includes two all-fabric editions.
F-Series specs
On paper, the Formula Series has mediocre functionality. In fact, several of our top-rated cheap chairs under $200 have better ergonomic features.
These days, standard features under $200 include 2D (or better) adjustable armrests and deep recline to 180 degrees. F-Series chairs offer neither.
Beyond ergonomic features, F-Series chairs pull ahead of cheaper models. First, F-Series chairs are more breathable. They also have a better build quality, a longer warranty, and superior real-world durability.
Functionality: 1D armrests; recline from 90 to 135 degrees; standard tilt (rocking and tilt tension).
Support: cold-cured foam padding; height-adjustable neck and lumbar support pillows.
Comfort: high-density foam padding; neck and lumbar support cushions.
Upholstery: mesh fabric upholstery with colored PU leather trim.
Foundation: steel frame; Class 4 gas lift; 2″ (50.8 mm) PU casters.
These are small-slim-fititng chairs. The recommended height rating (5'3″-5'8″; 160-172 cm; 63-67″) fits young people aged 12-18 (using Wisconsin averages).
Seat width x depth: 15.1″ (W, excluding seat edges) x 18″ (D)
Backrest width x height: 22.5″(W) x 33 (H)
Floor to seat range: 16-20″
Size rating: 5'3″ to 5'8″; 200-pound weight capacity
F-Series warranty and durability
All DXRacer gaming chairs include a 2-year warranty on parts, plus a 10-year steel frame warranty. If anything goes wrong with your chair during the warranty, making a claim is easy.
Visit the DXRacer website, fill in this form, and DXRacer support will take care of you.
An F-Series FD101 was my very first gaming chair. I used it as a full-time work-from-home chair for 2.5 years. Because it was so comfortable, it also became my couch. Basically, it sat in that chair around 12 hours per day, seven days a week.
Only after two and a half years did the chair start to degrade. However, it was only the PU leather accents that broke down. The frame and padding still worked like almost new.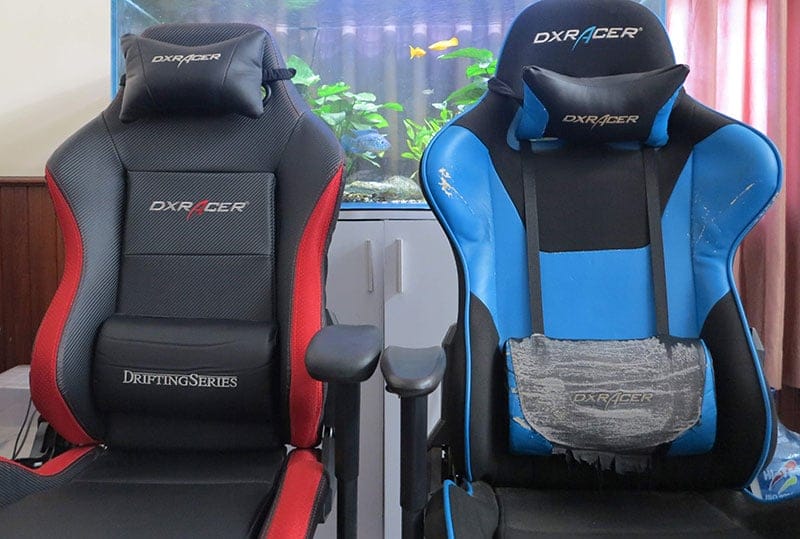 Because of the aesthetic breakdown, I replaced my F-Series with a DXRacer Drifting Series. Had I known about slipcovers at the time, I probably could have extended the life of my chair by another year or two.
Based on my experience, DXRacer chairs will most likely meet or exceed the warranty period.
Formula Series FD101 designs
There are two basic designs in the F-Series collection. You can choose combo leather and fabric chairs, or all-fabric editions.
F-Series OH FD101 leather and fabric combo
DXRacer price: $329
There are four combo fabric chairs in the collection. All come with a black fabric base and PU leather accents. This gives you a fully breathable fabric chair with a bit of PU leather eye candy.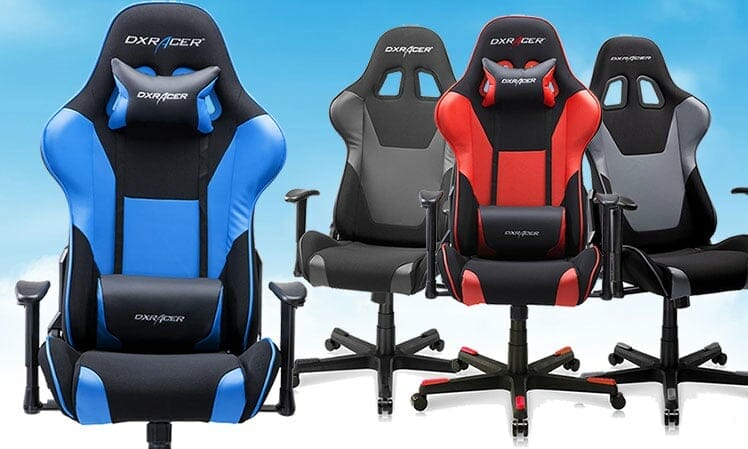 This is the blueprint for the classic two-toned racing-style designs that are now ubiquitous. It's the original classic that remains an all-time favorite.
Gifted to young people as a first gaming chair, these models will delight. It provides cool comfort and crisp support, with just enough color to keep the mood light.
F-Series chairs on DXRacer.com $329.99
The F-Series is also available on Amazon for Price not available.
Formula Series OH FD01 fabric chairs
DXRacer price: $329
These models have the same black fabric base at the combo chairs, minus the leather accents. The advantage of a full-fabric chair is more breathability and less chance of early degradation.
Our tests show that PU leather F-Series accents fade after around 2.5 years. By removing the leather, these versions ensure durability well beyond the warranty period.
There's an all-black fabric chair, and another with red fabric accents. Both give off an understated, business-like feel, rather than a colorful gaming one.
As such, these models would better suit petite adults doing full-time deskwork from home.
F-Series fabric editions from DXRacer $329
The full fabric F-Series is also available on Amazon for Price not available.
Formula Series buying advice
Are thinking about buying a Formula Series? This section gives quick tips to help you make an informed decision.
Who is this product for?
The F-Series is a slim-fitting chair with compact dimensions. DXRacer's recommended height range is sizes 5'3″ to 5'8″ (160-172 cm; 63-67″). I stand 5'9″ (177 cm) and found it to be a snug but comfortable fit.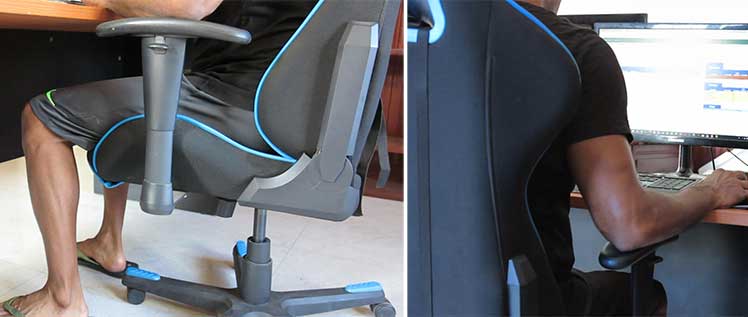 Using Wisconsin averages, F-Series chairs suit American children ages 12-18. Based on Korean student height averages, it fits ages 16 and up.
Given the small dimensions and simple usability, this is an ideal starter gaming chair for young people.
I can also tell you from experience that it also makes a fantastic work-from-home office chair. Petite adults wanting snug ergonomic support should also consider this model.
Pros and cons
The Formula Series is a rock-solid chair that's breathable, comfortable, and easy to use. The only technical flaw I encountered was an overly fat lumbar cushion.
Used as is, it's so fat that it will leave a gap between your spine and the backrest. It works, but the large gap feels weird.
Luckily, there's a simple solution. Remove the lumbar cushion and place it under your bed's mattress. After a few hours of squishing, it will become more malleable.
Summary of likes and dislikes:
Cons: high price, limited adjustable features, fat lumbar cushion.
Pros: cool breathability, superior durability, excellent build quality.
F-Series usability tips
As with all types of ergonomic chairs, the point of a DXRacer is to support dynamic neutral postures over long hours.
For beginners, the most important step is to keep feet planted firmly on the floor. Planted feet provide the primary power to support a straight upper back.
The second most important step is to use the ergonomic chair features to support neutral sitting. For instance, adjust the headrest and lumbar cushions to suit your natural curves. If the removable headrest doesn't feel right, adjust it or remove it.
Summary of the basics:
Sit with your feet planted, with knees bent at around a 90-degree angle. (The hips should be slightly higher than the knees.)
Tuck your hips deep into the seat pan.
Rest your spine against the backrest. Adjust the head and lumbar pillows to fit your spine's natural curves.
For a detailed walkthrough of healthy sitting practices, check out our illustrated user guide:
Gaming chair user guide for optimal health
Recommended hack for short sizes
Neutral sitting looks the same in all types of chairs. However, at a desk too high, short users may struggle to keep the feet flat — while also keeping the arms supported.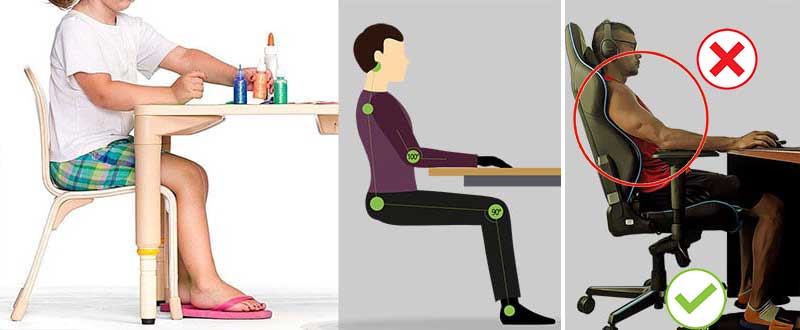 An easy solution is to add an ergonomic footrest. Here at ChairsFX, I use a Mind Reader model ($26.99 on Amazon).
If you use an F-Series chair with a desk higher than 28″, adding a footrest will help you sit taller in your chair.
That makes it easier to maintain an optimal neutral posture. Check out our footrest optimization guide for details:
Conclusion
The Dxracer Formula Series is the original gaming chair. Fifteen years after its industry-defining release, it remains a solid option for small-sized users.
This DXRacer Formula Series review shows things to like and dislike about this chair. Given its compact dimensions, students and petite home-based office workers will enjoy this chair. Used as either a gaming chair or office chair, expect solid but not spectacular performance.
It has lesser ergonomic features than cheaper competitors. However, the fabric upholstery and high-quality build are proven to last well beyond the warranty period.
There are flashier models out there, also cheaper ones. Even so, this classic edition remains an all-time favorite well worth looking into.
F-Series chairs from DXRacer $329.99
Beyond classics like the F-Series, DXRacer has also released some groundbreaking new models. Check our DXRacer 2021 Brand Review to learn more.