Behold the original gaming chair. In 2006, e-sports was taking off and gamers were spending longer hours sitting. DXRacer filled an emerging need with race car bucket seats on top of steel frames. This article is about the modern-day result of that groundbreaking chair. Check out this DXRacer Formula Series review.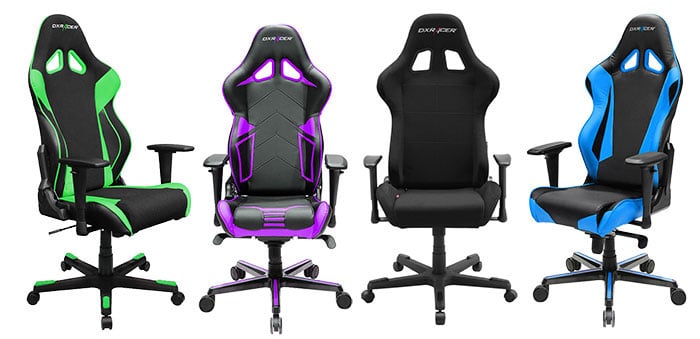 The 2006 model had a contoured high backrest, tilt lock recline and removable pillows. The pillows kept the neck and lower back in perfect ergonomic alignment.
The modern-day DXRacer Formula Series retains those core features plus subtle upgrades that evolved over time.
DXracer Formula Series gaming chairs were originally designed to enhance the gaming experience by helping people sit optimally, with proper spinal alignment. Soon after release in 2006, word got out that these chairs improved posture, well-being and gaming performance. A legend was born.
DXracer Formula Series: OVERVIEW
The DXRacer Formula Series (also called the F-Series) is the original gaming chair. Today, the DXRacer Formula Series remains one of the leading premium gaming chairs on the market. These sturdy chairs will keep you comfortable for long hours of working or gaming with style.
These are wide, roomy, versatile chairs that are great for working, gaming, watching movies or napping.
In terms of sizing, for optimal neck pillow positioning, the F-Series is best suited to fit small to medium sizes up to 5'8″tall.
Compared to the top premium chairs, functionality is basic. What you get is a durable, top quality build that provides high-end ergonomic support.
DXRacer Formula Series key features:
Functionality: 1D adjustable armrests (up and down only); tilt lock recline up to 135°; 360° swivel
Comfort: softer, fluffier cold foam padding than the D-Series; choice of PU leather, PVC leather, mesh fabric or combined fabric covers; integrated headrest and lumbar support cushions
Support: SGS certified gas lift, robust star base, 2″ PU multi-surface casters
Warranty: lifetime warranty on frame; 2 years on parts
Pros
High quality materials and designs
Incredibly comfortable
Cons
Some people find the neck pillow awkward
Rocking function is stiff
In a nutshell
There are no surprises here, just rock-solid quality from the gaming chair industry leader. The DXracer Formula Series is the perfect gaming chair for those seeking high-end ergonomic support in a luxurious package at a reasonable price. It's packed with all the high-end features you'd expect, and is forged out of heavy-duty materials that will elegantly take a beating for years.
4 of 5 Stars
Formula Series Upholstery
This article covers the different models offered in the Formula Series product line. The main difference between options is the upholstery. There are three main variations:
These options are applied in creative ways.
Upholstery from left: full mesh; carbon fiber; fabric + PU leather; PU leather; fabric + expanded PU leather.
Upholstery options (as pictured above):
Breathable mesh: the least cool-sounding option but by fat the best in our opinion. Mesh fabric doesn't get sticky in summer, is easy to clean and by far the most durable.
Carbon fiber + PU leather: carbon fiber leather is thicker, softer and longer-lasting. Most of the chair uses carbon fiber, while the color accents use PU leather
Fabric + PU leather: most of the chair is fabric – the leather accents are mainly for style.
PU leather: plastic polymers spread over fabric to produce imitation leather. Based on our experience, count on this to take heavy use for about 2.5 years before degrading.
Fabric + expanded PU leather: more PU leather is used along the backrest.
Formula Series models
Are model options are listed below, organized from cheapest to most expensive:
Strong mesh fabric
Current price: $329.97

The DXRacer Formula Series model OH/FD01/NR is upholstered in mesh fabric. Mesh fabric is the least flashy option, but also the best. First, it's the most durable – this fabric will last for years. Second, it's the most breathable. PU leather gets sticky in hot weather, so you need to wear long pants. Wearing shorts on mesh fabric is a pleasure.
The OH/FD01/NR comes in two color options: pure black or black with red trim.
Armrests: 1D (adjust up and down)
Mesh with leather backrest
Current price: $299.00
The Formula Series 0H/FD101/NG model gives you a breathable mesh seat with a PU leather backrest. Thus you get the benefits of mesh with the flashy good looks of PU leather.
There are five color options, pictured above.
Armrests: 1D (adjust up and down)
Mesh with Leather Premium
Current price: Price not available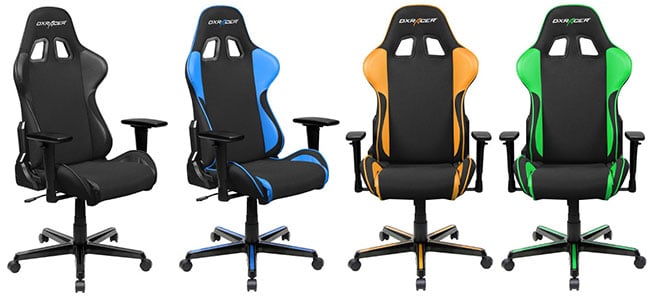 For just $10 more than the previous model, the Formula Series OH/RW106/NR model gives tremendous value. There are two key upgrades.
The first is the PU leather trim. It's positioned along the sides, while most of the backrest is mesh. This ensures optimal breathability in the hottest weather with no stickiness.
The second crucial upgrade is the addition of 3D adjustable armrests. These allow you to customize arm support with a wide array of adjustment options.
Armrests: 3D (up and down; side to side; forward & backwards)
Carbon Fiber & PU Leather Combo
Current price: Price not available
The Formula Series OH/FH00/NO model does away with mesh fabric completely. Instead you get a PU leather seat and backrest, with Carbon Fiber leather trim along the edges.
PU leather looks great and is easy to clean – just wipe down with a damp cloth. On the downside it's less breathable than mesh fabric, and also less durable. PU leather will last around 2 years before cracking – mesh fabric will last much longer.
Carbon fiber leather is thicker, stronger and more durable than PU leather. It also looks great. However it's the least breathable fabric. On the OH/FH00/NO model, the carbon fiber (along the sides of the seat and backrest) is for styling purposes only.
Armrests: 3D (up and down; side to side; forward & backwards)
PU Leather Premium
Current price: Price not available
The Formula Series OH/FH08/NO is the most expensive model. It comes with full 2-tone PU leather upholstery. This fabric is reasonably durable – it should survive at least two years of heavy daily use. It also looks great and is easy to clean.
On the downside, wearing shorts while sitting in this model will get sticky. That's because PU leather lacks the breathable nature of mesh fabric.
Armrests: 3D (up and down; side to side; forward & backwards)
Formula Series buying advice
Are thinking about buying a Formula Series? This section gives quick tips to help you make an informed decision.
Who is this product for?
The DXracer Formula Series is a good fit for people who want a solid but not extravagant gaming chair. Formula Series chairs are cheaper than many premium options. Plus they come in an array of color and upholstery options.
Gamers, office workers, programmers and other desk workers will all enjoy this chair. The recline options will cover all needs over a working day. Position your Formula Series at around 110° for work. Recline back to the 135° limit for relaxing.
Good posture is something many take for granted. If you slouch at your desk, your posture will get worse. Over time, this will lead to stiffness, lethargy, back pains and headaches.
The magic of Formula Series is how it transforms extended sitting time into body therapy. Using the included support cushions, it's easy to sit with your neck and spine in alignment.
The benefits of extended sitting in a healthy manner will blow your mind. Look forward to improved posture, better blood flow, increased vitality and more.
What we like
The DXRacer Formula Series is a classic racing style gaming chair. It gives you great styling and advanced ergonomics in a comfortable package.
The only way competing chairs can compare is by adding extra features. For example, the Homall Executive Gaming Chair costs $200 less than the Formula Series. It can recline a full 180° (compared to 135° for the Formula Series) and has thicker padding. However, it deteriorates fast.
With the Formula Series, you get less features but rock-solid quality that will last for years.
What we don't like
The worst thing about the DXracer Formula Series is the breaking-in period. If you start using this chair with bad posture, it might be painful. That's because the body needs time to adjust.
Don't worry too much if the chair feels really uncomfortable at first. Follow the steps in our Gaming Chair User Guide and wait. After around a week both your body and the chair's padding will adjust.
At that point your chair will become very comfortable. Then, your poor posture habits will round into healthy spinal alignment. This will bring a host of benefits. These include sounder sleep, better posture, increased energy levels and plenty more.
Formula Series alternatives
The most obvious alternative to the F-Series is the DXRacer Drifting Series. This is a more densely padded version of the DXracer Formula Series. It's promoted as an office chair. It has the same dimensions as the F-Series, with a slightly narrower seat.
Want to compare the Formula Series to other top luxury models? Browse our premium gaming chair guide.
DXRacer F-Series in action
In physiology, the ideal spinal alignment is S-shaped, with an indent at the small of your back (lumbar area). People with poor posture will lose the S-shaped indent. Instead it will stretch into more of a straight line, with a small curve near the pelvis.
One sign of misalignment is someone sitting regularly with legs crossed. Crossed legs is one way of dealing with tight, strained limbs.
Another sign: instead of resting the feet flat, they perch on the balls of their feet, with knees higher than 90°.
The DXracer Formula Series corrects these issues. First, the height of both the chair and armrests can adjust to meet your needs. Second, the neck and lumbar cushions support optimal posture.
Most useful is the lumbar cushion. It attaches to the chair back with two bands. This allows you to slide the cushion up or down. This will help you find your perfect posture sweet spot.
Conclusion
The Dxracer Formula Series is the standard-bearer for all the gaming chairs on the market. Its combination of ruggedness, styling and ergonomic benefits is hard to beat.
Other chairs offer more padding a deeper reclining. Some even offer speakers and massage units built into the frame.
But few can match the durability, style and ergonomics of the DXracer Formula Series.