The GTRacing Pro Series is one of the world's top-selling cheap gaming chairs. Recently, GTRacing added three mesh fabric models to the Pro Series product line. Compared to other Pro Series chairs, GT505 mesh chairs have slightly different features and dimensions. This review covers the new GTRacing GT505 mesh fabric chairs.
Other GTRacing Pro Series chairs use PU leather, a faux leather blend that's easy to clean and attractive. The downside is the breathability. In hot weather, PU leather chairs can get sticky, especially against bare skin.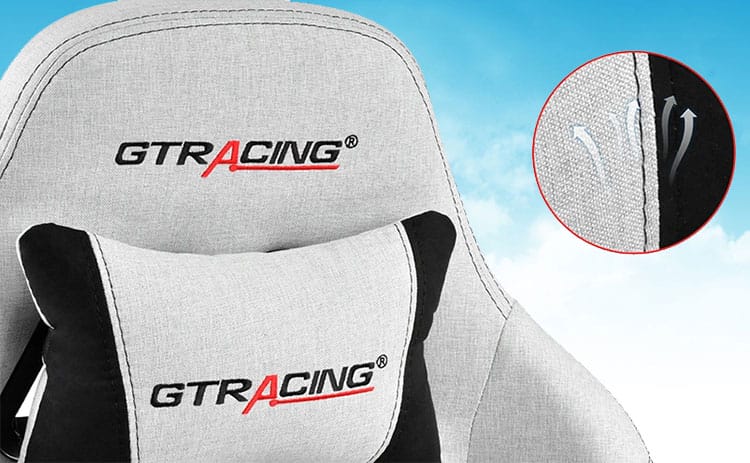 In contrast, mesh fabric chairs are soft to the touch and more breathable than leather.
This material always stays cool and comfortable — even in hot, humid conditions. Even better, mesh fabric is ultra-durable. Unless you burn or stab the material, expect it to last well past the warranty period.
GT505 fabric chairs from Amazon $119.99
Review: GT505 breathable fabric chairs
There are three mesh fabric models in the GTRacing Pro Series collection. There is a GT505 white, grey, and black edition.
The GT505 Series has different features and dimensions than other other Pro Series chairs. Keep reading for a summary of differences.
GT505 alternatives
There are two classes of alternatives to GT505 chairs, summarized below:
Other soft fabric chairs
At present, several top brands offer soft fabric gaming chairs at various price ranges. None are as cheap as GT505 chairs. By paying more money, you get upgraded luxury features. From our review of the best fabric gaming chairs, here are some standout fabric alternatives:
Conclusion
GTRacing is an established brand well-known for making cheap, reliable chairs. You can find cheaper mesh fabric chairs on Amazon — but from unproven brands. GT505 Mesh Series chairs are the cheapest mesh model on the market from a proven brand.
That means these chairs will work as advertised. If they don't, GTRacing has a stellar customer service record.
If you want a mesh fabric gaming chair on a budget, the GTRacing GT505 is the obvious top choice.
GT505 fabric chairs from Amazon $119.99
Related