PewDiePie is the most famous YouTuber in the world. A few years ago, he made a deal to use the Clutch Chairz Throttle Series during his videos. That's how the Clutch Chairz Throttle Series became one of the most famous gaming chairs in the world. But is it any good? Keep reading this review to find out.
Founded in 2016, Clutch Chairz is an American company based in Walnut, California. The Throttle Series is their flagship gaming chair. It's a premium chair on the higher end of the pricing scale. On Amazon, the current price is Price not available. This is at the extreme high end of the premium pricing scale.
Paying a higher price for luxury
There are many popular gaming chairs available that cost less than $200. For between $300 to $400, you can get a premium chair. These use higher quality cold foam padding and faux leather. They're also guaranteed to last for 2-5 years.
Why pay more for a Throttle Series? Why does a Mercedes cost more than a Toyota? With the Throttle Series, the premium price gives you better quality features. The purpose of these features is to support good posture for long hours of sitting.
If you spend long hours sitting, a high quality gaming chair like the Throttle Series is good for your back. Sitting long hours day after day with poor posture can lead to chronic pain and health issues.
Throttle Series on Amazon Price not available
Clutch Chairz Throttle Series review
This section covers key features, sizing and upholstery options.
Throttle Series key features
The Throttle Series is a premium chair with features that support healthy sitting.
Throttle Series features include dense foam padding, ergonomic support pillows, and 4-directional armrests. Everything ties together under high-quality PU leather upholstery.
A big part of the higher price for luxury gaming chairs is the upholstery. PU leather is a synthetic blend. Better blends cost more to develop and produce. Lower quality blends look good but wear down fast.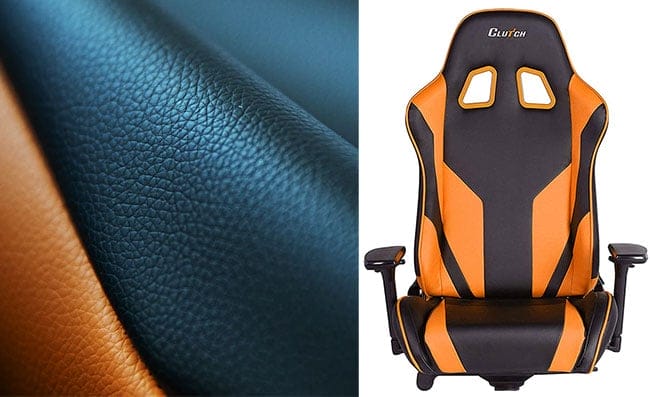 Clutch Chairz guarantees their PU leather for three years. It's very durable. The Throttle Series PU leather feels buttery soft. It also provides enough breathability to avoid stickiness in hot humid weather.
Summary of Throttle Series features
Functionality: 4D adjustable armrests; recline to 180°; 12° tilt-lock.
Comfort: high density cold cure foam padding.
Upholstery: high quality PU leather engineered for superior abrasion and wear resistance.
Support: heavy gauge welded steel frame; aluminium base; class 4 gas lift; PU casters.
Warranty: 3-year warranty on parts, lifetime warranty on the steel frame.
Free shipping: included.
Clutch Chairz Throttle Series sizing
The Throttle Series is a versatile chair that should fit medium to large-ish users. People extremely short, wide or tall should find better options to fit their needs.

We compared the Throttle's dimensions with two other premium chairs. The Secretlab Titan is a large sized chair. The AKRacing Core Series Ex is an average sized chair designed to suit the most common adult sizes.
The Clutch Chairz Throttle Series fits between those sizes. It has the deepest and second-widest seat. It's also the shortest chair that sits the lowest to the ground.
| | | | |
| --- | --- | --- | --- |
| Spec | Clutch Throttle Series | Secretlab Titan 2020 | AKRacing Master Pro |
| Seat Width x Depth | 21.6″(W) x 22.5″ (D) | 20.5″ (W) x 19.7″ (D) | 23.6″ (W) x 21.6″ (D) |
| Backrest Width x Height | 22.6″ (W) x 33.2″ (H) | 21.7″ (W) x 33″ (H) | 23.6″ (W) x 33.8″ (H) |
| Floor to Seat Range | 14.9″ to 18″ | 18.7″ to 22.4″ | 13.6″ to 16.1″ |
| Height rating | 5'6″ to 6'3″ | 5'9″ to 6'7″ | 5'7″ to 6'7″ |
| Weight capacity | Up to 330 pounds | Up to 290 pounds | Up to 330 pounds |
These dimensions make the Throttle Series a good choice for first-time buyers. It's a versatile chair that will suit most people not overly tall, short, or wide.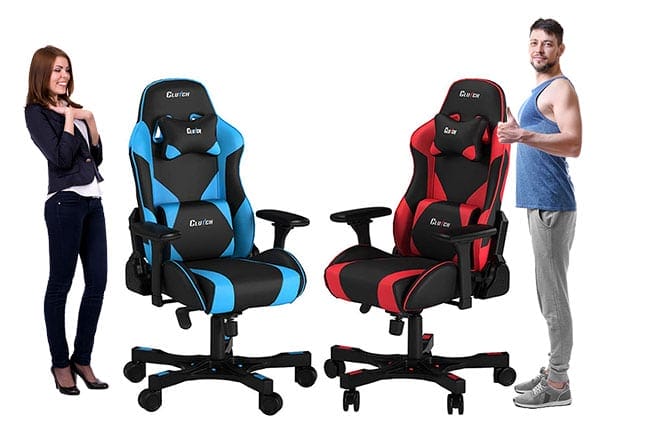 Shorter people 5'6″ and up will find the Throttle a casual fit with lots of legroom. Taller people up to 6'3″ will find a more snug fit like a traditional race car seat.
Throttle Series upholstery options
The Throttle Echo Series offers five PU leather color options:
For those who prefer a more muted look, there is also an all-black Throttle Alpha edition: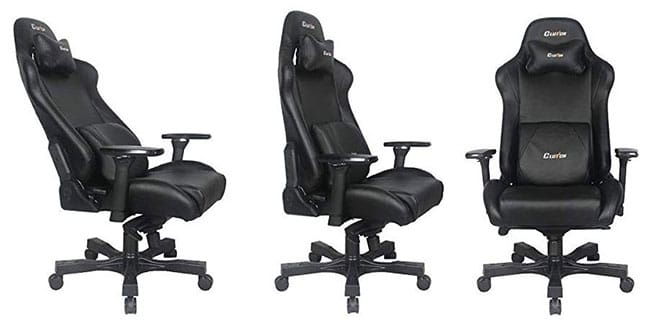 Clutch Throttle Series: pros and cons
There are things to like and dislike about the Throttle Series gaming chair. Below is a summary of this model's pros and cons.
What we like
This is a straight-ahead premium gaming chair for power users. The versatile sizing means that it fits a wide range of users. Adjusting the chair to your exact size is simple. Move the lumbar support cushion to fit into the indent of your spine. Then lean back and let the chair work its magic.
The high price tag ensures quality where it counts. For one thing, the upholstery is top quality: soft, supple and breathable. For another, the high-end padding is built to last. The Throttle Series is likely to hold up under years of heavy use.
What we don't like
Most high-end gaming chairs cost between $350 to $500. The Clutch Chairz Throttle Series is at the high end of that range. This is an expensive gaming chair!
There are many gaming chairs with decent ergonomics that cost less than $200. Many cheaper chairs also come with extras like footrests and built-in speakers.
Those who pay more do so for the consistency, durability and overall level of quality. If those things aren't important to you, consider buying a cheaper chair.
Throttle Series on Amazon Price not available
Clutch Chairz Throttle Series buying advice
Are you thinking of buying a Clutch Chairz Throttle Series gaming chair? This section answers the remaining questions for potential buyers.
Who should buy a Throttle Series?
The Throttle Series is for users who don't mind paying a premium for quality. Since it fits a wide range of common sizes, this is a great option for both men and women.
This is an expensive investment. Thus it's a better fit for power users who spend long hours sitting. Professional office workers, gamers, programmers, etc should consider this chair.
Clutch Throttle Series alternatives
Among premium gaming chairs, the Secretlab Titan is our top-rated pick. It's a taller chair than the Throttle Series, with a slightly wider backrest and seat. It also comes with an internal lumbar system that eliminates the need for a lumbar pillow. This provides a cleaner look and more precise support.
Detailed Secretlab Titan review
For other high-end alternatives, check out our review of 2020's best pro esports gaming chairs. That looks at the best chairs used by the world's top esports professionals.
Most of the top pro models have rich features. These include 4D armrests, 2-5 year warranties, seat-angle tilt-lock and more.
Conclusion
The Clutch Chairz Throttle Series is an expensive gaming chair. PewDiePie made this model wildly popular by using it in his videos. But these chairs are not expensive because of PewDiePie. They cost more because they use high-quality materials.
The steel frame, padding, and upholstery are built to last for years. The chair is easy to assemble and feels very solid. Even with heavy daily use, it holds up well. Wipe down with a damp cloth once a week to keep it looking like new.
Do you want to improve posture, boost vitality and supercharge your work performance? If you are willing to pay more for quality, this is a solid investment.
Buy a Clutch Chairz Throttle Series and enjoy solid ergonomic support for years.