AKRacing makes a range of high-quality ergonomic PC gaming chairs. The AKRacing California is the company's smallest gaming chair, sized for users between 4'9″ to 5'6″ (144-167 cm). This AKRacing California chair review sums up the pros and cons of this ultra-small gaming chair.
The AKRacing California chair is available for sale in the United States, Canada, and America. In America, consumers can buy from AKRacing.com or Amazon. In the UK and Canada, AKRacing chairs are available on Amazon.
There are three California chair designs. All come in soothing pastel colors with very small dimensions. AKRacing rates California chairs for users 4'9″ to 5'6″. The chair supports up to 330 pounds, but AKRacing suggests it works best for users between 100 to 155 pounds.
Buy the California chair from AKRacing.com $419
The AKRacing California is also available on Amazon for $413.95.
AKRacing California chair review
This California gaming chair review starts with an analysis of the chair's specs. After that, we summarize our findings into a conclusion. The point is to determine the value for money that the California chair provides.
Sizing
The compact size of the California chair is its key selling point. A straight look at the numbers:
Seat: 21.25″ (W) x 17.7″ (D)
Backrest: 21″ (W) x 27.7″ (H)
Size rating: 4'9″ to 5'6″; 100 too 155 pounds (max load is 330 pounds).
Note the weight limit. The California chair can bear a max load of 330 pounds. But given its tiny dimensions, it's unlikely someone that heavy would fit in this chair. AKRacing rates these chairs as ideal for people weighing between 100 to 155 pounds. That means adolescents, slim teens, and small adults.
But even for small, light people, the 330 max load capacity is relevant. It ensures the California chair has a solid, sturdy feel for all who can fit within its dimensions.
Features
Our AKRacing Brand Review covers all of the other chairs in the AKRacing collection. Across all models (including the California chair), the core build is the same.
The California chair starts with a steel frame and a thick layer of cold foam padding. Like other AKRacing chairs, it comes with a five-year warranty on parts. On top of that, you get a 10-year warranty on the frame.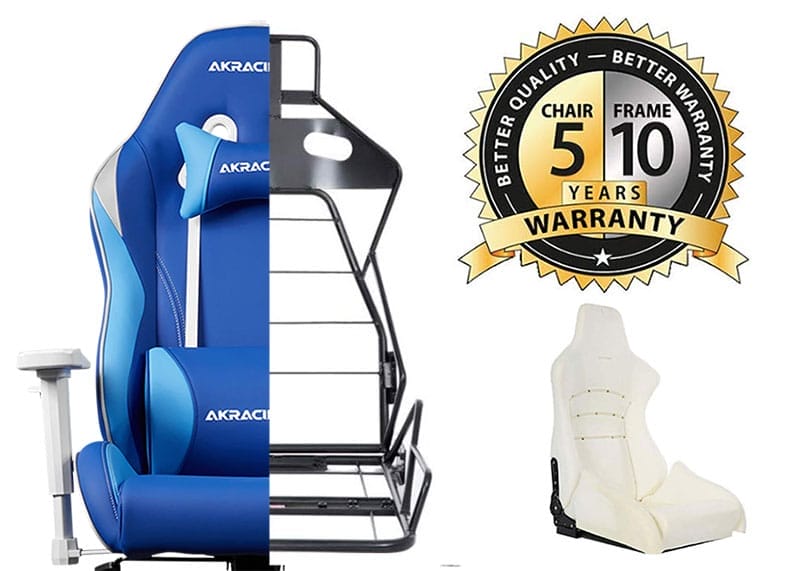 Beyond its rugged build, the California chair has decent but not spectacular features. It only has 3D armrests. It also lacks a multifunction tilt-lock mechanism. That means you can rock the chair, but you can't lock the seat at different angles.
Features: 3D armrests; deep recline to 180°.
Comfort: resilient cold foam padding; neck and lumbar pillows, premium PU leather cover.
Warranty: five years on parts; 10 years on the frame.
These features don't measure up to those on the best pro esports gaming chairs. Rather, they resemble those in our review of the best affordable chairs under $300.
But unlike sub-$300 chairs, the California chair has a 5-year warranty. On top of that, it uses AKRacing's famous build techniques and quality of materials. Further, no other chair in the world will fit adults 4'9″ to 5'6″ as well as the California chair.
Style options
All three California chairs use high-quality PU leather covers. This material is durable, breathable and soft. AKRacing says the three pastel color schemes were "inspired by sunny California". There's the Laguna (white), Tahoe (Blue) and Napa (purple).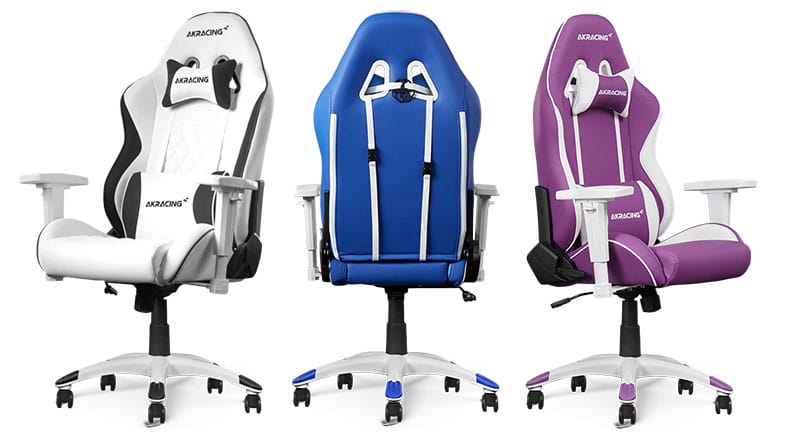 Many gaming chairs have colorful, racing seat style designs. At the opposite end are subtle office-style designs. The California chair is neither of those.
It's tiny. It's also designed to give you a feeling of sunny California. AKRacing made them for petite women or men who love Cali pastel colors.
If you fit that demographic, any one of the three styles is sure to brighten up your workspace.
California chair advice
Buying a gaming chair isn't a frivolous decision. People who use a computer full-time will spend more time with their chair than any other person or thing.
This section sheds more light on the value of an AKRacing California gaming chair. Learn whether this is the right gaming chair for your needs.
Who should consider this chair?
Given the tiny dimensions and pastel colors, this chair seems ideal for petite women. But every small person placing size as the priority will appreciate this model.
The California chair lacks pro features like 4D arms and tilt-lock. But it uses AKRacing's excellent padding and build technology. So you can rest assured that it's comfortable and good for your back.
Conclusion
The AKRacing California gaming chair has solid features and a decent price. The Secretlab Omega has better features and costs less than the California chair. But it's nowhere near as small.
The GTRacing Pro Series is much cheaper than the California chair. But it has a shorter warranty and lesser features. It's also not as small as the California chair.
For small sizes, paying $300+ for an AKRacing California chair is a good investment. This chair can help adolescents forge good posture habits that can last a lifetime. For petite women, the cool California color schemes plus super-small dimensions will delight.
What's more, you can count on plush, consistent back support that will last for years. So if you are between 4'9″ and 5'6″, consider buying this chair. Doing so will ensure back support that's optimized for your size. With optimal support, you can expect improved health, wellness, and ability to focus.
Need a small ergonomic chair? Check out the California chair. It can help you sit longer, work smarter, and be more productive.
Buy the California chair from AKRacing for $419
The AKRacing California is also available on Amazon for $413.95.