Gaming chairs sell at various price points. The best cheap gaming chairs cost less than $200. The best pro esports chairs cost more than $350. Between those two price points are a handful of affordable gaming chairs. These cost less than $300, with the same ergonomic features as high-end pro esports chairs. Looking for pro ergonomics on a budget? Check out the best affordable gaming chairs on the market.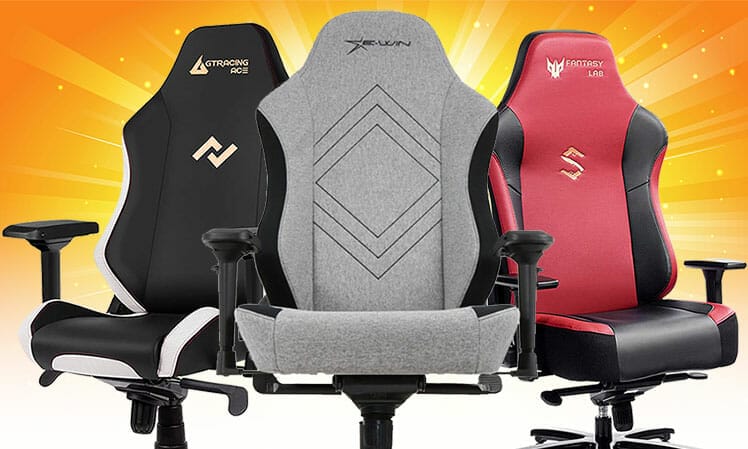 The gaming chair industry is ultra-competitive. Top brands employ large R&D teams to keep ergonomic designs on the cutting edge. Others borrow leading brand concepts and modify them. One modification is to cut corners to lower prices.
Best gaming chairs priced under $300
High-end pro esports gaming chairs cost between $350 and $550. The best affordable chairs under $300 come with the same features that pro esports gaming chairs do. Those are:
3D or 4D adjustable armrests
Deep reclining ergonomic backrest
High-end pro models cost more than affordable models for a few reasons. First, pro chairs come with soft, ultra-breathable covers and top-grade cold-foam padding. Sitting in a pro chair feels plush and luxurious. Even better, higher quality upholstery is more durable. As a result, the best pro esports chairs come with longer warranties. For instance, both Secretlab and AKRacing offer industry-leading 5-year warranties.
In contrast, many affordable variants cut corners with lower quality upholstery. Sitting in these models is also comfortable, but with less luxury and attention to detail. Pro-featured chairs priced under $300 tend to have warranties lasting between 1-2 years.
Ergonomic office chairs under $300
As this review shows, there are only a handful of quality gaming chairs out there priced between $200-$300. In contrast, there is a growing number of ergonomic office chairs in this price range.
For all options, check our review of the best ergo office chairs under $300. Below are our top two picks:
CONCLUSION
There are only a handful of affordable gaming chairs under $300 that offer pro ergonomic features. The models on this list all stand out with 3D or 4D armrests and a multifunction tilt-lock.
If you sit full-time for a living, these chairs will give you pro features for bargain prices. Two recommended models come with 5-year warranties. The others come with lesser warranties that suggest less durability.
If you want pro features and don't mind cutting corners to save money, these chairs are ideal. All models will help you to sit longer, feel better, and be more productive.