Heavy sweating in a leather gaming chair can ruin your sitting experience. Perspiration stains faux leather and degrades it faster. As well, sitting becomes a sweaty, sticky mess. That's why many people prefer full mesh gaming chairs. These come upholstered in mesh on both the seat and backrest. Enjoy long bouts of gaming our office work with unparalleled coolness. Here we review the best mesh gaming chairs on the market in 2021.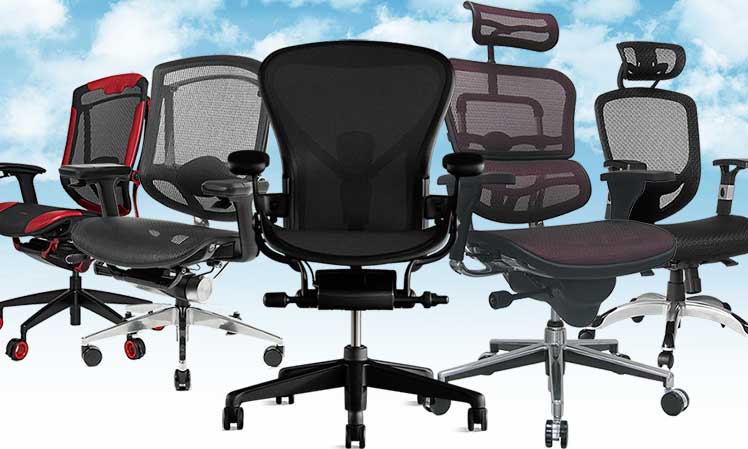 Mesh upholstery is the most breathable type on the market. Compared to racing-style fabric gaming chair upholstery, mesh threads are thicker, with larger holes. That allows air to pass through with the least amount of resistance.
The big selling point of mesh upholstery is its cool breathability. The biggest downside is (potentially) poor durability. As mesh chairs get cheaper, the quality of mesh decreases.
Best mesh gaming chairs
A 'full mesh' gaming chair is an ergonomic chair with mesh upholstery on both the seat and backrest. Partial mesh chairs combine mesh backrests with fabric padded seats.
Full mesh chairs deliver the best breathability among all ergonomic chair types. The best full mesh gaming chairs in 2021 range in price from around $180 to $1450.
Click on any chair to jump directly to its review section.
Best semi-ergonomic mesh gaming chairs
These make our list of 'best full mesh' gaming chairs based on popularity. Even so, none come with adjustable lumbar support.
Two have what's billed as 'dynamic 3D' lumbar support. That means the lumbar support moves automatically and can't be user-adjusted.
Generally, chair-dictated lumbar support works better for part-time use. Sitting full-time without the ability to customize your lumbar support will most likely lead to back pain. See Lumbar Support Biomechanics for the peer-reviewed details.
As a result, we've moved these three models into a separate semi-ergonomic category. These are good chairs, but ergonomically incomplete.
Mesh gaming chair advice
Read this section before making the decision to buy a full mesh gaming chair.
Conclusion
The best full mesh gaming office chairs are a mixed bag. At the highest end of the pricing scale there are gems. In particular, the quality of mesh on our top-3 rated models is superb.
The Aeron, Ergohuman, and NeueChair all have comfortable mesh upholsteries with extreme durability.
Below $550, the quality of mesh declines. For instance, used full-time, the $221.81 Hyken chair may barely last one year.
On the upside, full mesh gaming chairs are the coolest and most breathable. If you sweat excessively or live in the tropics, these models are ideal.
For other office-style ergonomic options, check out our office chair comparison reviews. There, you'll find the best premium options, best under $600, best under $300, and more: