Effective back support is no longer the priority for institutional-level ergonomic designers. Rather, optimal human-computer interaction (HCI) across multiple devices is the goal. Luckily, robust gaming chair innovation already makes HCI optimization possible. This article cobbles together a multi-device, ubiquitous computing gaming chair using existing chair technologies.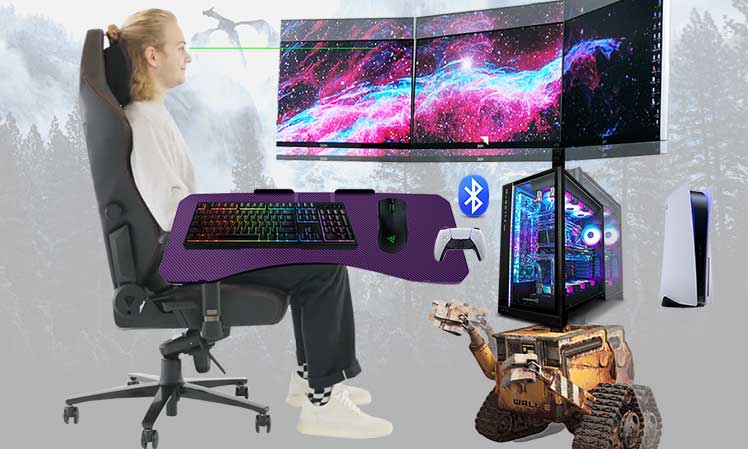 The Handbook of Human Factors and Ergonomics (HFE) documents the latest standards in workplace environment design(1). The 5th edition came out in mid-2021 (9 years after the 4th edition). Its biggest change is a shift in priorities.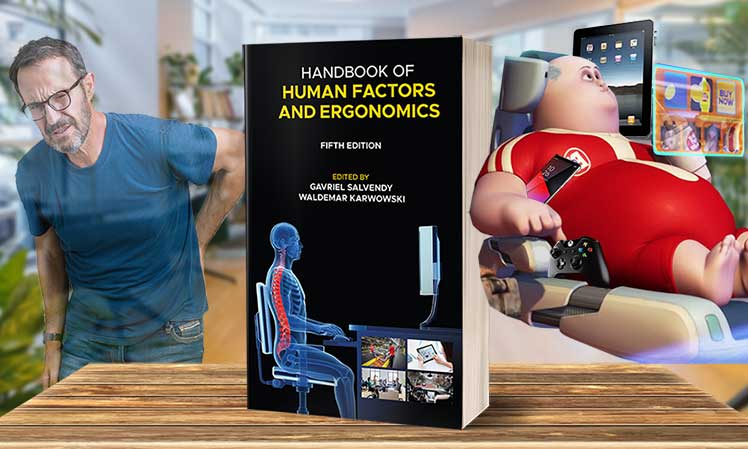 Lower back health while working at a desk has become a secondary issue. Dealing with physical and mental technostress in a world of perpetual computing now takes urgent precedence.
Ubiquitous Computing Ergonomics
The 5th edition Handbook prepares us for a life of ubiquitous computing across many devices. Sensors, smartphones, and computers will converge, putting users in a perpetual state of near-virtual reality.
Then, modern 'deskwork' becomes mainly about finding, using, sharing, and organizing digital information. A contemporary ergonomic workspace should support that in two ways. First, it should help humans to manage information-intensive tasks across many devices.
Second, it must address the realities of severe technostress(2) caused by perpetual computing:
Physical technostress: the widespread use of laptops, tablets, and smartphones increases risks for musculoskeletal disorders.
Gadget fatigue: users can get confused or overwhelmed when shopping for technological or digital gadgets.
Mental technostress: cognitive overload from the overuse of multiple, complicated gadgets.
Deskless Gaming Chair Technology
The ultimate multi-device gaming chair for the modern era already exists — in pieces. Four gaming chair innovations from recent years solve all possible problems. The biggest non-chair part of the equation is the display.
For that piece, we use a multi-monitor mount concept. This enhances human-machine interaction by letting you process more visual information.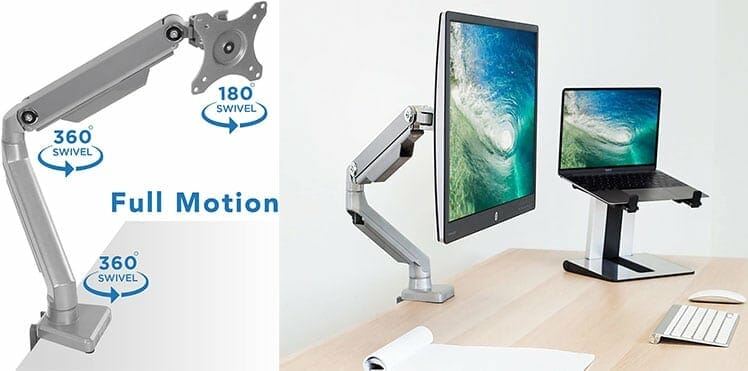 It's also easy to adjust so you don't have to crane your neck. Setting the top of the screen to your eye level makes it easy to sit straight — with a full view of your screen.
Here's a look at the other existing innovations that inspire our HCI prototype:
Zero Gravity Scorpion Chair
One of the earliest HCI-inspired furniture concepts was the scorpion-style chair. This style achieves two things. First, it enables multiple computer screen displays. Second, it puts users in a zero-gravity neutral position.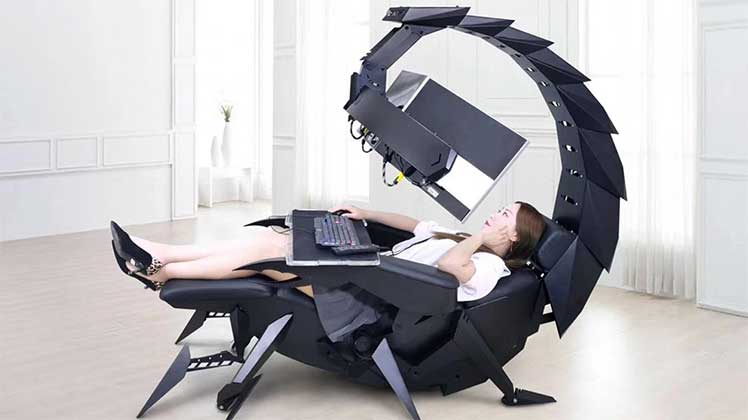 NASA discovered neutral positions while observing astronauts aboard Skylab in the 1980s. When resting in zero gravity, astronauts would always fall into neutral body postures.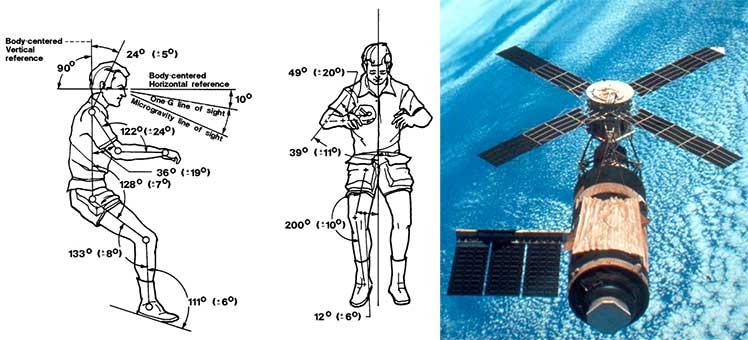 Researchers found that neutral postures reduce the body's need to support itself against gravity. That offloads musculoskeletal stress, reducing pressure on the spine. NASA's research was later used by Nissan engineers to develop zero-gravity car seats.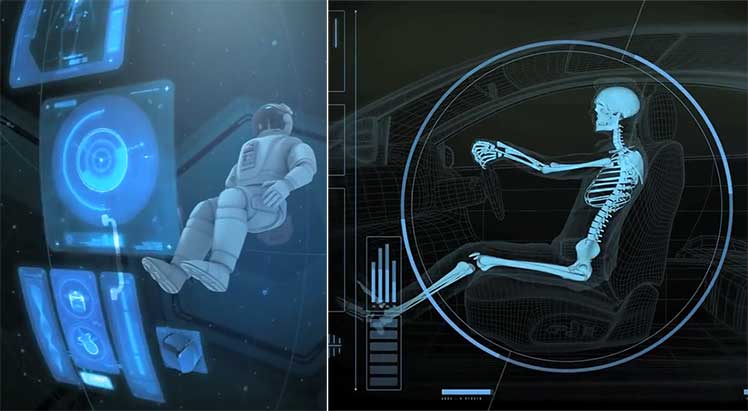 HCI-Suitability
The Scorpion chair enhanced human-computer interaction in two viable ways. First, it places users into NASA-approved zero-gravity positions. That reduces lower back pressure while computing. Second, its multi-screen configuration gives you more space to consume more visual data.
Pros
Good screen real estate
Comfortable
Easy on the lower back
Cons
Promotes muscular inertia
Expensive
Doesn't support mobile or console gaming
Takes up too much space
However, this zero-gravity concept ignores a crucial aspect of healthy computing: seated movement. Frequent seated position changes engage back, leg, and abdominal muscles.
This keeps the blood pumping and muscle groups active. That effectively wards off the ills caused by sedentary habits.
Bottom line: the scorpion chair is one of the earliest examples of an HCI-driven design. Circa 2022, it's too big, limited (no device integration), inert, and expensive for mainstream use.
Mobile Support Arms
In mid-2020, Autofull released the world's first gaming chair for mobile use. It came with traditional gaming chair features like adjustable headrest and lumbar support pillows. It differed with mega-adjustable 'mechanical' armrests.
In default mode, you can use it at a desk like a standard gaming chair. When it's time for mobile gaming, extending the mecha arms achieves two things:
Positions the mobile device to eye level.
Supports the forearms so that shoulder muscles don't have to.
Sadly, the Mechanical Master was ahead of its time. Mobile computing esports is still in its infancy — widespread demand doesn't yet exist. It's also a good option for console gamers but never caught on.
Pros
Serves desktop, mobile, and console gamers
Pioneering mobile-friendly armrests
Cons
Too far ahead of its time (low demand)
As a result, Autofull discontinued this chair after less than a year. Our prototype keeps the concept alive by fusing it with Secretlab's pioneering magnetic armrests. These have pop-off caps for unlimited extendability.
Fusing a pair of Mecha Master Arms onto magnetic armrests solves our mobile (and console) support issues!
Even though it's discontinued, we've kept this review online as a historical record. Don't be surprised if a new version of this chair emerges soon!
Modular Gaming Chair
In 2020, gaming chair pioneer DXRacer took the entire year off to re-tool. In 2021, the company resurfaced with updated chairs and a groundbreaking modular gaming chair concept. A 'modular' gaming chair lets you mix and match parts.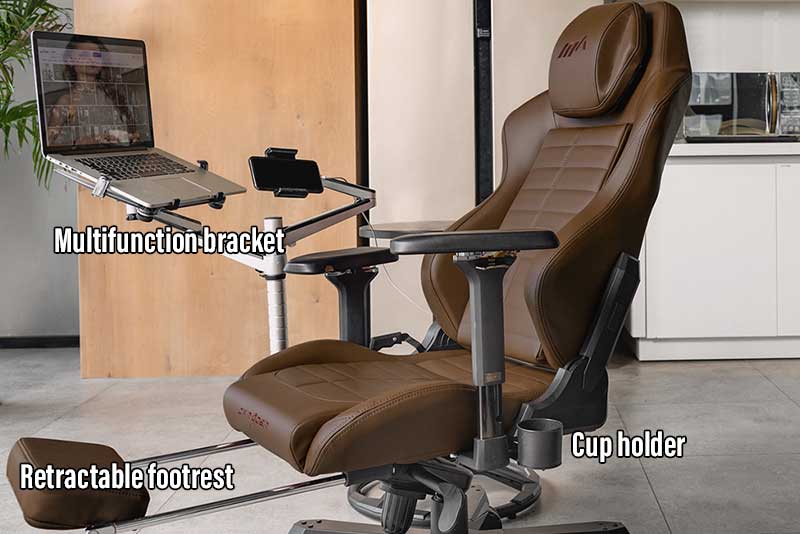 The DXRacer Master, Air, G-Series, and others are all modular. You can add a footrest, mesh seat, cop holder, or multifunction device bracket. The multi-device bracket is specially-designed for modern human-computer interactions.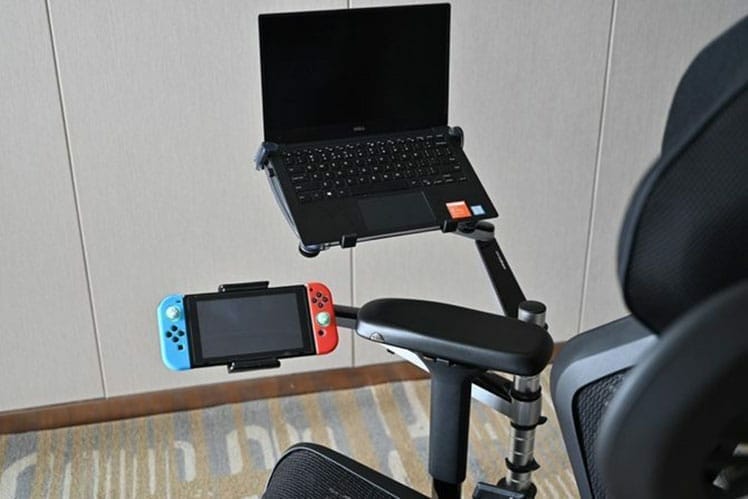 The biggest issue is a slight downward head tilt while computing. That counters attempts to sit in clean neutral positions.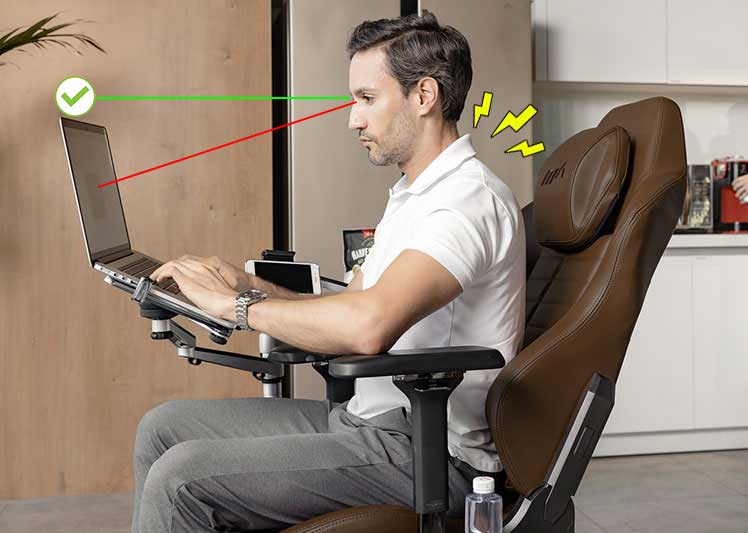 DXRacer's V1.0 modular system is a good early prototype. However, for extended periods of deskless multi-device computing, there's room for growth.
Pros
Serves desktop, mobile, and console gamers
Pioneering multi-device bracket
Future proofed with modular extensions
Cons
The workstation fit isn't as good as a desk
Gaming Chair With Lapboard
In mid-2021, Secretlab released its Titan 2022 Series chair with some big improvements. Among those was a new magnetic armrest system with swappable top caps. Recently, Anda Seat lifted that concept to unveil the latest deskless computing innovation.

The Anda Seat Kaiser 3 Series also has swappable magnetic armrests. An optional Magnetic mounted retractable tabletop attaches to the armrests. Snap into place and you've got a desk-free base for mobile, laptop, and console gaming.
It's a great spot for a mouse and keyboard, but not for display devices. Using a phone or laptop set that low will force an ugly case of text neck!
Pros
Easy installation
Excellent base for a mouse and keyboard
Eliminates the need for a desk
Cons
Media screens get positioned too low. That forces 'text neck'.
Desk-Free Multi-Device Prototype
Our prototype enhances human-machine interaction by integrating PC, console, and mobile computing into a desk-free workstation. At the same time, it addresses the three types of technostress. We cobbled it together using concepts that already exist:
The gaming chair element supports users into healthy neutral positions over long periods. Snap-on magnetic mecha arms support mobile and console gaming. A snap-on lapboard puts you in PC computing mode.
Multi-device Gaming Chair Prototype
Our chair prototype lifts the magnetic armrest concept from the Secretlab Titan 2022 Series. It also copies the modular extendability aspect of DXRacer chairs. The latter simply involves adding extra screw-holes into the bottom seat base.
These two hacks into a traditional gaming chair enable three different modes of deskless computing. Magnetic armrests will let you snap in mobile support arms or a lapboard.
Adding seat base screw-holes will let you snap in a multi-device bracket. That leaves a scorpion-style display as the only missing piece.
Multi-device DisplayBuddy
A full-blown scorpion chair takes up too much space. Luckily, all we need from that design is display coverage. Many companies already make big screen TV carts on wheels. For instance, the VIVO Mobile TV Cart ($69.99 on Amazon) has space for a laptop plus a 13-60″ television screen.
Our DisplayBuddy version was first conceived as a reference to the Wall-E film. It contains a stark warning about tech overconsumption.
However, on a functional level, a Wall-E design also makes sense:
Triangle track wheels: super-sturdy base to hold up your hardware.
Refrigerator box unit: can cool drinks and water-cooled PCs.
PC display case: enjoy a direct view of your PC while using it.
Multi-monitor mount: choose a single, double, or triple-screen design.
Remote control: simple controls to move the unit forward, back, left, or right.
Fatal Flaw: Enabling Sedentary Habits
Our finished prototype keeps users sitting in clean, neutral positions. The adjustable DisplayBuddy helps by setting the screens to the perfect height. That helps to avoid text neck. However, it also promotes sedentary behavior that's already at a crisis point.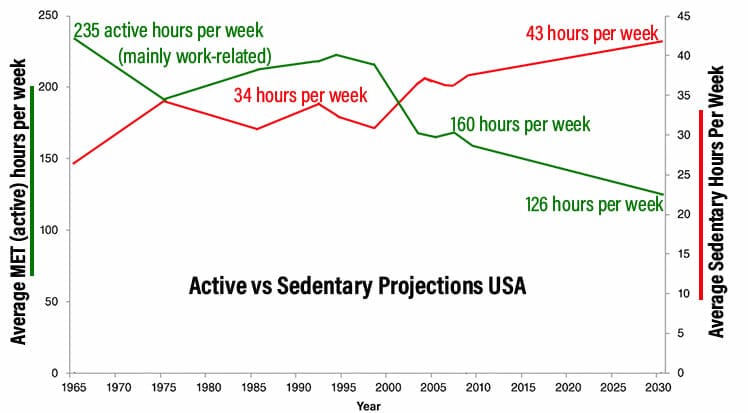 Notably, the Handbook of Human Factors and Ergonomics completely ignores sedentary health issues. That's because its purpose is to further human-computer interactions, not reduce them!
In sum, sedentary health risks are outside the scope of institutional ergonomics. As such, we shouldn't be looking for solutions from ergonomic prototypes. Instead, we can look to the multi-billion-dollar esports industry.
Most of today's elite teams employ physical therapy doctors. For instance, Dr. Jordan Tsai's Respawn Therapy Clinic services elite teams like Cloud9, TSM, Evil Geniuses, 100 Thieves.
He cites regular exercise as the key to boosting computing performance. "I recommend that players I work with do a few of these types of exercises every 2 hours at a minimum."
Bottom line: it's beyond the scope of ergonomic furniture to keep your body active. Instead, hone basic wellness fundamentals (exercise, nutrition, sleep) outside of your computing time for best results.
Conclusion
History shows that desk chairs evolve as technology does. When farmers became desk jockeys at the turn of the century, office chairs emerged. When office computing became ubiquitous in the early 1990s, ergonomic office chairs arose.
When pro esports kicked off a decade later, gaming chairs arrived on the scene. According to the 5th edition Handbook, full-blown multi-device ubiquitous computing comes next. The groundwork for this era is now getting laid. Soon, 5G, digital ID, smart sensors, and other digital data will converge to form a state of near-virtual reality.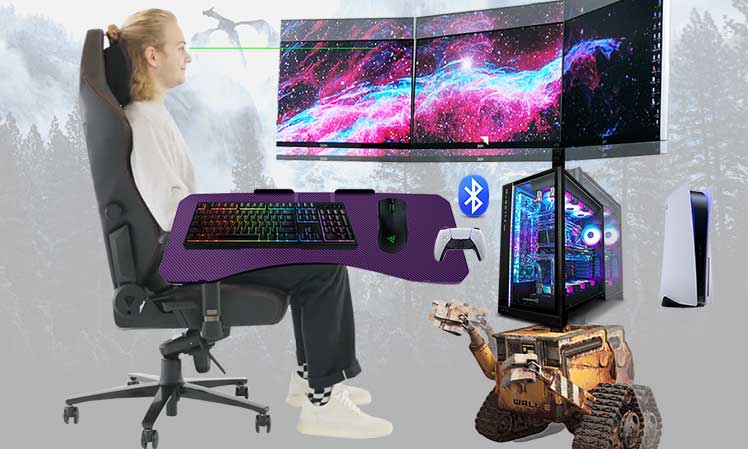 As that develops, there's plenty of time to fine-tune a ubiquitous, multi-device computing station concept. Our prototype cobbles one together using existing furniture parts. When a genuine need for such a workstation comes, any big gaming chair brand should be able to do it.
As technologies develop, furniture prototypes will also have to. For a closer look at the updated ergonomic principles for the perpetual computing era, see this:
Human-Computer Interaction: The Next Ergonomic Frontier
Footnotes
Edited by Gavriel Salvendy. 'Handbook of Human Factors and Ergonomics'. John Wiley & Sons, Aug 24, 2021. https://www.worldcat.org/title/handbook-of-human-factors-and-ergonomics/oclc/35986430 (accessed 2 March 2022).
Ahmet Naci Çoklar. 'Technostress levels of social network users based on ICTS in Turkey.' European Journal of Social Sciences 23(2):171-182, August 2011. https://www.researchgate.net/publication/287599284_Technostress_levels_of_social_network_users_based_on_ICTS_in_Turkey (accessed 2 March 2022).