The Fourth Industrial Revolution describes a global shift towards full interconnectivity and automation. This will blur the lines between the digital, physical, and biological worlds. As such, modern workplace design now aims to help humans consume more data over many devices. To support that, ChairsFX releases the world's first 3D printable multi-device gaming chair lapboard.
The World Economic Forum describes the Fourth Industrial Revolution as "billions of people connected by mobile devices, with unprecedented processing power, storage capacity, and access to knowledge…"
These possibilities go further with "breakthroughs in artificial intelligence, robotics, the Internet of Things, autonomous vehicles, 3-D printing, nanotechnology, biotechnology, materials science, energy storage, and quantum computing."(1)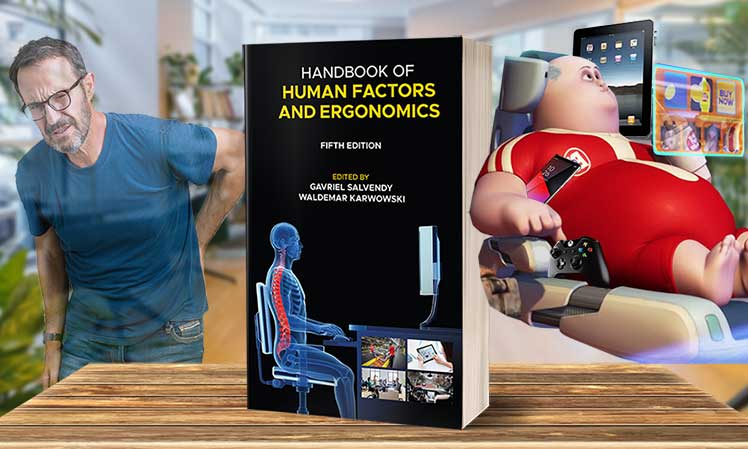 The Handbook of Human Factors and Ergonomics documents the latest standards in workplace design. The recently-released 5th edition reflects this new reality. Moving forward, multi-device computing becomes the driving ergonomic objective. Then, designers must address two resulting technostress issues:
Physical technostress: extended use of laptops, tablets, and smartphones increases the risks for musculoskeletal disorders.
Mental technostress: cognitive overload comes from using too many complicated gadgets at once.
To address these new realities, the gaming chair industry has already taken action. Over the past year, top brands have cranked out seven innovations geared to multi-device computing. Three factor into our prototype:
Magnetic armrest caps: Secretlab invented removable tops that extend arm functionality.
Modular concept: DXRacer modules make it easy to add functions for different computing needs.
Laboard concept: Anda Seat's lapboard combines magnetic arms with modular add-ons.
Multi-Device Laboard Prototype
In early 2022, Anda Seat released the Kaiser 3 Series chair. It clones the Secretlab Titan 2022's best features: 4-way lumbar, magnetic headrest, and magnetic arms. To set it apart from the Titan, Anda Seat also introduced a modular lapboard add-on.

The Anda Seat Magnetic mounted retractable tabletop attaches to Kaiser 3 magnetic armrests. It's easy to snap into place for mobile, laptop, and console gaming. On the downside, it places screens too low. That causes severe text neck, which leads to serious back pain!
The ChairsFX 3D Printable Lapboard Prototype addresses the 'text neck' problem. In doing so, it becomes a viable option for desk-free multi-device computing!
Prototype Parts And Download
This prototype comes as three downloadable STL files. You can view these online in a free STL reader, or edit them (if you have the know-how). This is available for educational purposes only!
These files are ready for 3D printing. However, according to Printaworld(2), printing the bottom layer alone would cost $3411!
That makes these files worth downloading only for product development kicks. If you'd like to edit the concept, download the files from Dropbox below:
Multi-Device Lapboard Usage Concept
This lapboard is a key part of our ubiquitous computing workstation prototype. That's a theoretical model designed to address ubiquitous computing challenges.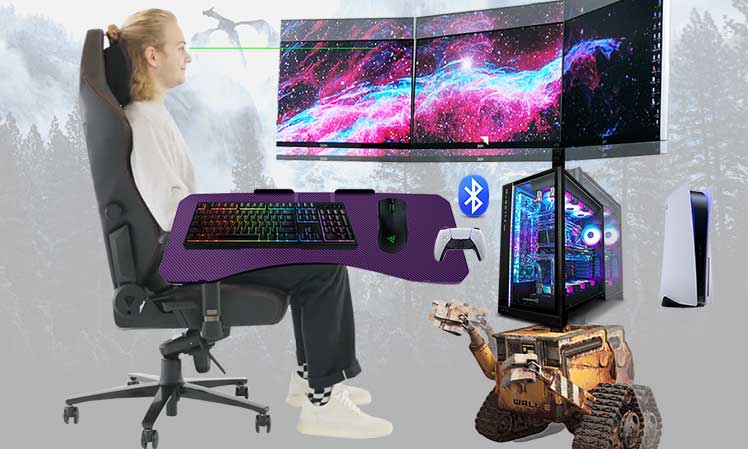 Laid flat atop a chair's armrests, it provides space for a wireless keyboard and mouse. By adding a portable screen holder, a desk becomes unnecessary. The hinge layer serves mobile use. Popping it up provides arm support — while keeping the screen near eye level.
The hinged layer also works for console gamers using a controller. Note that this concept was conceived as an alternative to Autofull's brilliant mobile arms.
This gives us two options to support multi-device usage. A lapboard + hinged top might work. As an alternative, we can use the lapboard for PC computing + mecha arms for mobile usage.
Attaching Lapboard to Gaming Chair
Our lapboard prototype can be attached in two ways. Since it's a rough design, the final binding involves Gorilla glue.
Method 1: Attach To Magnetic Arms
To make its lapboard concept possible, Anda Seat copied Secretlab's magnetic armrest concept. The Secretlab Titan Evo 2022 has magnetic arms with pop-off tops.
If you have a chair with magnetic arms, grab some Gorilla Glue and four steel strips. Gluing them in the right spots will make it easy to pop and lock your lapboard on and off of your chair!
Method 2: Use The Included Braces
If your gaming chair has regular (non-mag-top) arms, the download pack also includes a bottom brace piece. It's a 7″ x 2″ piece with a 5″ slot. Gorilla Glue two braces to both sides of your chair.
To fasten them in place, run velcro straps through the slits. It's not the most elegant, but if you don't have fancy armrests, it'll work!
Conclusion
Our gaming chair lapboard concept is designed to serve multi-device computing needs during the Fourth Industrial Revolution. Then, sensors, smartphones, and computers will place users in a perpetual state of near-virtual reality.
A key aspect of a lapboard is that it removes the need for a desk. To make that a reality, we'd also need an alternative method to hold display screens. Our solution for the future is a riff on the film Wall-E. That warns about the dangers of an over-reliance on tech.
In the film, citizens had become bloated and mentally slow. To remind people of that risk, our DisplayBuddy™ is designed after Wall-E himself. It's a remote-controlled refrigerator-on-wheels that holds a PC case. Atop the PC case is space for one, two, or three PC screens.
If the DisplayBuddy concept took off, so would the gaming chair lapboard concept. That would better serve multi-device computing needs than a traditional desk. Imagine a desk-free, multi-device computing workstation that cools your beer and follows you around the house!
Then, your biggest problem in life might become exactly what DisplayBuddy warns about. In fact, as ubiquitous computing engulfs the planet, excessive sedentary behavior remains one of the greatest issues of our time.
Luckily, the pro esports industry is leading the charge on a new style of hard-core computing. While training at the computer, all elite teams use ergonomic gaming setups. When away from the computer, exercise, nutrition, and proper rest are all priorities.
2022 Deskwork Priorities: Fitness + Posture Beats Technostress
Footnotes
Klaus Schwab. 'The Fourth Industrial Revolution: what it means, how to respond'. World Economic Forum, Jan. 14, 2016. https://www.weforum.org/agenda/2016/01/the-fourth-industrial-revolution-what-it-means-and-how-to-respond/, (accessed 28 March. 2022).
'Instant Quote 3D Printing'. https://prtwd.com/instant-quote/3d-printing/, (accessed 28 March. 2022).