You don't need a gaming desk the way you need a gaming chair. The latter provides crucial back support; the former adds flashy looks and luxuries. If aesthetics are a priority, it's now possible to add a desk that syncs with the style of your gaming chair. Below, we review the best gaming desks made by top gaming chair brands.
Standard office desks are often made out of composite wood. They don't do anything special other than provide a working surface.
Gaming desks add to the experience with visual, tactile, and functional enhancements. Each desk has different points of appeal.
Introduction to gaming desks
Before getting into desk reviews, here's a primer on home office desk fundamentals.
Desk height sizing specs
No matter how many flashy features a gaming desk offers, a proper fit is more important. Most desks have a tabletop height between 28-30 inches. That range works fine for average sizes between 5'8″ and 5'10" (172-177cm). People shorter or taller should adjust their desk height for best results.
Here are desk height parameters courtesy of blitzresults.com. "Chair height" refers to the distance from the floor to the seat. "Armrest height" measures the distance from the seat to the armrests.
| User height | Desk height | Chair height | Armrest height |
| --- | --- | --- | --- |
| 5'2" (157 cm) | 25" (63.5 cm) | 16.7" (42.4 cm) | 9.2" (23.2 cm) |
| 5'5" (165 cm) | 26.2" (66.5 cm) | 17.5" (44.45 cm) | 9.6" (24.3 cm) |
| 5'7" (170 cm) | 27" (68.5 cm) | 18" (45.7 cm) | 9.9" (25 cm) |
| 5'9" (175 cm) | 27.8" (70.6 cm) | 18.5" (47 cm) | 10.2" (25.9 cm) |
| 6'1" (185 cm) | 29.4" (74.6 cm) | 19.6" (49.7 cm) | 10.8" (27.4 cm) |
| 6'3" (190 cm) | 30.2" (76.7 cm) | 20.2" (51.3 cm) | 11.1" (28 cm) |
| 6'5" (195 cm) | 31" (78.7 cm) | 20.7" (52.5 cm) | 11.4" (29 cm) |
People taller than 6'2″ should consider a height-adjustable standing desk to ensure the right height. Those shorter than 5'8″ can compensate by adding an ergonomic footrest.
Using one raises the height of your feet on the floor. That allows short users to make use of taller desks. Learn more in this guide:
Tabletop depth x width basics
The depth of the table determines how far the monitor screen is from the user's face. The ideal distance from the monitor to the face is around one arm's length. If you reach in front of you, your fingers should almost touch the screen. To ensure enough space, a gaming desk should be at least 24″ (61 cm) deep.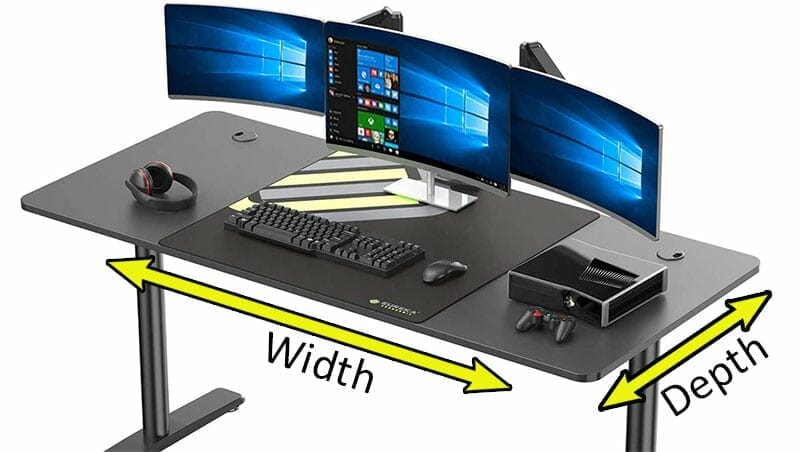 The width of a table determines whether the user can use a single, double, or triple-monitor setup. Broadly:
Small desks: 48″ (121 cm) wide; suitable for a single-monitor setup. You could also add dual monitors with a desk mounted monitor stand.
Medium desks: 55″ (140 cm) wide; suitable for a dual-monitor setup.
Large desks: 60″ (152 cm) wide; suitable for a triple-monitor setup.
Extra-large desks: 70″ (177 cm) wide; suitable for three monitors and a PC or gaming console.
Best desks by top gaming chair brands
Here are the best gaming chairs on the market made by established gaming chair brands.
Secretlab Magnus gaming desk
Secretlab price: $399-$449
Rated #1
The Secretlab Magnus desk comes with a very specific design philosophy. It addresses a problem common to many new gamers — cable management.
The desk (with addons) is designed to manage and hide cables in a concealed cable management tray. Optional addons include magnetic cable anchors, fastening straps, and table leg sheaths.
Those make it easy to route and organize cords. It comes in two sizes (47″ and 59″ wide). Setting it flush against the wall is the recommended way to use it.
Magnus desk overview
The stock Magnus desk includes a cable management tray on the back side of the desk and a tray cover. This lets you stash away monitor and peripheral cables to give the work surface a clean look.
As a launch promotion, it also comes with a free Stealth Edition desktop mat that covers the entire work surface.
Specifications
Optional add-ons
Tabletop: medium 47.2 (W) x 27.6″ (D); large 59.1″(W) x 27.6″ | 120 or 150 cm (W) x 70 cm
Height: 29″ (73.6 cm); 0.8 (2 cm) height extension
Material: steel frame with carbon steel tabletop.
Weight capacity: 220 pounds (100 kg)
Extra: Stealth Edition leatherette desk mat included.
Warranty: 49-day return policy; 5-year warranty.
Available addons include an RGB strip and cable management accessories. Highlights:
Magnetic cable bundle: 3 magnetic cable anchors; 2 leg sheaths, 10 fastening straps. ($44)
Magnetic cable anchors: 3-pack standalone. ($19)
RGB lighting strip: diffused RGB lighting strip with remote control. ($59)
Pros and cons
The Magnus desk caters mainly to aesthetic freaks obsessed with cable management. If Secretlab had included better height-adjustability, it could have been a must-have for all Secretlab chair owners.
Pros: attractive; innovative cable management; excellent quality build and warranty.
Cons: expensive; not height-adjustable; a bit shaky if not up against a wall.
Based on our desk sizing specs, the 29″ Magnus height suits users 6'1″ and taller (74.6 cm). Shorter users can add a footrest to compensate. However, when paying so much for a desk, better height adjustment functionality would help.
Advice
Secretlab touts this model as ideal for "the most discerning gamers, creators, and professionals." For that market, the Magnus desk is an impressive package.
Secretlab designed it from the ground up in the design lab at Secretlab HQ in Singapore. Like its chairs, the attention to detail is industry-leading.
If you already have a Secretlab chair, the Magnus desk might be suitable — if you're tall enough.
Buy a Magnus desk from Secretlab
The 47″ Magnus costs $399, while the 59″ version is $449. Currently available in the United States, the EU, and Singapore.
Arozzi Arena gaming desk
Amazon price: $321.85 Rated #2
Before the Magnus, the Arozzi Arena was the best gaming desk made by a chair brand. It's larger than the Magnus desk, and also comes with a full-tabletop mouse pad.
Although not as flashy as the Magnus desk, it's technically superior. That's because the Arena is height-adjustable, with a height range of 27.9″ (70 cm) to 31.9″ (81 cm). Based on our sizing chart, that makes it suitable for users between 5'9″ and 6'5″.
There are six different color options, all able to support up to 176 pounds.
Specs
Massive size, height adjustability, color variations, and a full-cover mousepad are the highlights:
Tabletop: 62 inches (W) x 31 inches (D) | 157 cm (W) x 80 cm (D)
Height: 27.9″ to 31.9″ (70.8-81 cm) adjustable range.
Extras: cloth mouse pad covers the entire tabletop; five desk leg color styles.
Weight capacity: 176 pounds (80 kg)
Warranty: two years
Advice
Arozzi desks stand out with a clean, stylish design and generous tabletop space. One problem is that the assembly is a bit tricky. If you don't tighten the leg screws enough, the desk will wobble.
The desk ships with a small Allen key to tighten four screws attaching the base to the legs. The holes are in a half-inch hole, making it hard to apply the right force to tighten the screws. The solution is to use a screwdriver instead of the Allen key. When tightened correctly, the Arena desk is super-sturdy.
GTRacing Z05 RGB gaming desk
GTRacing price: $219.99
Rated #3
GTRacing specializes in making cheaper versions of premium gaming chairs. The company's Ace Series pays tribute to the Secretlab gaming chairs. Ace models offer similar designs and features, with a lower price.
The GTRacing Z05 gaming desk is designed as a companion to an Ace S1 or Ace M1 gaming chair.
It has a carbon-textured surface, a Z-shaped frame, built-in RGB effects, and more.
Z05 desk specs
The Z05 offers a decent-sized work surface and gamer-friendly touches. Gamers with an Ace Series gaming chair will enjoy a nice aesthetic match.
Tabletop: 46.5 inches (W) x 23.6 inches (D) | 118 cm (W) x 60 cm (D)
Height: 29.13″ (73 cm) fixed height.
Material: steel frame; carbon steel tabletop.
Weight capacity: 180 pounds
Extras: RGB effect (7 color modes); cup holder; headphone hook; privacy baffle; cable-management desktop holes.
Warranty: two years (when you buy direct from GTRacing and register for an extension)
Z05 desk advice
The Z05 gaming desk is affordable and a nice match with an Ace gaming chair. The RGB and privacy baffle addons are a nice touch, but purely aesthetic. Functionally, this desk does the same job as a cheap wooden desk.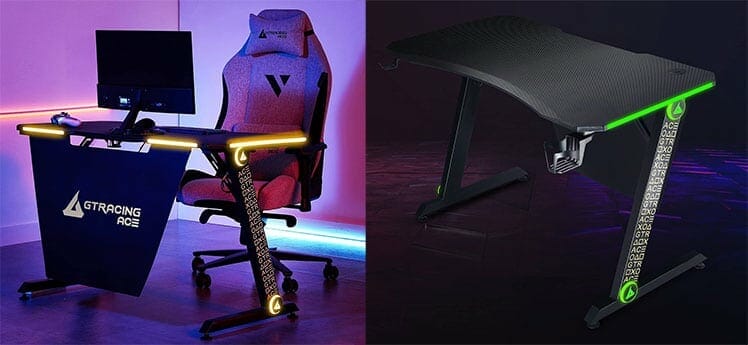 But it looks nicer. If that sounds appealing, check it out on the GTRacing site:
Ace Z05 RGB desk from GTRacing $219.99
The Z05 desk is also available on Amazon for Price not available.
Autofull Sakura Pink gaming desk
Autofull price: $359 $399
Rated #4
This pink beauty is a companion for the Autofull Pink Bunny gaming chair. It comes stacked with extras. Those include RGB lighting effects, a charging pad, a privacy baffle, and a gorgeous pink design with white accents.
You can pair this with a Pink Bunny chair or any other pink gaming chair for seamless, soothing uniformity.
Z05 desk specs
The Z05 offers a similar build as the GTRacing desk, with a larger work surface.
Tabletop: 48 inches (W) x 29.5 inches (D) | 122 cm (W) x 75 cm (D)
Height: 29.5″ (75 cm) fixed height.
Material: carbon steel frame and tabletop.
Weight capacity: 180 pounds
Extras: LED lighting; smart wireless charger; privacy baffle; cup holder; headphone hook; cable-management desktop holes.
Warranty: three years
Pink desk advice
The Autofull Pink Gaming Desk makes a nice match with a pink gaming chair. It won't improve your gaming or computing skills, nor add anything comfort-wise. Consider this a niche option for those who need more pink in their lives.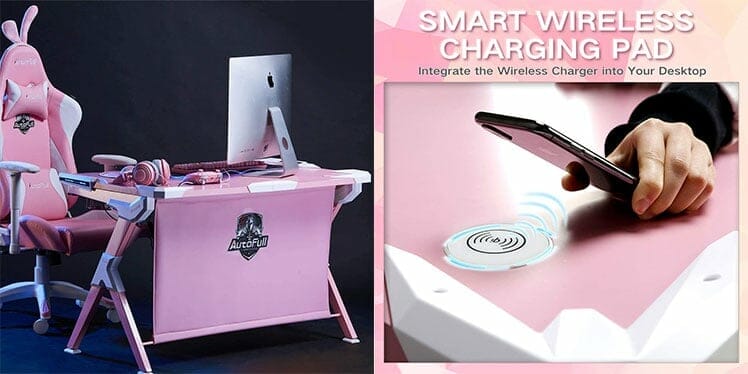 Available from Autofull.com (with free delivery) in the USA, UK, and EU. Use the coupon code ChairsFX to get $40 off the list price.
The Sakura Pink desk is also available on Amazon for $299.99.
E-Win 2.0 RGB gaming desk
E-Win price: $329.99
Rated #5
The E-Win 2.0 Ergonomic desk has a large work surface, RGB addons, and other standard features like a carbon fiber work surface.
It's a solid desk, with a nice RGB effect on each side. Other than that and the textured carbon work surface, nothing stands out.
T07 desk specs
Tabletop: 55 inches (W) x 26.3 inches (D) | 140 cm (W) x 67 cm (D)
Height: 30″ (75 cm).
Weight capacity: 175 pounds
Extras: RGB effects along tabletop sides; gaming controller rack; cable-management desktop holes.
Warranty: two years
E-Win gaming desk advice
This model is attractive and sturdy. But it's expensive. For a higher price than a standard desk, you get a larger work surface and RGB lighting.
Comparable gaming desks on Amazon
Beyond desks made by gaming chair brands are models made by dedicated desk companies. Below are a pair of popular models as an example of what's out there.
VIVO Black Electric LED Gaming Desk
Amazon price: $299.99
The VIVO Black LED gaming desk ranks #2 because of its two unique features. First is the blue lighting LED effect along the tabletop sides. Second is a height-adjustability feature. This model has a height range of 28.6″ to 46.6″. Each leg contains a 110V-240V-powered electric motor that can lift or lower the desk at 25mm per second.
Transitioning between sitting and standing positions is easy. You can program four preferred heights, and then push a button to active any preset.
VIVO Desk specs
The 47.3″ width (120 cm) is enough to support a single-monitor setup plus a PC or console box. If you put your PC or console on the floor, the Vivo desk offers plenty of room for 2 x 24″ monitors.
Tabletop: 47.3″ (120 cm) x 23.8″ (60.5) textured carbon fiber
Height range: 28.6″ (72.6 cm) to 46.6″ (118 cm)
Weight capacity: 220 pounds
Extras: cable management, leveling feet for stability.
Warranty: three years
VIVO Black Advice
Some sit-stand desk makers tout the health benefits of their products. In fact, tangible health benefits are mild. Health-wise, the biggest benefit is the ability to change positions often moving from sitting to standing. Bodies crave movement.
Even so, robust height-adjustability is appealing for extra-small or extra-tall users. Height adjustability is also a handy feature when using a shared desk. For instance, a 5-year-old and 18-year old could use the same desk, set at the perfect height for each of them.
Beyond the height-adjustability, the VIVO Black's Millenium Falcon-style blue LED lights add a slick gamer style dimension. Overall, this desk offers rich features and a solid warranty for a very reasonable price.
Eureka tempered glass RGB desk
Amazon price: $313.99
This desk stands out with a sturdy build and eye-popping tempered glass RGB tabletop. The lights glimmer under the glass with a huge range of effects. Choose from 180 RGB patterns, 18 music effects, and 30 audio spectrum lighting effects.
When working while playing music, the lights come alive in sync with the sounds. The effect brings your desktop to life with dazzling patterns that will keep you engaged and alert. That side, a lighting effect feature on its own is frivolous. Luckily, the Eureka desk also shines with its superb build quality and super-sturdy feel.
Specs
This is a small desk with enough width for one monitor and a gaming rig. Alternatively, you could put your PC on the floor and add two 24″ (max width) screens on the desktop.
Tabletop: 43 inches (109 cm) x 23.62 inches (60 cm)
Height: 30.9″ (78.5) fixed height.
Included extras: tempered glass tabletop; 200 RGB lighting effects, a full package of accessories.
Weight capacity: 176 pounds
Warranty: three years
The desk comes bundled with many extras. Those include a cupholder, controller rack with USB charging ports, and a
Advice
The Eureka Tempered Glass RGB desk has a lot going for it. The tempered glass tabletop has a sleek and luxurious yet sturdy feel. Keeping it clean with a damp cloth will reward you with a glimmering shine. The lights underneath are spectacular. One downside is no Bluetooth — the sound-sync effects only work with ambient audio.
Another downside of the Eureka desk is its small size. The lighting effects are invigorating. A wider desktop stacked with a gaming rig and multiple monitors would be eye-popping.
If you can live with those quibbles, this is a well-built desk with stunning RGB effects and an affordable price.
Desino gaming desk
Amazon price: $99.99
This is the top-selling gaming desk on Amazon's list of best-selling home office desks. Like most top-selling Amazon products, the main attraction is the low price. Another attraction is the super-sturdy build. Once assembled, the Desino desk feels like a tank.
Specs
The Desino desk comes with a wide tabletop offering plenty of room for a dual-monitor setup. The surface has a carbon covering with a textured fell. It's also sturdy enough to support up to 250 pounds.
Tabletop: 47.5 inches (120 cm) x 24 inches (61 cm)
Height: 28.75 inches (73 cm) fixed height; monitor stand height 35.8 inches (91 cm).
Included extras: cup holder, monitor stand, textured carbon desktop, headphone hook.
Weight capacity: 250 pounds
Warranty: 30-day money-back guarantee.
Advice
The Desino desk gets rave reviews on Amazon for its super-sturdy build. Even so, we have two quibbles. First, the included monitor stand is too high to be useful for most people. Second, this model only comes with a 30-day money-back guarantee. In contrast, most other gaming desks offer a 2-year warranty.
Those points aside, this is a solid gaming desk. The rock-bottom price, large dimensions and solid build make this an attractive low-cost option.
Best gaming desk accessories
Two accessories are worth mentioning to bundle with a gaming desk:
Footrest (for short people)
Most ergonomic chairs for kids include a footrest to allow the use of an adult-sized desk. For adults, if a desk is too high, adding a footrest can achieve the same effect.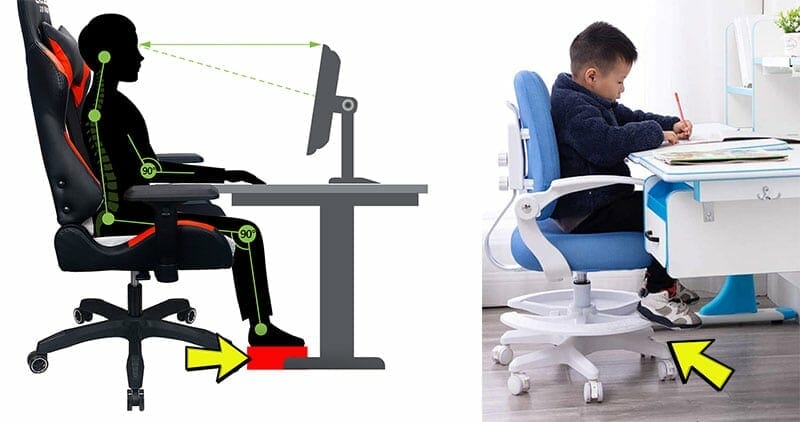 For adults, most footrests will add at least four inches under your feet. For instance, the Mind Reader Foot Rest adds 4.4 inches of height. It also has three tilt angles that let you work your ankle joints as you sit.

To angle down, push with your toes against the pebbled surface. To angle up, push with your heels.
Mind Reader Ergonomic Foot Rest $27.99
Check out other ergonomic footrest options in our Gaming Chair Accessories Guide.
Desk mounted monitor stand
Desk-mounted monitor stands attach to a desk using a clamp or grommet mount. The other end replaces the base of a monitor screen and attaches with VESA mounts. Look on the back of your screen. If you see four screw holes arranged in a square, it means your monitor is VESA-compatible.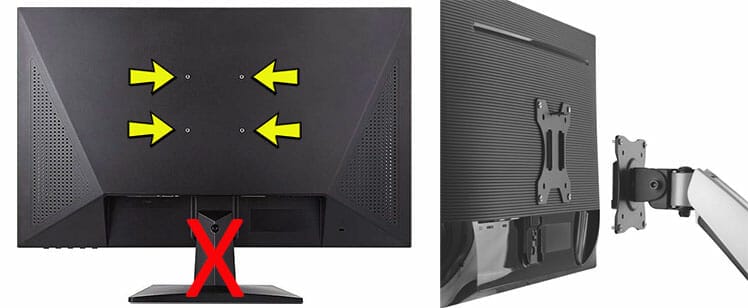 The other end attaches to a desk using a clamp or grommet mount. In between the two points, flexible steel adjusts in all possible directions. You can angle your screen, adjust the height, turn the screen vertical, or rotate 360 degrees. Attaching to most types of desks is easy: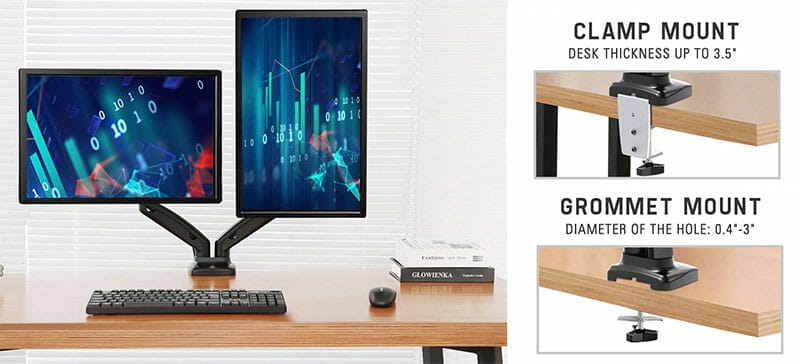 From the user's perspective, the screen appears to float above the desk. Desk mounts come with full adjustability. You can angle your screen, adjust the height, turn the screen vertical, or rotate 360 degrees.
Desk Mount advantages
Better for health: height adjustment lets you ensure the perfect height and angle for your body size.
Clears up space: without monitor stands cluttering your table, you get more space for working.
Clean aesthetics: using a monitor mount stand delivers a floating screen effect over a clean, uncluttered desk.
For example, the Mount-It! Dual Monitor Gas Spring Mount costs $109.99 on Amazon.
Mount-It! is a family-run business operating since 2006 in San Diego. The company offers over 500 different mounting solutions including wall brackets, projector mounts, and monitor desk mounts.
Its flagship MI-1772 gas spring dual monitor arm supports two 32″ monitors weighing up to 20 pounds each. Adjustments include 13″ height adjustment, 45° up or down tilt, 180° swivel, and 360° rotation.
To browse more dual and single monitor desk mount options, check this feature article:
Gaming chair floor mat
The main appeal of a gaming desk is to beef up a workstation's aesthetics. A gaming chair floor mat is a nice extra for those wanting more.
Beyond adding a splash of color, a gaming mat protects floors and keeps bare feet warm. Like gaming desks, using a gaming chair floor mat isn't necessary.
However, it's a really nice luxury. Once you try one, a workstation won't ever feel complete without one. Check out the best options on the market in 2021:
Other types of computer desks
There are a few desk options for work-from-home users to consider. Here's a quick summary:
Cheap Amazon desks
There are dozens of cheap options on Amazon's list of best-selling home office desks.
One popular option is the CubiCubi 32-inch Computer Desk, priced at $69.99 on Amazon. Made out of particle board, it provides basic support with smallish dimensions and no frills. Given its small dimensions and cheap build, the CubiCubi is best suited to schoolkids and laptop users.
IKEA desk with Alex drawers
AN IKEA tabletop paired with Alex drawers is a popular option in places like r/battlestations. It's also our recommended pick for home-based day-traders.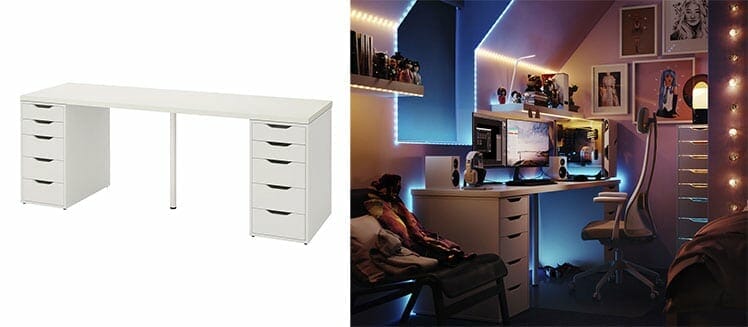 As an example, the Lagkapten tabletop with Alex drawers costs $209.99 from IKEA.
The tabletop is massive: 78.75″ long (200 cm) x 23.5″ deep (59.7 cm). That provides providing plenty of space for a triple-monitor setup.
Height-adjustable sit-stand desks
Sit-stand desks have motors in each leg. Those make it easy to adjust the desk height. Push a button to raise to standing height, or lower to a sitting height.
One problem: there aren't any proven benefits gained by switching from sitting to standing while working. When standing, blood flow gain is marginal. As well, users only burn a few more calories than sitting — around a carrot's worth over eight hours. The big upside is the height adjustability. For instance, the MotionGrey desk has a height range 23.6″ to 49.2″. At its lowest setting, the desk is ideal for kids 6-12 years old.
Users under 5'7″ or over 6'1″ would gain the most from these desks. Smaller users can lower the sitting height, while taller users can raise it. To lean more, check out our sit-stand desk report:
Conclusion
Building your own PC is a trap. On one hand, it's a lot of fun customizing a PC's hardware and styling to make it your own. But to enjoy long periods of sitting at your custom PC, you need a good ergonomic chair.

Once you've invested in a custom PC and luxury ergonomic chair, a plain old grandfather-style desk might annoy you. But if you invest in a fancy gaming desk, your needs may never stop.
There are floor mats, cable management toys, monitor mounts, and many other accessories to enhance your gaming or working station.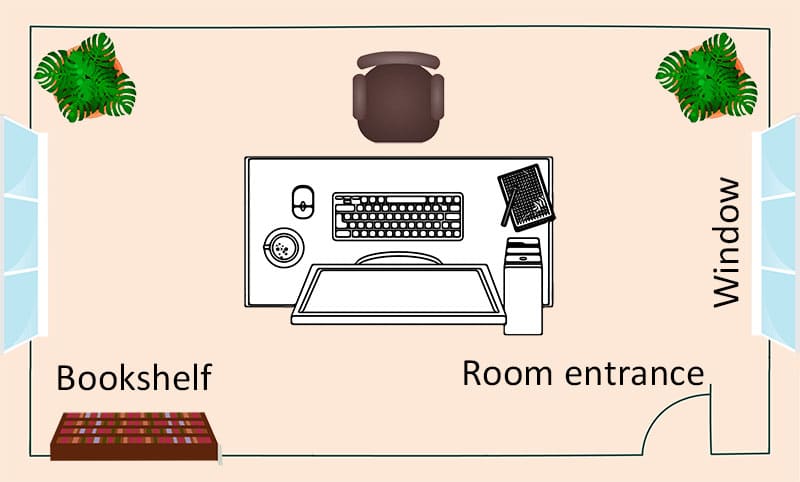 You absolutely don't need a gaming desk. If you want one for interior design purposes, the models listed in this review are among the best on offer.
Other workstation optimization tips don't cost money. For example, you can use feng shui principles to sync a workstation with a room's positive energies. Learn more: