Flexispot makes health-oriented home office furniture and desk chairs. The Flexispot Soutien OC10 is its ergonomic entry. It's one of the few fully-ergonomic office chairs on the market suitable for short people. This review breaks down its merits vs other small-sized office chairs.
Flexispot is a Chinese operation formed in 2015. The company made its mark selling standing desks and desk bikes. Today, Flexispot operates in America, Japan, Vietnam, and the UK. The Soutien chair made its debut in early 2021.
It's one of the few affordable ergo office chairs for small sizes. Despite its low price, it has powerful features. For instance, most chairs in this price range only let you rock or lock upright.
In contrast, the Soutien has a 106-135° recline range that lets you rock or lock at angles, as shown in this clip:
Other highlights include adjustable lumbar support, and a depth-adjustable seat. So how does the Soutien OC10 compare to other small office chairs? Keep reading to find out…
Soutien chair from Flexispot $219.99
Soutien Ergonomic Office Chair Review
Based on institutional guidelines, a chair needs three adjustable features to qualify as 'ergonomic'. These are: adjustable lumbar support, adjustable armrests, and a reclining backrest. The Soutien ergonomic chair offers all three, with robust implementations.
Features
The Soutien has 4D arms, a lockable 106-135° recline range, a seat slider, and a dynamic 3D lumbar support system. The '3D dynamic' means: every time you lean back, the unit auto-extends to keep your lower back supported.
On ChairsFX, 3D dynamic lumbar are rated as one of the worst lumbar support types. Most are not height-adjustable. If it doesn't fit your particular lower back, it will annoy rather than support.
In comparison, the Soutien chair's 3D lumbar is height-adjustable with three locking points. THis clip shows how to slide it up or down to fit your particular lower back curve:
Summary Of Features
Lumbar support: 3 height-adjustment levels. The depth-control uses a 'rebound system' that provides self-adaptable resistance as the user moves.
Armrests: 4D armrests with padded cushion tops.
Reclining mesh upholstery: fleece mesh (Italian chenille temperature-sensitive fiber); rocking and recline range from 106-135°.
Seat: padded fabric seat; depth-adjustable (16.1-29.1″ depth range from the lumbar support).
Foundation: high-density plastic frame, class 4 gas lift, silent PU caster wheels.
Warranty: 1-year Flexispot guarantee.
Soutien Vs Other Small Chairs
Here's how the Soutien compares with other affordable office chairs for short people: In terms of both features and price, the Soutien chair most closely resembles the Sidiz T50 ($419.00 on Amazon).
Slightly higher on the pricing scale, the Steelcase Series 1 serves up similar features with a 12-year warranty. Here's how all three models measure up:
Spec
Soutien
Sidiz T50
Steelcase Series 1
Seat width x depth
20.5″ (W) x

16.93-18.9″

(D)
19.9″ (W) x 18.3″ to 21″ (D)
19.2″ (W) x 15.75″ to 18″ (D)
Backrest width x height
20.5″ (W) x 28.7″ (H)
19.1″ (W) x 20.5″ (H)
21.5″ (W) x 21.5″ (H)
Seat height

16.9-19.7″

18.1-21.5″
16.5-21.5″
Size rating
5'3″ to 5'10"; 299-pound weight capacity"
5'4″ to 6'0″; 300-pound weight capacity
5'4″ to 6'1″; up to 300 pounds
Warranty
1 year
3 years
12 years
Price
$219.99 from Flexispot
$419.00 on Amazon
$498.00 on Amazon
Soutien Sizing Advice For Short People
As outlined in this ChairsFX Sizing Guide, the key to a good fit is a chair's seat depth. One that's too deep will pull the knees forward and distort posture. On that front, the Soutien's 16.93″ minimum seat depth can fit very short legs.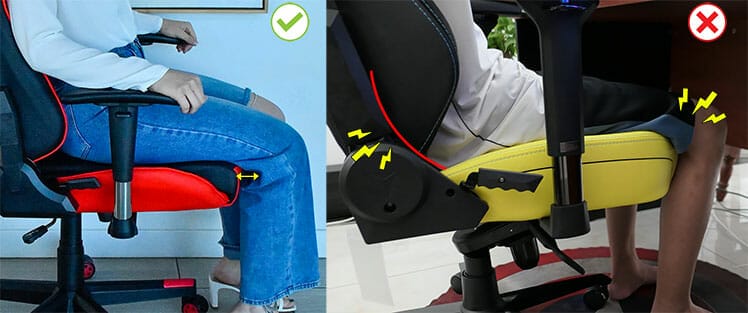 However, sizes shorter than 5'3″ will find the backrest and lumbar support ill-fitting. Even as its lowest height setting, the lumbar may be too high for sizes 5'2″ or shorter.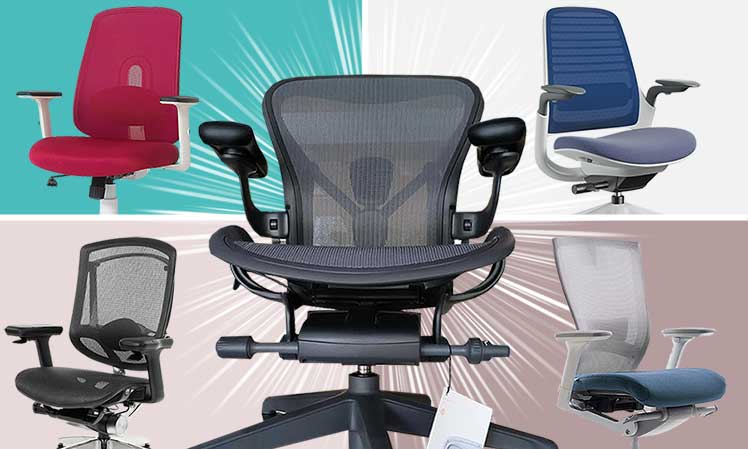 To compare the Soutien chair's merits versus other small office chairs, see this:
Final Verdict: Worth It?
I've found two downsides to this chair. First, the headrest is only height-adjustable. Most short people will find that it pushes the neck forward rather than supporting it.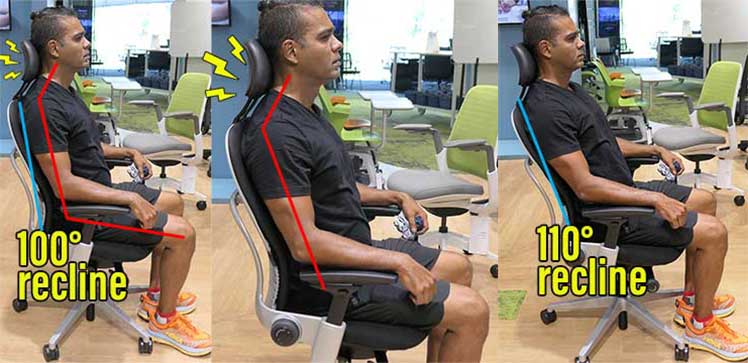 That's a common office chair headrest flaw, in all types of ergo office chairs. The solution: remove the headrest for best results.
My second gripe about the Soutien chair is its 1-year warranty. After a year of full-time use, expect the mesh backrest to get saggy, the seat padding to flatten, and parts to loosen.
That's a bummer, because this full-featured chair is easy to fall in love with. It's comfortable, breathable, and very easy to use. The height-adjustable lumbar support is foolproof: choose one of three heights and you're good to go.
The 4D arms are also a nice touch for such a cheap chair. But if you use it full-time, the love affair won't last long. But despite these downsides, the Soutien chair is absolutely worth it for short people.
Pros
Height-adjustable dynamic lumbar support
4D armrests
106-135° lockable recline range
Good seat dimensions for short people
Comfortable and easy to use
Cons
Only guaranteed for one year
Feels a bit flimsy (not built to last)
The headrest doesn't support short sizes
Bottom line: there's no other office chair in this price range with such robust features. As an introduction to ergonomic seating for small-sized first-timers, the Soutien offers solid value for the money.
Soutien chair from Flexispot $219.99
The Soutien is only available available on Flexispot.com. You can also browse the Flexispot Amazon Store for other office chair options.