Victorage makes some of the best pro esports gaming chairs you've never heard of. This company is well-established in the Chinese esports big leagues. Now, Victorage gaming chairs are available outside of China. This Victorage gaming chair review introduces all models now on sale in America.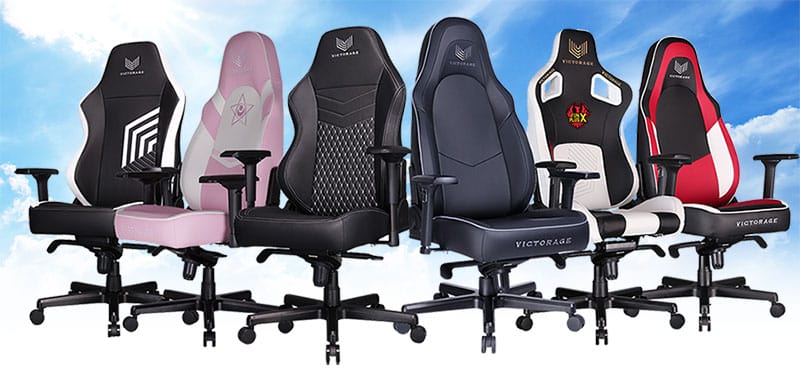 China is the world's largest esports market. Projected 2020 esports revenues in China are $385.1 million. In contrast, the American esports market is expected to generate $252.8 million.
Victorage started as a company 20 years ago in Changhzhou, China. Like DXRacer and AKRacing, Victorage began as a maker of high-end sports car seats.
The company launched its gaming chair division in 2018. Soon after, it forged partnerships with several high-profile Chinese pro esports teams. In China, Victorage operates its own robot-welding steel frame workshop and a foam factory. Developing supplies in-house lowers the price of their chairs.
For the American market, Victorage maintains a warehouse in Montebello, California. The company also runs a consumer website that sells chairs.
Victorage esports gaming chair overview
Here is a broad introduction to Victorage esports chairs now on sale in America.
Victorage pro esports gaming chairs
The Victorage Chinese website has the largest collection of chairs. In China, users can buy a range of standard chairs plus several custom designs. For now, the American and Amazon stores offer a smaller selection. Standard editions are available, while special editions are not. Here is a summary:
Conclusion
There's a lot to like about the Victorage gaming company. First, they have 20 years of experience in the luxury seating field. Second, they own and operate their own factories in China. That means more robust R&D plus a higher level of in-house QC. In America, they've set up a distribution center, an e-commerce website, and a corporate sales site.
There is also a lot to like about their chairs. They offer pro features, striking designs, and solid warranty protection. These chairs are also proven in the field. Official Victorage esports team partners include FunPlus Phoenix (FPX), Edward Gaming (EDG), LNG Esports, and Top Esports (TES).
Esports players log around 6-10 hours of training at a computer every day. Their work is mentally taxing. Some esports shooting games demand up to 400 actions per minute. That demands the brain to operate at warp speeds processing decisions and mouse clicks.
By partnering with esports teams, gaming chair companies demonstrate the effectiveness of their products. Victorage chairs already help esports players thrive under intense conditions. That makes them a good option for others who spend long hours sitting.
Gamers, office workers, and others who spend long periods at a desk will find value in these chairs.