Who can benefit most from a gaming chair? The answer is everybody. Gaming chairs are designed for comfort. The aggressive styling and lavish details are just for aesthetics.
Customization and comfort is the name of the game. These types of chairs will keep you comfy even if you spend more than 8 hours a day in front of the screen.
But gaming chairs do come in various shapes and sizes. How do you know which one is best for you? You have to familiarize yourself with the most common and uncommon features. Learn what they do, and figure out if they can improve your gaming or working experience.
Respawn RSP-200 Gaming Chair: OVERVIEW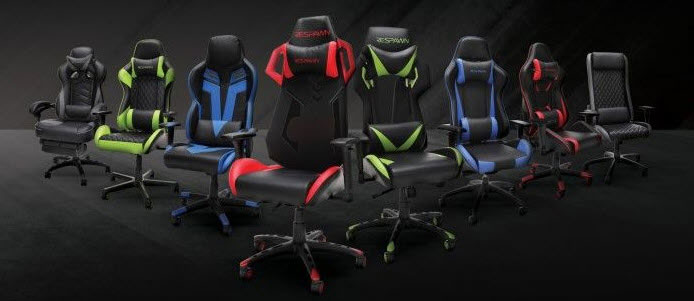 The RESPAWN-200 is an affordable chair with basic features yet complete customization control. You can adjust the height, armrests, lumbar support, and recline angle to as far as 130°.
The steel tube frame supports up to 275 pounds. The design allows for comfortable sitting – for as long as eight hours per session.
Respawn chairs are sometimes advertised as high-end racecar-style gaming chairs. While the customization features justify that title, the average price is accessible to gamers of any budget. The RSP-200 is among the cheaper ones but don't think that it compromises features.
Pros
Innovative mesh backrest allows for advanced breathability
Excellent lower back support negates slouching
Plushly padded in High Resiliency Foam
Cons
Limited instruction manual comes with the chair (use ours)
Lifetime warranty on the seating
Who is this product for?
The RSP-200 is built to accommodate a wide range of gamers. It's a solid choice if you appreciate racecar-style seats and a high degree of comfort. It's also good if you depend on armrests during your gaming sessions.
Want to customize your gaming experience? The 2D adjustable armrests are tailor-made for you. Taller gamers get the full back and head support.
Do you have lower back problems? Included accessories will ease the strain caused by long gaming sessions.
What's included
Although it looks basic once you look past the cool graphics, the RSP-200 does offer some nice accessories and features, enough to satisfy even avid gamers.
Neck support pillow
Integrated lumbar support
2D armrests
5-point base with wheels
360-degree-swivel
Overview of features
The RSP-200 has a 360-degree-swivel reclining backrest, 20" wide seat, and 17.5" seat depth. It's not the biggest of gaming chairs but it is fairly customizable. This makes it useful for both smaller and bigger gamers.
The chair can adjust in height between 18.75" and 22.25", tilted backward, and rotated 360 degrees.
The armrests are only adjustable in two dimensions. That said, depth and height adjustments for the armrests are enough for most gamers. There are no other special features in this department as the armrests are straight and just a bit wide.
The seat cushion is not too plush. It's breathable and fairly hard so it won't make you feel like you're sinking. The lumbar support does a good job as does the memory foam beck pillow. But the lumbar support is integrated. This makes the neck pillow the only detachable accessory.
The absence of depth adjustment on the seat may be noticeable by some gamers. However, it's the price you pay for not using a fixed frame gaming chair. What's really nice is the reclining control. You have total control over the angle lock between 90 and 130 degrees.
It's not enough to fall asleep or watch a movie without a footrest, but it's good enough for watching VODs and replays.
How to use
Seat and backrest adjustments are done from the knobs on the right side of the chair (underneath the seat). That's where you set your seat height and recline angle. Upon unlocking the angle lock, the chair will come back up to a 90-degree angle on its own if you stop applying pressure.
Adjustments for the armrests are done by pulling them in the desired position. What's also worth noting is that the integrated lumbar support is also adjustable in height. This feature accommodates taller users the most.
For broader instructions on how to adjust and use your chair, check out our Ultimate Gaming Chair User manual.
Respawn RSP-200 Alternatives
All things considered, the RSP-200 is a solid budget option for most amateur and pro gamers. But, it doesn't have all the comfort features that some gamers look for in a home gaming chair. Maybe you also want something that lets you kick back more and fully relax your body.
The Elecwish office gaming chair might be a suitable alternative. Although it has the traditional look of a racecar-style gaming chair, it comes with a hidden feature. That's the hidden footrest that can be extended forward when reclining.
Bringing out the footrest really allows you to relax. In terms of comfort, the Elecwish office gaming chair may offer more.
Conclusion: buy now!
For all intents and purposes, the Respawn RSP-200 by OFM is a complete gaming chair. It allows you to customize height, armrests, lumbar support, and recline angle. You can also able to rotate 360 degrees for some epic celebration moments.
It offers excellent value for money. Although it lacks high-end features, you still get solid comfort, style, and reliability. It's also a reliable choice if you're slightly taller since the neck pillow seems to favor people who are 6 ft. tall and up.