Singapore has clean, orderly streets and an educated population of 5.6 million. Secretlab launched from here in 2014 and went on to become one of the leading gaming chair brands in the world. Now, another local ergonomic chair brand has emerged. This article introduces Apol gaming chairs. They're affordable, full-featured, and only available for sale in Singapore.
Apol stands for "a piece of lifestyle". The company launched its first chairs to the Singapore market in 2017. Founder Jason Lin told AsiaOne that Apol makes ergonomic, not gaming chairs. He added that their products are more like Herman Miller chairs than Secretlab ones.
That's a bold claim. Herman Miller ergonomic chairs have some very advanced features. In fact, Secretlab chairs also have impressive ergonomic features. So how do Apol chairs stand up?
Apol's 2020 collection of ergonomic chairs
Apol's early 2018 models were basic chairs with generic styling. There were also some flaws in the designs. That's normal. All brands start out with less-than-perfect chairs. One of the great things about gaming chairs is that they evolve fast, based on user feedback. That's because gaming chairs support long periods of sitting. When you sit full-time in a chair, imperfections become noticeable.
So props to Apol for throwing a concept out there and rolling with it. Like other diligent brands, they processed user feedback and went through several product revisions. Today, they have a 3-chair roster. There's a small, medium and large-sized chair. All models cost the same: $398 Singapore dollars ($278 USD).
All Apol 2020 edition chairs also share the same features:
Ergonomic features: soft padded 4D armrests; multifunction tilt-lock; recline to 165°.
Upholstery: cold-cured foam padding; black (breathable) PU leather cover.
Support: all Apol models come with neck & lumbar support pillows.
The main differences between models are the dimensions and styling options.
Apol Sphinx
Current price: $398.00 SGD ($278 USD)
The Apol Sphinx shrinks down their premium features into a compact package ideal for small, slim sizes. It only comes in a black mesh fabric edition.
Sizing
This is a compact chair best suited to kids or petite sized adults. Check out competing models in our review of the best small-sized gaming chairs.
Seat width & depth: 49cm/ 19.3″ (W) x 46cm/ 18.11″ (D)
Backrest height & width: 83cm 32.6″ (H), 50cm/ 19.6″(W)
Size rating: people up to 165cm tall (5'4″); up to 120 kilos (264 pounds)
Apol Kraken
Current price: $398.00 SGD ($278 USD)
Apol's flagship model should be a good fit for most average-sized users. It comes in a choice of PU leather (black, grey, white), grey fabric or navy suede with black leather trim.
Seat width & depth: 55cm/ 21.6″ (W) x 48cm/ 19″ (D)
Backrest height & width: 87cm 34.2″ (H), 54cm/ 21.25″(W)
Size rating: people up to 200cm tall (6'5″); up to 120 kilos (264 pounds)
Apol Behemoth
Current price: $398.00 SGD ($278 USD)
This model has the same features and dimensions as the Kraken. The only difference is that it supports ten extra kilos.
Apol buying advice
Apol's chairs offer solid value for money. There are very few brands that offer multifunction tilt-lock and 4D armrests for such a low price. The Apol team seems keen to avoid the "gaming chair" label, but that's not necessary, in our opinion. Gaming chairs are k known the world over as ergonomic chairs for everyone, not just gamers.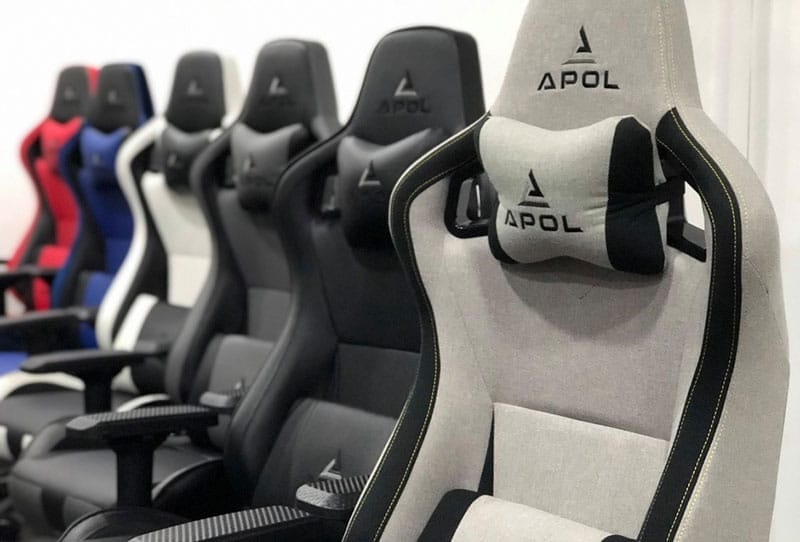 That's why ChairsFX touts gaming chair benefits for everyone. PC gaming chairs are not only for esports players but also for students and office workers. For computer users in Singapore, Apol offers a fresh and affordable seating option.
We're most impressed by how fast their models have evolved. With more people using these chairs, their team will get more user feedback. That's the key to rapid evolution in the gaming chair market.
Apol broke new ground by offering multifunction tilt lock for such a low price. We look forward to continued evolution from this intriguing new gaming chair brand.