Like PC gamers, console players can game at a desk with a good gaming chair. However, consoles also connect with TVs. That frees gamers to play on the couch, floor, or in bed. None of these options are as good for your back as a desk + gaming chair setup. This article explores health-boosting accessories for console gamers across different scenarios.
Gaming with a good chair at a desk is the healthiest for long periods. However, many console gamers prioritize having fun over sitting up straight(1). For that reason, an office worker who sits at a desk might dread home gaming at a desk.
Since gaming consoles connect to TVs, there are other possibilities. Here are the most common console gaming setup options — ranked from the best for health to the worst:
Desk + gaming chair: best for long-term health; not as relaxing as a sofa.
Reclining bed: decent support with a lumbar pillow; not as good for the back as a desk setup.
Sofa: bad for your back over long periods but loved by millions.
Floor: excellent for the back — with perfect form. Otherwise, this option can be ruinous.
Console gaming chair: awful all-around. No redeeming qualities.
Best Console Gamer Health Accessories
Gaming with an aligned spine at a desk is best for health. However, it can't compare to the luxurious comfort of a fluffy sofa. Meanwhile, new bed technologies have emerged that are well-suited to console gaming.
In all cases, there are possible physical drawbacks. Here's a look at console gaming health accessories for the different use cases.
Console Desk Gaming Health Accessories
For long periods of healthy console gaming, nothing beats a good desk + gaming chair setup. This provides you the tools to game with comfortable good posture for long periods. That involves sitting straight with your feet planted on the floor.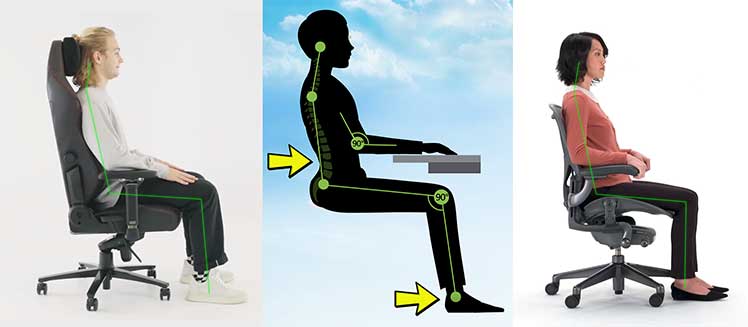 The problem is that most adult-sized desks are 28-30″ high.
In this scenario, two accessories can help to optimize console gamer health benefits.
Conclusion
The healthiest way to play console games over long periods is at a desk. A standard battle station would include a console unit, a good chair, a desk, and a monitor mount.
The monitor mount lets you position the screen to avoid craning your neck. People 5'10" and shorter can also benefit by adding an ergonomic footrest.
Other places to play console video games aren't as good for your spine. On the other hand, gaming on the sofa or in bed is a lot more comfortable than sitting erect at a desk.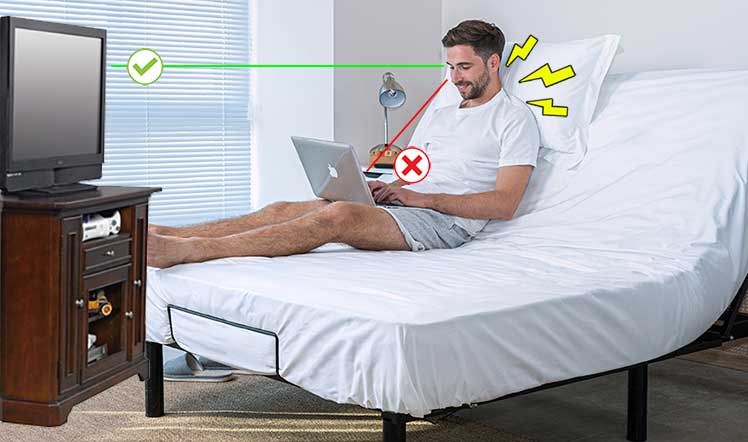 Luckily, smart usage plus accessories can help to lessen health drawbacks.
Desk accessories: ergonomic footrest; monitor desk mount. Use these to sync your body height with your battle station.
Bed: reclining bed base; lumbar pillow. Enjoy reclined gaming in bed with an aligned spine.
Sofa: Couchmaster lapboard. Use this to reduce arm strain while couch gaming.
Beyond the bed, sofa, and desk, console gamers have two other options. Gaming on the floor is excellent for your spine — but only with perfect form. There are also dozens of 'console gaming chairs' out there that do more harm than good. To review all options, see this feature:
Healthiest Console Gaming Setup Styles Reviewed
Footnotes
Dr Niklas Johannes, et al. 'New research from Oxford University has delivered a surprising finding- time spent playing games is positively associated with wellbeing'. Oxford Internet Institute, 16 November 2020, Press Release, (accessed 1 March 2022).
Dr. Steven Pollack, 'Reading in Bed May Lead to Neck Problems', Pollack Health and Wellness, 7 September 2020, https://pollackhealthandwellness.com/reading-in-bed-may-lead-to-neck-problems/, (accessed 1 March 2022).
Umesh Isalkar. 'Sofa, not so good: Cushy couches give bad backs', Times of India, 17 October 2015 https://timesofindia.indiatimes.com/life-style/health-fitness/health-news/sofa-not-so-good-cushy-couches-give-bad-backs/articleshow/49429178.cms, (accessed 1 March 2022).