High-powered PC computing power arrives for the masses. When the Xbox Series X and PS5 debut, both living room and desk gamers will reach a pro esports level of gameplay. To prepare to play video games like a pro, you will need good seating. But choice of seating will depend on your setup. Check out the best accessories to support living room or desk-based console gaming.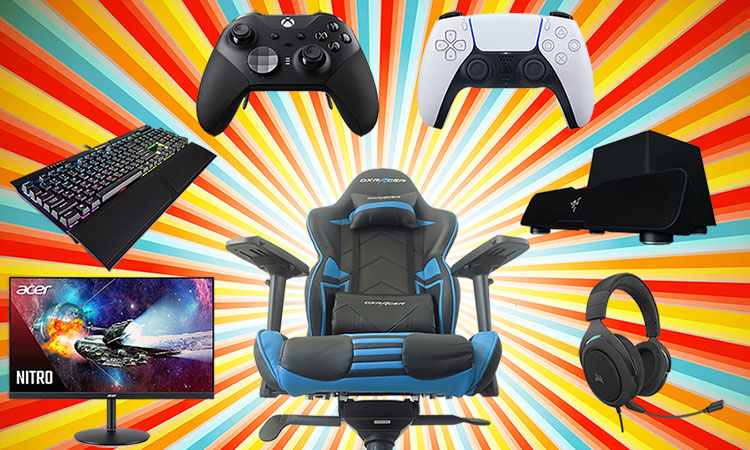 The Xbox Series X and Xbox Series S open for pre-orders on September 22. The official release date for both is November 10. The former is the most powerful Xbox ever created. The latter is the smallest. Both offer faster processors, SSD hard drives, and true 4K graphics.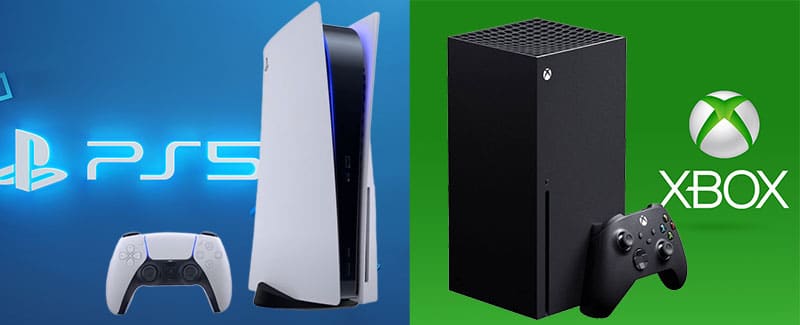 The PlayStation 5 launches on November 12. Like the Series X, the PS5 is an ultra-powerful machine offering true 4K graphics, 120 fps gameplay, faster load times, and more.
What is the best console gaming setup?
The best setup for gaming on a PlayStation or Xbox depends on user preference. Some users prefer playing video games at a desk, like the pros do. That is a straightforward setup. You need a desk, a gaming monitor, and a gaming chair.

Others like to play console games in front of the TV in their living room. A living room console gaming setup isn't as straightforward. The couch or floor work fine for casual gaming. Multi-player racing, sports, or fighting games are ideal for playing on the couch. If sessions are less than 30 minutes at a time, sitting however you prefer shouldn't be a problem.
For longer sessions, effective back support will ensure a healthy posture while you sit. Over time, sitting with an aligned spine will ward off stiffness and back pain. As a result, console gamers can enjoy longer gaming sessions without any physical downsides.
Will you play console games in your living room, or at a desk? Both options have benefits and drawbacks.
Living room console setup options
In the living room, the default seating options are to sit on the floor or sofa. For short sessions playing games optimized for a controller, both should work fine. Fighting, racing, and multiplayer action games like Rocket League are great to play in a group.
Over longer sitting periods, sofas are bad for your back. Thicker sofa padding yields less support. As a result, the spine needs to expend more energy holding the body upright. As the muscles tire, the body wilts, and poor posture sets in. Over long gaming sessions, chronic poor posture hinders gaming performance and causes health problems.
Living room seating options
Our review of the best console gaming chairs lists three healthy seating options for living room gamers and one unhealthy option.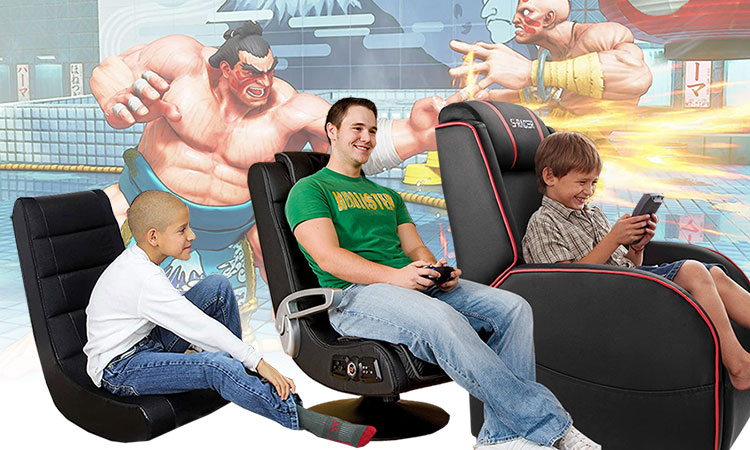 Classic console gaming chairs include floor rockers, pedestal rockers, and gaming recliners. These models are portable and kid-sized. All are better options than gaming on the floor.
However, none offer effective back support to promote healthy sitting. In fact, console chairs curve the spine into a "c" shape. That flattens the lumbar curve and places pressure on the neck and upper back.
Beyond console gaming chairs are four much healthier options. These support good posture and also come with features to enhance comfort and gameplay.
Summary of healthy living room seating options:
Footrest gaming chairs: these support good posture and also serve as a recliner with a retractable footrest.
Pro esports gaming chairs: these are the same chairs used by world-leading pro players. These are upright desk chairs with rich ergonomic features.
Couchmaster: this product will let you enjoy a desk-style setup while sitting on the couch. Doing so will support a healthier sitting posture. A Couchmaster also enables gamers to use a mouse and keyboard instead of a controller.
Keyboard, mouse and lapboard combos
If you choose to use a gaming chair in your living room without a desk, a lapboard is a must. This allows you to use a full-sized mouse and keyboard. As you sit in your gaming chair (or on the couch), rest the unit on your lap to game like a pro.
Most units work with both Xbox and PlayStation consoles. However, Microsoft also offers native keyboard and mouse support on Xbox consoles. Native devices give specialized controls that work with select titles like Fortnite and Call of Duty.
Razer Turret Keyboard and Mouse for Xbox
The Razer Turret is an officially-licensed Xbox wireless gaming keyboard. It comes bundled with a wireless mouse. Both use a 2.4GHz wireless connection that ensures smooth, crisp gameplay.
The keyboard has a built-in Xbox key. Use that to pull up the Xbox One dashboard. It also comes with Razer Chroma RGB lighting. That lets you program dynamic lighting effects to suit your tastes.
A retractable pad slides out from under the keyboard to support a mouse. The 16,000 DPI mouse has a clickable scroll wheel with tactile grip and RGB lighting. It also has two mechanical buttons under the wheel, plus two more on the side for your thumb.
The keyboard can last 43 hours on a single charge. With RGB lighting on, one charge will last 11 hours. The mouse can last 50 hours on one charge, or 30 with RGB lighting on.
Razer Turret keyboard kit on Amazon $249.99
Corsair Lapdog kit
This option works with PlayStation, Xbox, and PCs. The Corsair Lapdog is for use with the Corsair K70 or K65 Series keyboards. The board itself comes with a removable memory foam lap cushion. It also works as a powered 4-port USB 3.0 hub. That lets you connect a keyboard, mouse, headset, or game controller. You can also use the ports for fast-charging a phone or tablet.
The Lapdog comes with space for a keyboard plus a large 11″ x 11″ mouse surface. Paired with a gaming chair in a living room, this provides a blissful base for pro-level gaming. The removable memory foam cushion also provides great support when used on a couch.
Corsair Lapdog on Amazon Price not available
Corsair K70 MK.2 RGB Keyboard
The K70 MK.2 fits into the Corsair Lapdog. It's also one of the very best gaming keyboards on the market. It's a goregeous mechanical RGB backlit gaming keyboard made with aircraft-grade anodized aluminum.
Per-key RGB backlighting offers unlimited color customization. This model also has a USB pass-through port that you can use to connect a mouse or headset.
Corsair K70 keyboard on Amazon $129.99
Corsair M65 RGB Elite gaming mouse
Any mouse will pair with a Lapdog and K70 keyboard. The recommended Corsair option is the Corsair M65 RGB Elite. This is a wired gaming mouse optimized for FPS and MOBA gaming. It comes with Corsair's most advanced optical gaming sensor, with native 18,000 DPI. That is adjustable in 1 DPI resolution steps, giving you total sensitivity customization.

There are eight programmable buttons, plus an advanced tunable weight system. That lets you adjust the center of gravity of the device.
Gaming-quality 4K TV
Casual gamers and those using their console as an entertainment center can get by with their existing TV and a stand. Simply connect your console to your TV with an HDMI cable and start gaming.
Serious gmers wanting to get the best experience form their new console should upgrade their TV. Both the Xbox X and PS5 have HDMI 2.1 ports. HDMI 2.1 is a next-gen connection that can carry resolutions up to 10K, with frame rates up to 120fps.
Sony XBR-55X900H 4K UltraHD 55″
Today, there are only a few TVs with HDMI 2.1 capabilities. One popular option is the Sony XBR-55X900H 4K UltraHD 55″. On Amazon, it sells for $716.24. Larger models come in 65, 75, and 85-inch variants.
The Sony XBR-55X900H has a dedicated game mode that gives a smoother, more responsive gaming experience. It has 4 x HDMI inputs streams in sharp 4K at 120fps with reduced input lag and ultra-smooth motion. It also comes with Acoustic Multi-Audio. That includes two sound-positioning tweeters at the back of the TV.
Console gaming TV soundbar
A high-powered gaming console and a high-end TV need better sound than than what even the best 4K TV provides.
Razer Leviathan
This is one of the best console and PC gaming soundbars on the market. The Razer Leviathan comes with everything you need to beef up your living room audio.
Features include 5.1 surround sound, Bluetooth connectivity, and a dedicated subwoofer. Connecting your Xbox or PS5 console to the device is easy. Simply connect your console using the Razer's optical audio-in port.
The subwoofer is a small box that pushed a surprising amount of air through its 5.25-inch driver. That produces a rich, bass-heavy sound that doesn't distort at higher volumes. Overall sound quality is excellent.
Extra gaming controller
All consoles ship with a single controller. To game with friends or family in a living room, you will need to buy a second controller.
Xbox Elite 2 Wireless controller
The Xbox Elite Wireless Controller Series 2 succeeds the Xbox Elite Wireless Controller. It has several upgrades that make it one of the best Xbox controllers on the market.
In the box, the Series 2 comes with a carrying case, a wireless charger pack, a USB-C cable, and several buttons. The matte black controller has rubberized grips covering both controller's legs. The front features X, A, and Y buttons plus Xbox, share, and menu buttons. On the bottom is an audio jack and a port for the Xbox One Stereo Headset Adaptor.
The kit comes with six thumbsticks. You get two standard ones, two classics, one tall, and one white dome. You also get four paddles: two medium and two mini. On top of that you get two D-pads: one standard and one faceted.
This unit also comes with a 40-hour built-in battery. Recharge using the Wireless charging dock, or by connecting to a power source via the USB-C cable.
Xbox Elite 2 Controller on Amazon $179.00
Sony Dualsense controller
Recently, Sony announced a controller change with the PS5. You will be able to play current-generation titles with a DualShock 4. However, to play native PS5 titles, you will need one of Sony's DualSense PS5 controllers.
These won't be available until the PS5 launch and will cost $69.99.
Height-adjustable TV stand
If you choose to go with a gaming chair as your living room seat, TV height adjustment may be an issue.
The Perlesmith Mobile TV cart has a height-adjustable TV range of 33″ to 59.6″. Setting it lower tailors it for viewing from a couch. Setting it higher will allow you to use a PC gaming chair. When using a gaming chair, raise the height of your TV to around 40″ to 50″ high for eye-level gameplay.
This model is portable. You can roll it around your house, or lock the wheels in place. It also has a height-adjustable AV tray with a range of 20″ to 28″. That can hold your PlayStation 5, Xbox Series X, a laptop computer, or peripherals.
Desk-based console gaming setup
Playing video games isn't passive like watching movies is. You can watch a movie on a cheap TV from five meters away and still enjoy it. Gaming is different. On the best games, a few pixels' difference can decide whether you progress or die.
Both the Xbox Series X and PlayStation 5 have faster processors. Those power games with shorter loading times and smoother in-game action. Using your new console with a 4K TV will deliver stunning detail, but slower response times and controller input lag. As well, from a distance on your couch, you'll miss most of the fine detail.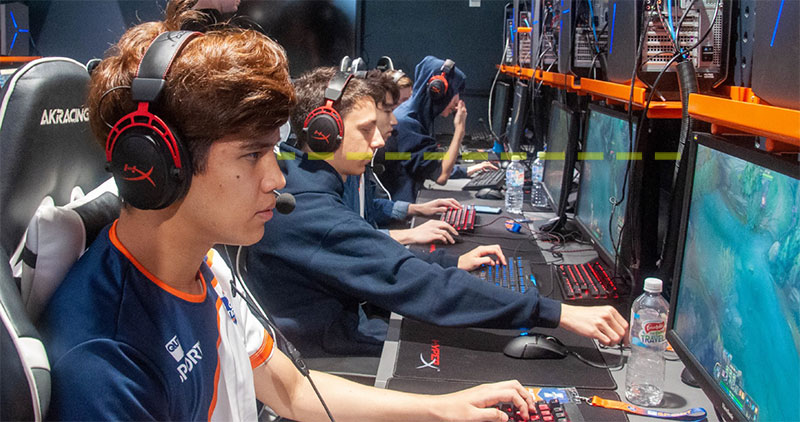 Using your Xbox or PS5 from a desk with a gaming monitor will deliver a faster, sharper experience. There two basic desk options to consider:
Desk in the living room: replace your TV stand with a height-adjustable desk. That will give you the option of gaming at both a desk and your sofa. For casual gaming with pals, hang out on the sofa. For more intense FPS games, sit up straight at a desk with your eyes closer to the screen.
Separate gaming room: set up all of your gaming gear at a computer desk in a private room. The most potent possibility is to combine a PC and console into a single workstation.
Living room and gaming room combo: set up your console in the living room; add a PC desk setup in another room. When you want to game from the other room, stream games to your PC. With an Xbox, use the Xbox app. With a PlayStation, use the Remote Play feature. Both will let you play console-powered games using your PC and computer monitor.
Choose a good chair. Then pair it with some accessories to reach pro gaming levels.
Choose the right PC gaming chair
A PC gaming chair with a desk is the same setup that the pros use. There are plenty of chair options to choose from.
If you want the very best, choose a pro esports gaming chair. If on a budget, choose one of our top-rated cheap gaming chairs.
Video game fans have League of Legends, Overwatch, Cyberpunk, and many other official game chairs to choose from. Short adults and adolescents should choose a small gaming chair to ensure the best back support. Larger users can choose a big and tall gaming chair. Many of those models support up to 400 pounds.
To browse all options, check out all of our comparison shopping guides:
1080p HD gaming monitor
A big advantage of desk gaming over living room gaming is the screen. In a living room, a large 4K screen will deliver cinematic views with less fine detail. At a desk, a good-quality gaming monitor can deliver smooth fine details with less lag.
Optimal gaming monitor specs
For desk-based console gamers, a monitor with a high refresh rate between 120Hz or 144Hz is better than a 4K monitor. That indicates the number of times per second that a display refreshes an image. Cheap monitors usually have a 60Hz refresh rate, while gaming monitors max out at 240Hz.
High refresh rates allow the screen to keep up with rapid player actions. It reduces blur and ensures a smoother, tear-free gaming experience. It's possible to buy a 4K monitor with high refresh rates but is very expensive.
Another reason to forego a 4K monitor for console gaming is the size. 4K desktop displays usually have a resolution of 3840 x 2160. Most options are between 27″ or to 32″. On a 24″ 4K monitor, the text and icons would be too small to comprehend.
These days, full HD is the sweet spot for desk-based gaming. A 1080p 144Hz screen will deliver less detail, but smoother, more responsive gameplay. On a 24″ monitor, HD yields a pixel density of around 91 PPI. That provides reliable information to fit the screen size. In contrast, a 27″ monitor is too big for 1920×1080. It only delivers 81 PPI, resulting in pixelated graphics.
Acer Nitro XF252Q Xbmiiprzx 24.5″
A 24-inch monitor is best for a desk-based gaming setup. It allows users to sit close to the screen while enjoying crisp graphics with fast refresh rates. In this class, the Acer Nitro XF252Q Xbmiiprzx 24.5″ is a great choice.
For competitive gamers, every frame and millisecond makes a difference. The Acer Nitro XF2 lets you keep up with the action with a 240Hz adaptive sync framerate on HDMI. For speed and smooth gameplay, this screen excels.
It has an adaptive framerate range from 48Hz to 240Hz over HDMI. That means it can support 120fps Xbox Series X games and even legacy 30fps games.
Desk mounted monitor stand
These devices replace the standard mounts that come with VESA-compatible computer screens. VESA-compatible screens have four screw holes arranged in a square on the back side.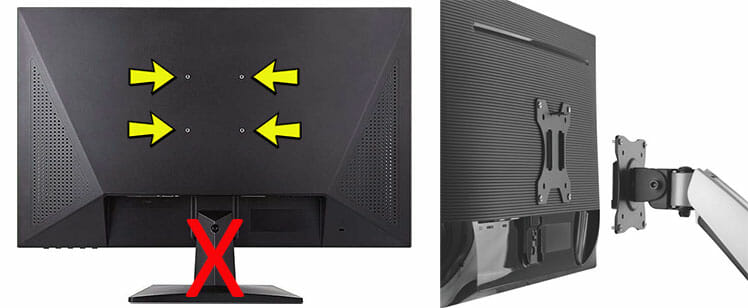 After removing your screen's base, attach to the arm using the VESA screws. Then attach the other end to your desk using a clamp or grommet mount.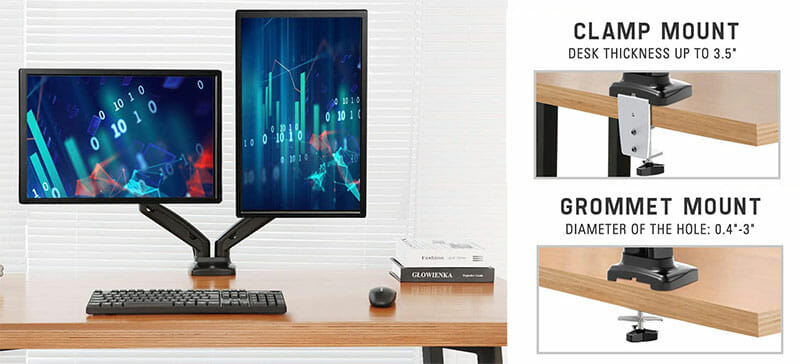 Between the two points, a flexible steel arm adjusts in all possible directions. You can angle your screen, adjust its height, turn vertical, or rotate 360 degrees. From the front of the desk, the screens look like they're floating.
Desk Mount advantages
Better fit: height adjustment lets you set the ideal screen positions for your body size and task type.
De-clutter your desk: without monitor stands, you get wide open desk space for working. It looks good and is easy to keep sparkling clean.
Inspiring aesthetics: the floating screen effect over an uncluttered desk is will make you feel energized and inspired when you sit down to work or game.
For example, the Mount-It! Dual Monitor Gas Spring Mount costs $99.99 on Amazon. The MI-1772 gas spring dual monitor arm supports two 32″ monitors weighing up to 20 pounds each. Adjustments include 13″ height range, 45° up or down tilt, 180° swivel, and 360° rotation.
Learn more about monitor desk mount systems in this feature article:
Gaming headset
A good console gaming setup needs to be compatible with your console. It should also be comfortable to use for long periods of time. Good noise isolation is especially important in games with slight audio directional cues. Surround sound is also important to deliver a 360-degree soundscape. For instance, if an enemy approaches from behind you to the left, you will hear them coming from the right direction.
SteelSeries Arctis 1 Wireless Headset
This model is compatible with the Nintendo Switch, PlayStation, PCs, and Android devices. In the box is a 3.5mm cable, a USB Type-C 2.4GHz wireless dongle, a USB Type-A adapter (for PCs without a USB-C port), and a PS4 adapter.
The SteelSeries' Arctis 1 is an affordable wireless option that delivers high-quality audio. It works as both a gaming headset and an office one. It has a matte black finish and a stealthy look. The Steelseries logo appears in subtle silver on both earcups.
The Artis 1 offers excellent audio for computing, gaming, music, and movies. Audio via its 2.4GHz dongle delivers a lossless connection with crystal clear sound. For voice calls, its wireless mic provides a clear, balanced frequency response.
Artis 1 for PC, Xbox or PS5 on Amazon $68.59
SteelSeries Arctis 9X Xbox Wireless Headset
Xbox consoles don't support USB audio headsets that work on other platforms. The SteelSeries Arctis 9X is a dedicated Xbox headset with PC compatibility. Like the Arctis 1, it delivers superb sound quality, clean looks, and a robust build.
This model has green accents on the fabric headband and subtle black earcup design. Buttons, dials, and ports are on the right side. Those include a Bluetooth pairing button and a power button/Xbox pairing button.
The right side also has a mic mute button, volume controls, and a USB charging port. It also has a 3.5mm audio in. On the left side are a retractable mic and one dial to control game and chat balance.
The combination of Xbox connectivity and Bluetooth gives some interesting options. For example, you can listen to music on your phone or PC while still hearing in-game audio. Sound and mic quality is excellent. This unit also comes with useful extras. First, it has active noise cancellation to deaden outside noises. Second, the battery supports 20 hours of use.
Gaming keyboard
Xbox players can choose a native Xbox keyboard that delivers custom commands for certain games. They can also choose a non-native keyboard. Those are compatible with the PlayStation, PCs, and other consoles that support keyboard gaming.
Corsair K70 Mk.2 keyboard
We already listed the Corsair K70 Mk.2 in our living room setup section. This keyboard fits into the Corsair Lapdog, enabling keyboard gaming on the couch. It also enables keyboard use in a gaming chair minus a desk. You can also use the K70 keyboard without the Lapboard on a desk.
At a desk without the Lapdog, the Corsair K70 is one of the best gaming keyboards in the world. This keyboard has Cherry MX key switches that deliver a flawless typing experience. It's a great-looking keyboard, with robust RGB lighting options. Nothing beats the gameplay that the K70 offers. It parses commands with blazing accuracy. You can even set custom profiles for different games, with custom lighting profiles.
Gaming mouse
A gaming mouse is a multi-platform device. It will work with an Xbox, PlayStation, PC, or other consoles that support mouse gaming.
Logitech G502 Hero
The Logitech G502 Hero has been the top-selling gaming mouse on Amazon for a few years. It comes with an ultra-accurate 16,000 DPI sensor perfect for FPS games like Apex Legends, CS:GO, or Destiny 2.
The G502 Hero has standard left and right clicks. On top of those, there are two buttons on the top left side, plus three buttons on the thumb side. You can re-map the top buttons using Logitech G software. One more button exists under the adjustable scroll wheel. Use that to adjust your DPI steps.
This unit also has programmable RGB. You can customize the lighting from a range of 16.8 million colors. Match your team's colors or create your own.
Computer desk
There are three basic options when choosing a desk. First is a cheap, generic model. Check out Amazon's best-selling home office desks for a huge range of cheap options. Most generic desks are around 30 inches high.
As explained in our workstation sizing guide, that range works fine for average sizes (5'8″ to 6'0″, or 172-182 cm).
People shorter or taller than the average range may struggle with an ill-fitting desk. If so, a second option is a height-adjustable desk. The best models offer "sit-stand" functionality at the push of a button. A third option is a gaming desk.
Below are summaries of the latter two:
Gaming desk
Gaming desks have large work surfaces, sleek designs, and cable management extras. Most models are not height-adjustable. One of the few that does have adjustable height is the Arozzi gaming desk. This model has a height-adjustment range of 27.9″ and 31.9″.
The Arozzi Arena gaming desk comes with plenty of room for both a PC and console setup. It has a massive working surface 63″ x 31″. It comes with a water-resistant mousepad that covers the entire desktop. There are six different color options, all able to support up to 176 pounds.
Arozzi gaming desk on Amazon $310.33
For other gamer-friendly options, check out our review of this year's five best gaming desks.
Sit-stand height adjustable gaming desk
Sit-stand height-adjustable desks come with dual motors in the desk legs. At the push of a button, you can raise or lower the height to support sitting or standing. For console gamers, a sit-stand adjustable desk has a few advantages.
Dual-use in living rooms: use this desk as your TV stand. When gaming on the couch, lower the desk. When desk gaming, raise the desk and use a good PC gaming chair.
Family gaming center: set the desk at a lower sitting height for kids of short adults.
Sit-stand health benefits: the core sit-stand functionality is designed to keep the body active while computing.
One option tailored for gamers is the VIVO Black LED gaming desk. This model has a height range of 28.6″ to 46.6″, powered by dual 110V-240V electric motor lifts.
The motors lower or raise the desktop at 25mm per second. The VIVO Black also comes with cable-management support and blue LED lights along the sides and front of the desk.
VIVO Black Electric on Amazon $279.99
For other height-adjustable options, check our review of the best sit-stand computer desks.
Living room vs desk console gaming
Most people enjoy using their Xbox or PlayStation in the living room. Others prefer gaming at a desk. This section explains the pros and cons of each option.
Living room gaming
For short sessions playing games optimized for a controller, sititng on the couch or floor works fine. Fighting, racing, and multiplayer action games like Rocket League are perfect to play in a group. Racing games are also a blast when playing from the comfort of a couch.
On the downside, playing first-person shooter (FPS) games with a controller is less accurate than with a mouse our keyboard. As well, gaming from the couch far from the TV will give a blurred view of finer game details. That works fine for racing and fighting games, but can hinder FPS play.
Desk gaming
Playing console games from a desk yields several benefits. First, a desk gaming setup pairs well with a good gaming chair. Other benefits:
Smoother gameplay: compared to a living room TV, a computer gaming monitor streams with less lag.
Greater precision: you can play at a desk using a gaming keyboard and mouse for pro-tier shooting options.
Better view: sitting closer to the screen will give you a better view of small graphic details.
Integrate with PC: both the Xbox and Playstation can integrate with a laptop or desktop PC.
On the downside, desk gaming is insular. You lock away from other humans and totally immerse. When gaming this way, it's important to take plenty of walking breaks. To ensure stamina for long sessions, regular exercise and clean eating also helps.
Conclusion
This article summarizes the accessories needed to play console games in two styles. Living room gaming is more casual and social. It's fun to hang out with pals on the sofa playing racing or fighting games.
Serious players often opt to play their games at a desk, as pro esports players do. A key component in both living room and desk setups in the chair. A quality chair will support good posture and comfortable, healthy gaming. Choosing the right chair depends on how you plan to use your gaming console.
Use this article to build your preferred living room or desk-based setup. Then, check our review of the best console gaming chairs to complete your battle station.