Unhealthy sitting habits harm the body and hinder brain functioning. Even so, most schools seat students on cheap, one-size-fits-all plastic chairs. Luckily, when gaming or studying from home, students have control over their seating. Here's a guide to healthy sitting tactics for teens. As the highlight, we review the best ergonomic chairs for studying or playing video games at home.
The average 18-year-old spends around seven hours playing video games each week. They also spend around six hours watching others play video games (streaming or esports). Add five hours per week for homework. That brings the total to 18 hours spent sitting at home.
If that amount of time is spent hunched on the sofa or a cheap chair, back problems are sure to arise. Then comes lethargy, weight gain, and dwindling performance.
Instead, students should rely on a good-quality ergonomic computing chair. Among our top-rated picks, there are gaming chairs and ergonomic office chairs. Here are the best desk chairs for studying or gaming on the market right now:
World's Best Student Desk Chairs
For gaming or studying from home, gaming chairs and ergonomic office chairs are the two main options. The former are flashier, more casual, and extremely popular among young people. The latter has a more formal look and stricter posture enforcement.
Despite the differences, both achieve the same ends. That is, to support users into fluid neutral positions for long periods of sitting.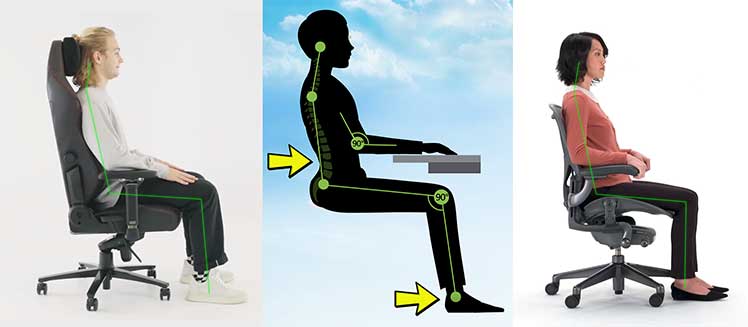 At the very top of the industry, two models stand apart from the competition. Among office-styled options, the Herman Miller Aeron reigns supreme. Since 1994, its groundbreaking ergonomics have paved the way for thousands of copycats. These days, it's still widely regarded as the world's most sophisticated desk chair.
Among gaming chairs, the Secretlab Titan Evo 2022 also stands unchallenged. It beats every other gaming chair in functionality, styling, and sizing. Nothing else comes close.
If looking for the absolute best gaming chair for students, it comes down to these two options. Here's a look at both:
Best Affordable Student Gaming Chairs
The Titan and Aeron chairs are at the pinnacle of the gaming and office chair seating industries. Luckily, struggling students need not pay such high prices to enjoy quality ergonomic seating.
Here are some affordable gaming chairs with solid but not spectacular features. For lower prices, you get less adjustability and inferior durability. Regardless, with adjustable arms, lumbar support, and recline, all have the ergonomic essentials. Enjoy long periods of healthy sitting for budget prices with any of these picks.
Ergonomic office chairs for studying
Gaming chairs are not the only option for home students. The multi-billion-dollar office chair industry is swarming into the growing work-from-home market. As a result, there's a growing collection of office-styled ergonomic chairs to consider.
These chairs aren't as versatile or lounging-friendly as gaming chairs. Instead, this genre will force them to sit in 'working' positions at all times.
Below are three popular student picks with solid features and affordable prices.
Student Computing Chair Buying Advice
Here's some quick context to help you make an informed decision when buying a student chair.
Healthy Sitting Guidelines For Students
For over a century, the American education system has consistently ignored healthy sitting realities. That's a built-in feature of the system, not a bug.
Cash-strapped schools rely on cheap, durable seating to keep the masses educated. In the old days, kids who failed to sit straight would get beaten. These days, they're compelled to tough it out sitting on cheap plastic seats for hours at a time.
Luckily, parents have control over the furniture when their kids are gaming or studying from home. As well, clear guidelines for healthy sitting at a desk are well-established.
With a good computing chair and parental mentoring, kids can gain a tremendous edge. Use these guidelines to ensure the healthiest, happiness, most productive workspace possible:
Benefits Of Good Posture For Students
Here's a quick look at the long-term benefits enjoyed by students with good posture. For a more detailed look, check out our comprehensive gaming chair benefits article.
Conclusion
Many studies show that children respond well to ergonomic interventions. Parents wanting to guide their kids should provide the right furniture. More importantly, they should monitor their child and correct any slouching.
In the early stages, the most important technique is to keep feet planted on the floor. As the child progresses to larger chairs, keeping feet firmly planted becomes ingrained. By adulthood, the payoff is an effortless good posture that yields myriad benefits.
With naturally good posture, the grown child is more likely to be physically fit, confident, studious, and hard-working. Beginners need only strive for neutral sitting postures.
To support neutral sitting, a good gaming or ergo office chair makes a huge difference. To browse more student-sized options, check out this feature: