These days, students spend huge amounts of time sitting in front of a computer. Online learning, gaming and general computing can demand full-time attention. Having the right tools for the job can help to ensure optimal performance. So what is the best chair for studying? ChairsFX investigates.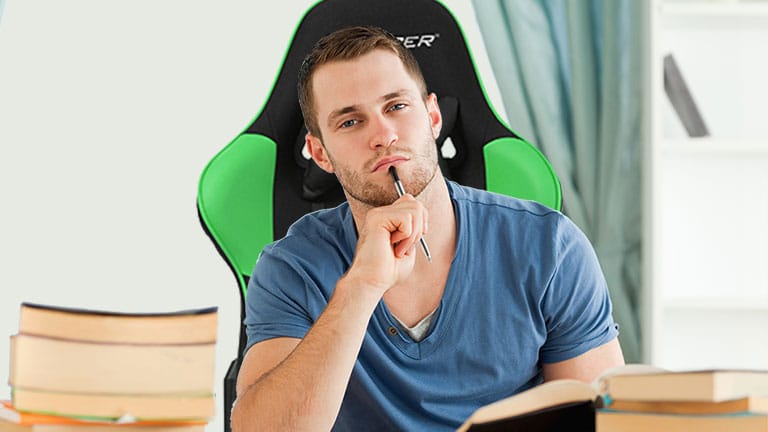 Among the many flaws in the modern education system is the lack of healthy sitting awareness. Most schools provide cheap, basic plastic or wooden seats. Over long periods, sitting upright in these chairs places a heavy strain on the spine. As the spine tires, the body begins to slouch.
Physically, slouching stresses the spine and forces muscles to work harder. That causes chronic discomfort, which drains energy levels and increases irritability. Under such conditions, performance can suffer. Many studies show a connection between posture and cognitive performance.
Those who sit with good posture tend to be more alert and engaged. In contrast, sitting with poor posture increases the risk of weight gain, depression, and anxiety. The logical conclusion would be that the best chair for studying would be any that supports good posture.
Cheap office chairs support good posture over short periods of sitting. Over long periods, they support spinal problems, varicose veins, lethargy, and chronic pain.
Why is a gaming chair the best chair for studying? Learn the realities of ergonomic awareness in America. While education institutions dropped the ball, ergonomic gaming chairs revolutionized the seating industry.
Ergonomic awareness in America
Ergonomics is the study of people in their working environment. Ergonomic scientists strive to optimize workspaces to fit the user. The point is to reduce discomfort and boost productivity. This approach places the well-being of the user as the highest priority.
In sharp contrast, most schools use a one-size-fits-all approach to furnish classrooms. Many students suffer from poor posture but don't even realize it. Regarding the best chair for studying, most teachers have no idea.
That's because ergonomic awareness does not exist in the modern education system. Students get used to living with stiff joints, lethargy, and lower back pain. They confuse this crippled condition as their normal reality — and get used to it.
This section outlines the history of ergonomic intelligence in America. That leads to reviews of the best ergonomic chairs for studying.
Best gaming chairs for studying
The most expensive Herman Miller ergonomic chairs cost over $1400. Gaming chairs have similar ergonomic features, with affordable prices.
In 2020, the best chair for studying is a gaming chair. Prices range between $150 to around $500. Across the entire range, gaming chairs support good posture over long periods of sitting. All models come with basic adjustable features. You can recline the backrest, adjust the armrests, and adjust the height of the seat. Pricer models add extra features for greater comfort and adjustability.
There are dozens of great chairs to choose from. Check our gaming chair buying guides for a broad view. Below are some of our favorite options:
BONUS: Posture training for kids
Many kids start playing video games at around three or four years old. Since good posture is habit-forming, this is the ideal time to teach healthy sitting habits. There are a few gaming chairs for young kids worth checking.
Benefits of good posture for students
Ergonomic chair maker Herman Miller researched the effects of comfort in the workplace. They found that when people are uncomfortable, they become distracted. But when given ergonomic furniture that adjusts to their needs, their focus improves.
In the classroom, there are noticeable differences between distracted and engaged students. For instance, many studies show a connection between good posture and cognitive performance.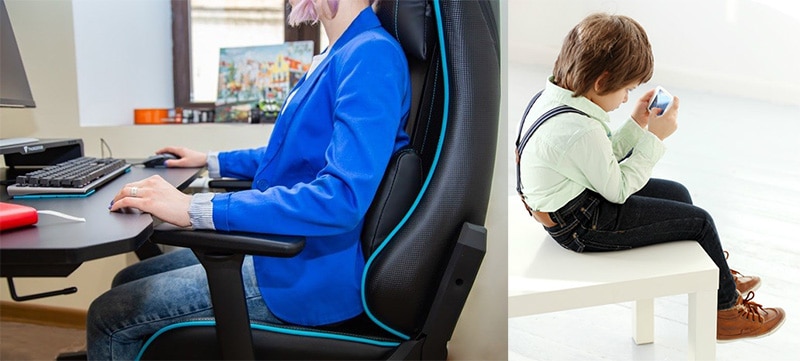 Distracted students tend to slump forward on their desks or slouch low into their chairs. In contrast, engaged students sit high in their chairs.
That explains why a gaming chair the best chair for studying. The key appeal is that these chairs provide comfortable posture support. With good posture, students are more alert, energetic, and able to concentrate.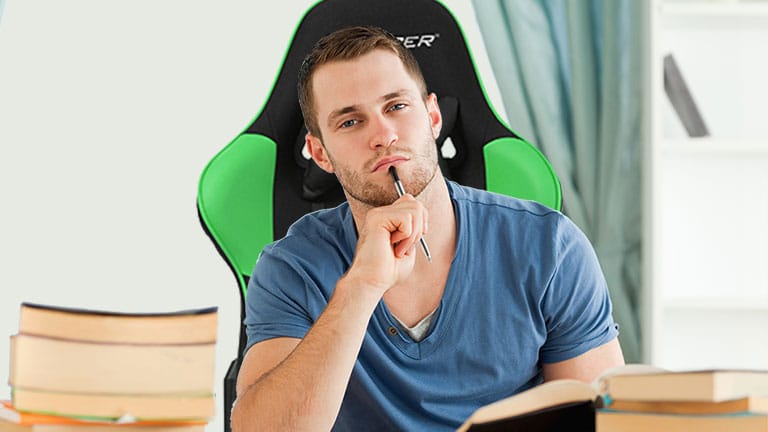 Are you looking for the ultimate study chair for students? Try one of our recommended gaming chairs. Those models will help you sit longer, work smarter and be more productive.