Gaming chairs are great for studying. They offer comfort, ergonomic posture support and more. Combined, gaming chair features support the body to make hours of homework a pleasure. Looking for a study chair for students? This article looks at gaming chairs for studying that offer great value for money.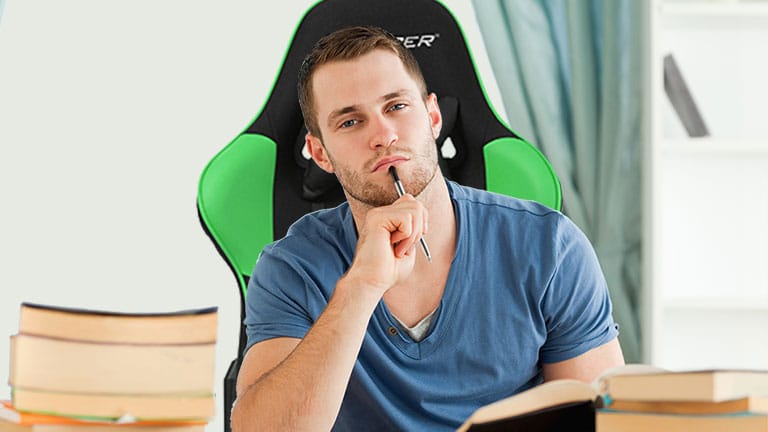 The right study chair can make a world of difference. Students spend long periods sitting. Gaming chairs support body weight, provide comfort and keep the body in perfect posture. The net result is less stress on the body and more energy to use for productivity.
Consider the importance of chairs in the billion-dollar pro esports industry. Top teams nurture players by providing the best ergonomic chairs to succeed. What's more, pro team training regimens include a healthy balance of rest, nutrition and exercise. The goal is to optimize performance while working, then refresh and recharge during leisure time.
So why do schools still use cheap desks and chairs? How can students optimize their performance in a classroom environment? What role does posture play in student success? Keep reading to find out.
The grim reality of classroom ergonomics
Most students suffer from poor posture but don't realize it. Posture awareness does not exist in the modern education system. Thus people get used to living with stiff joints, lethargy and lower back pain. They confuse this crippled condition as their normal reality — and get used to it.
History of posture awareness in America
Around 150 years ago, school attendance became mandatory for American children. Advocates of this change argued it would help to close the wealth gap. Opponents saw it as an infringement of rights over how to raise their kids. They also argued that the nature of the classroom was unnatural. It forced kids to distort their bodies by sitting at desks for 6 hours every day.
The classic book Rise and Fall of American Posture gives this timeline of posture in the education system:
1890: a pediatric journal claimed that over 50% of American kids had deformed spines.
1898: American Physical Education Review launches. One of its missions was to spread awareness about good posture habits.
1914: American Posture League launches. Posture training gets added to school curricula.
1920s: elite colleges start photographing student applicants nude to assess their posture. They also start posture programs to help students distinguish themselves through good posture.
1943: American Posture League disbands.
1950s: James Dean makes slouching cool. The posture craze dies. Many clinics close and schools drop their posture programs.
By the 1960s, Ivy League schools stopped taking posture pictures. The Rise and Fall of American Posture notes how the times changed. The 60s era favored consumerism, sexuality, and suppleness. Standing up straight was for "squares".
Moving forward from there, posture was no longer a measure of character or social worth. As a result, doctors had little basis to claim that people suffered from posture defects.
Gaming chairs make posture cool again
Compared to the archaic, slow-moving parts of the education industry, esports thrives on rapid innovation. When Starcraft kicked off the esports craze in the 1990s, hundreds of thousands flocked to computers for extended gaming marathons.
As in the early days of the education sector, back problems among gamers skyrocketed. That's because humans are not designed for sitting.
For many, gaming is life. But gaming is no fun if you don't feel comfortable. Unlike stodgy educators, gamers embrace challenges.
In 2006, DXRacer released the world's first gaming chair.
DXRacer's original blueprint hit the sweet spot. Gamers flocked to buy gaming chairs. Naysayers scoffed it off as a fad. But market demand increased, and other gaming chair brands arose. The market spoke loud and clear. A thriving global industry emerged.
The complete history of gaming chairs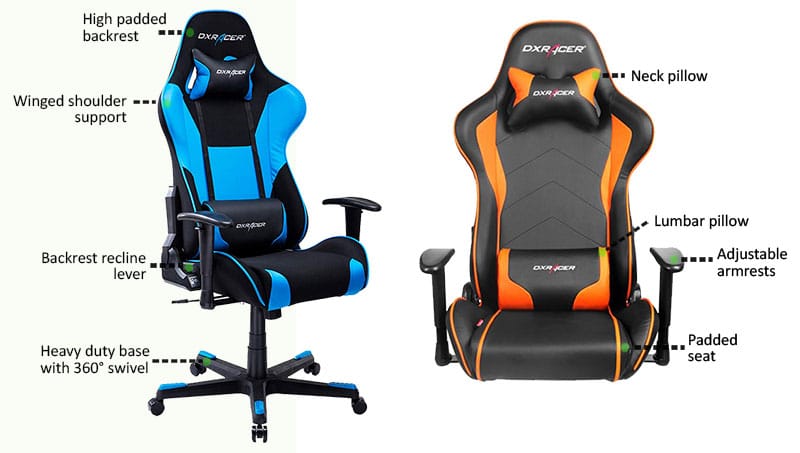 Most gaming chairs of today follow DXRacer's original blueprint. Modern PC gaming chairs are ergonomic. That means they adjust to the user, rather than the user adjusting to the chair.
The point of a gaming chair is to provide comfortable posture support. With good posture comes many benefits. These include improved breathing, circulation, and mood. Even better, because gaming chairs support good posture, the muscles don't have to. So instead of wasting energy holding up the body, users can put their mojo into their work.
In esports, gaming chairs help players stay mentally sharp for long periods. As chairs for studying, gaming chairs can do the same. These chairs can help students sit longer, work harder and be more productive.
Gaming chair ergonomic user guide
Best gaming chairs for studying
Students have no control over the chairs that their schools use. But they do have control over their own study time. Posture is habit-forming. By using a gaming chair at home, they can develop good sitting habits. That can help negate the effects of sitting in cheap chairs at school.
There are dozens of great chairs to choose from. Check our gaming chair buying guides for a broad view.
Below are three of our favorite gaming chairs across all price ranges. Each one can serve as a superb study chair for students.
Best pro chair: Secretlab Omega
Price: $359
On the pro esports circuit, several teams train full-time using Secretlab Omega chairs. Team Newbee captain Hu "Kaka" Liangzhi is one of many pros who endorse them. He said Omega chairs "allow us to train longer and make it easier to sit in front of a computer all day."
Battle-tested by the pros, these can also be used as the ultimate chairs for studying.
The Omega comes with ultra-dense padding that some people might find too stiff at first. Secretlab cites research that soft padding promotes bad posture. That's because it's too pliable to hold your spine in proper alignment.
Detailed Secretlab Omega Review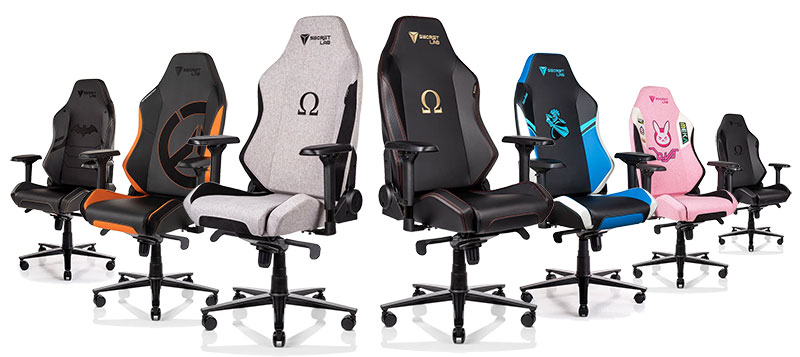 Secretlab spent years perfecting their padding formula. It provides the perfect blend of comfort and firmness needed for good posture. Beyond the superb padding, every aspect of this chair is high-end. This is everything you could ask for from a study chair for students.
Functionality: 4D armrests; recline to 165°; multi-angle seat tilt-lock.
Cover options: premium PU leather, genuine NAPA leather or Softweave Fabric.
Padding: patent-pending cold cure foam.
Support: neck & lumbar pillows; carbon steel frame; Class 4 gas lift; PU caster wheels.
Best mid-range: DXRacer Formula Series
Price: Price not available
While pro gamers have fat training budgets, most students do not. The DXRacer Formula Series FH11 gives you pro-quality support at a cheaper price.
There's a lot of love about this chair. It uses a breathable mesh fabric cover with PU leather trim. Both the mesh fabric and chair padding is ultra-durable. Based on our durability case study, these chairs will last well beyond the 2-year warranty period.
The durability makes these great chairs for studying. The Secretlab Omega feels like a work of art. You will want to baby it.
In contract, the F-Series feels like a battle-tested tank. These chairs can handle everything from marathon study sessions to raging dorm parties.
Detailed DXRacer Formula Series Review
The features don't match up to the Secretlab Omega. But the Formula Series costs less. Instead of 4D armrests, you get 3D (no diagonal adjustment). The F-Series doesn't have seat-angle tilt-lock. Aside from those cut corners, this is a pro-quality chair offering great value for money.
Functionality: 3D armrests; recline to 135°.
Cover options: black mesh fabric with PU leather trim in a range of colors.
Padding: high-density mold-shaping foam.
Support: neck & lumbar pillows; steel frame; Class 4 gas lift; PU caster wheels.
Like all DXRacer chairs, the FH11 comes with a 2-year warranty on parts and lifetime warranty on the frame.
Best cheap chair: GTRacing Classic
Price: $169.98
The price, features, and value for money make the GTRacing GT099 Classic a great study chair for students. It's cheap, comfortable and has decent features. What's more, it supports good posture just as well as expensive gaming chairs.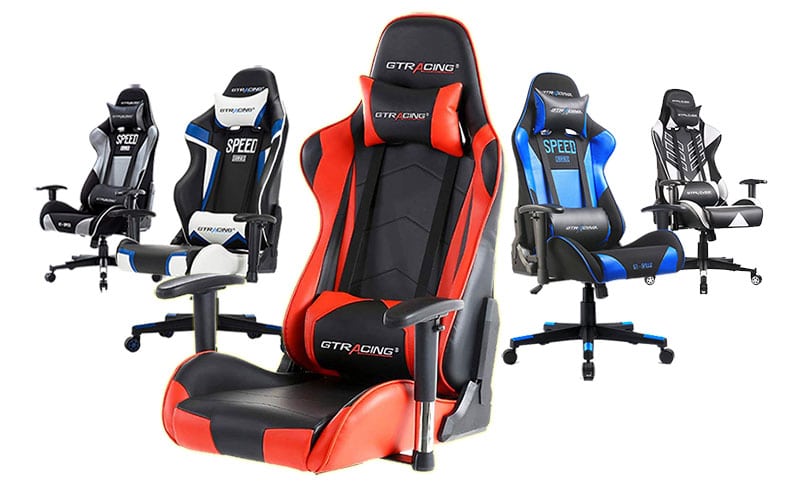 GTRacing is one of the oldest brands in the gaming chair industry. They specialize in making affordable gaming chairs with great features. Check out all chairs in our GTRacing Brand Review.
The GT099 is their flagship chair. It's also one of the best-selling gaming chairs on Amazon, with over 400 reviews and a 4.5-star rating.
The Classic Red is part of GTRacing's Pro Series. This product line has the same features with different color combinations.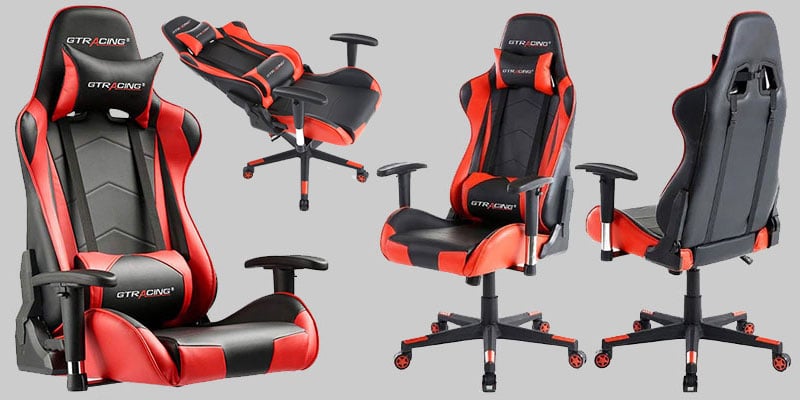 The only PC gaming chair that sells better than the Classic Red on Amazon is the Homall Classic. That model offers fixed armrests and a 1-year warranty. The GT099 costs around $20 more — but offers better features and a longer warranty.
Functionality: 2D armrests; recline to 170°.
Cover options: PU leather in red and black.
Padding: high density foam padding.
Support: neck & lumbar pillows; steel frame; gas lift; PU caster wheels.
The GT099 comes with a 1-year warranty — extendable two years when you buy direct.
Check GT099 prices from GTRacing
Also available on Amazon for $169.98 with 1-year warranty. Buying direct gets you an extended two-year warranty.
BONUS: Posture training for kids
Many kids start playing video games at around three or four years old. Since good posture is habit-forming, this is the ideal time to teach healthy sitting habits. There are a few gaming chairs for young kids worth checking.
One of those is the Sitrite desk chair. It fits average-sized kids between 4-9 years old. Its clever design supports kids through their early growth years. It comes with a cushioned, adjustable seat and special features that adjust chair dimensions as kids grow.
Key features include a cushioned seat that can slide forwards or backward. This is an easy way to adjust the chair to suit larger kids or smaller ones. The Sitrite chair also comes with a removable footrest. This gives smaller kids the support to use the chair, even if their legs are too short.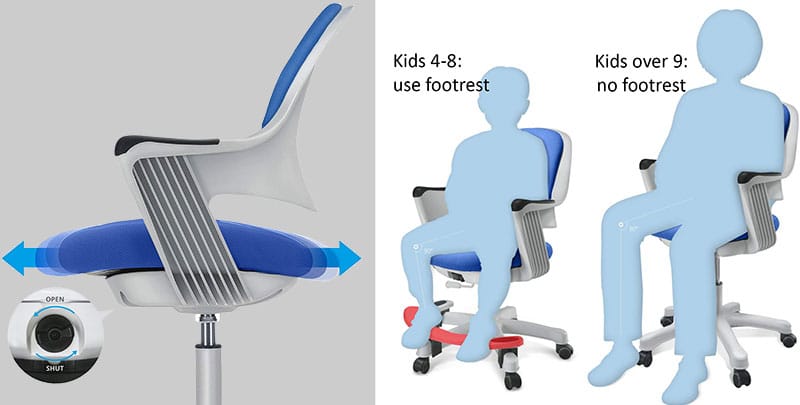 Functionality: adjustable sliding seat; removable footrest; 360° swivel
Comfort: padded seat and backrest.
Warranty: one year. Free shipping included.
Free shipping: included.
Sitrite for Kids on Amazon $199.95
Benefits of good posture for students
Ergonomic chair maker Herman Miller researched the effects of comfort in the workplace. They found that when people are uncomfortable, they become distracted. In contrast, when given ergonomic furniture that adjusts to their needs, focus improves.
In the classroom, there are noticeable differences between distracted and engaged students. In fact, many studies show a connection between good posture and cognitive performance.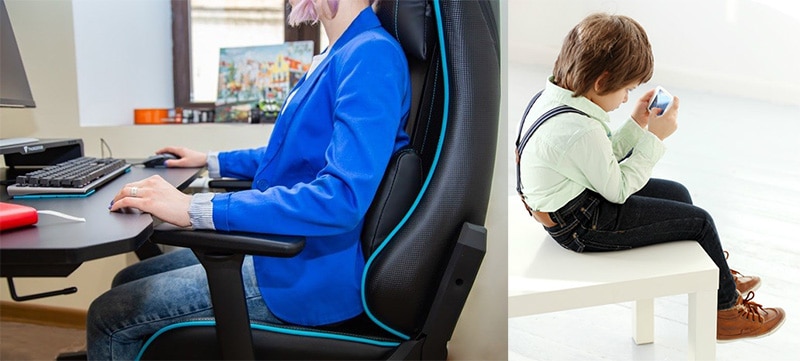 Distracted students tend to slump forward on their desks or slouch low into their chairs. In contrast, engaged students sit high in their chairs.
That shows why gaming chairs are the best chairs for studying. The key appeal is that they provide comfortable posture support. With good posture, students are more alert, energetic and able to concentrate.
Are you looking for the ultimate study chair for students? Try one of our recommended gaming chairs. Those models will help you sit longer, work smarter and be more productive.