Secretlab is on a roll in 2020. Since the year started, they've announced partnerships with three of the world's top esports teams. This third deal is an official partnership with esports organization 100 Thieves. As a key part of the deal, Secretlab provided the chairs for the team's new US$35 million gaming facility.

100 Thieves Cash App Compound
100 Thieves is a rising esports power and lifestyle brand. Matthew "Nadeshot" Haag founded the team from his bedroom in 2017. Today, co-owners include recording star Drake and Cleveland Cavaliers owner Dan Gilbert.
Based in Los Angeles, they have pro teams in League of Legends, Fortnite and CS:GO. They also maintain a roster of content creators streaming on Twitch and Youtube.
The 100 Thieves Cash App Compound cost $35 million and took nine moths to build. It opened in the third week of January with a ribbon-cutting ceremony.
Inside are training spaces for 100 Thieves esports teams. Their League of Legends room includes full setups for five team members. There's also space for a head coach, assistant coach and analyst.
Tying everything together are 100 Thieves special edition Secretlab gaming chairs.
100 Thieves Secretlab chairs
Aside from the 100 Thieves Twitter announcement, few details are available. We can expect a Secretlab press release within a few days, after which we'll update this article.
The images released by 100 Thieves show Secretlab Omega chairs. They are slick black PU leather models with embroidered team logos on front and back.

Here's another early look at the new chairs set up inside the compound:
Nothing is official until Secretlab puts out a press release. But it looks like these chairs won't be for sale. On their Facebook page, a Secretlab rep mentions: "We're not selling the Secretlab X 100 Thieves chairs…" It looks like they'll only be for player training.
Other Secretlab pro partnerships
This high-profile deal is Secretlab's third since the year started. Earlier this month, Secretlab also announced partnerships with OG Esports and G2 Esports.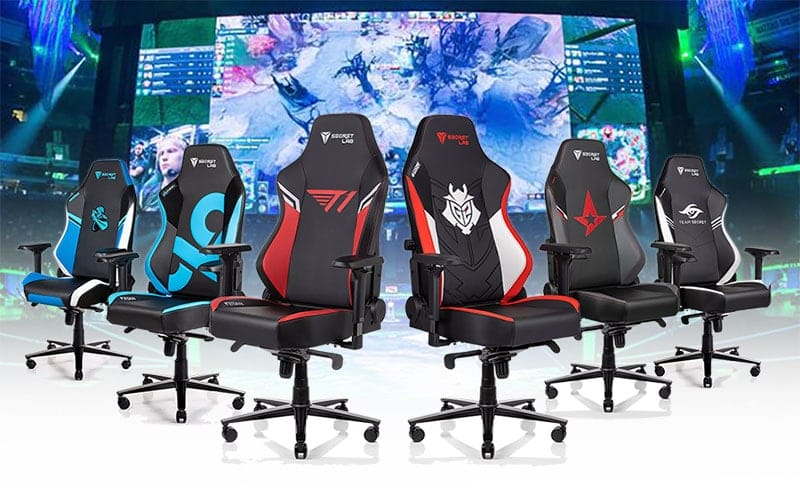 Counting 100 Thieves, there are now eight high-profile teams partnered with Secretlab. The other seven are all available for sale on the Secretlab website.
All teams use either large Secretlab Titan chairs or compact Secretlab Omega models. Both are among our top-ranked pro esports gaming chairs.