Sitting in a flimsy office chair can wreck your posture. Gaming chairs help, but the best ones cost a lot. The cheap ones don't last long. OPSEAT makes affordable gaming chairs that hit the sweet spot. This OPSEAT review looks at the three products in their lineup.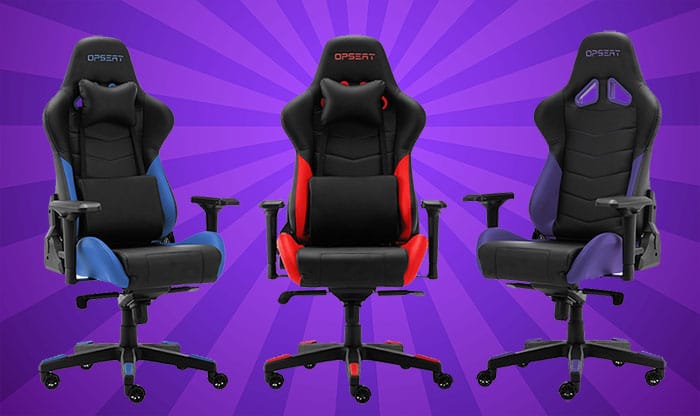 OPSEAT is a small company based in Sarasota, Florida. At present, they only ship their products in the continental U.S.
Buying direct from OPSEAT gets you direct access to their customer support. It also gets you access to special deals not available on Amazon.
OPSEAT Gaming Chairs
OPSEAT has three products on their roster. The Master Series is their flagship gaming chair. The Grandmaster Series is a wider version. Both chairs stand out by offering premium features for over $100 less than competitors.
Key OPSEAT features:
Functionality: this model has 4D adjustable armrests. It also features full recline to 180°.
Comfort: cold molded foam padding; neck and lumbar support cushions.
Upholstery: the Master Series comes with breathable perforated PU leather. It also has high quality color accent stitching.
 Support: metal frame, heavy duty base, nylon wheels, support for 300 pounds.
Warranty: 1-year limited warranty
OPEDGE gaming desk
The third product in OPSEAT's line is the OPEDGE gaming desk. Many fixed desks are too high or too low. Even with a gaming chair, this can compromise posture, wellness and producitivity.
The OPEDGE provides a clean platform with cable management and adjustable height. This helps you to game longer while preventing pain in the forearms.
This desk supports 250 pounds of weight and offers thoughtful features:
Durable formica desktop surface: no mousepad required. Scratchproof and very easy to clean.
Adjustable height: adjust between 21″ to 31″ high.
Adjustable feet: each leg of the desk has rotating leveling pads to eliminate wobble.
The OPEDGE gaming desk is made in the USA and comes with a 1-year warranty. There are two options. The standard model is 48″ wide, good enough to support two monitors and a gaming rig. The wide model is 72″ wide, which is a good fit for three monitors.
Browse all OPEDGE gaming desks
OPSEAT buying tips
If you're thinking about buying an OPSEAT gaming chair, this section will help you to make an informed decision.
Conclusion: great value for money
OPSEAT chairs offer high-end upholstery, 4D adjustable armrests and a 2-year warranty. To get these features in a gaming chair, you usually need to pay $350 or more. OPSEAT chairs cost $100 less. Getting such impressive features for such a low price is a rarity that makes OPSEAT stand out.
If you're looking for a pro gaming quality chair for less than $300, check out OPSEAT.