The Opseat gaming chair brand has reached its end of life. These chairs are no longer available for sale. We're keeping this review online for historical purposes only.
Opseat is a small company based in Sarasota, Florida. At present, they only ship their products in the continental U.S. Buying direct from Opseat gets you direct access to their customer support. It also gets you access to special deals not available on Amazon.
About the Opseat Company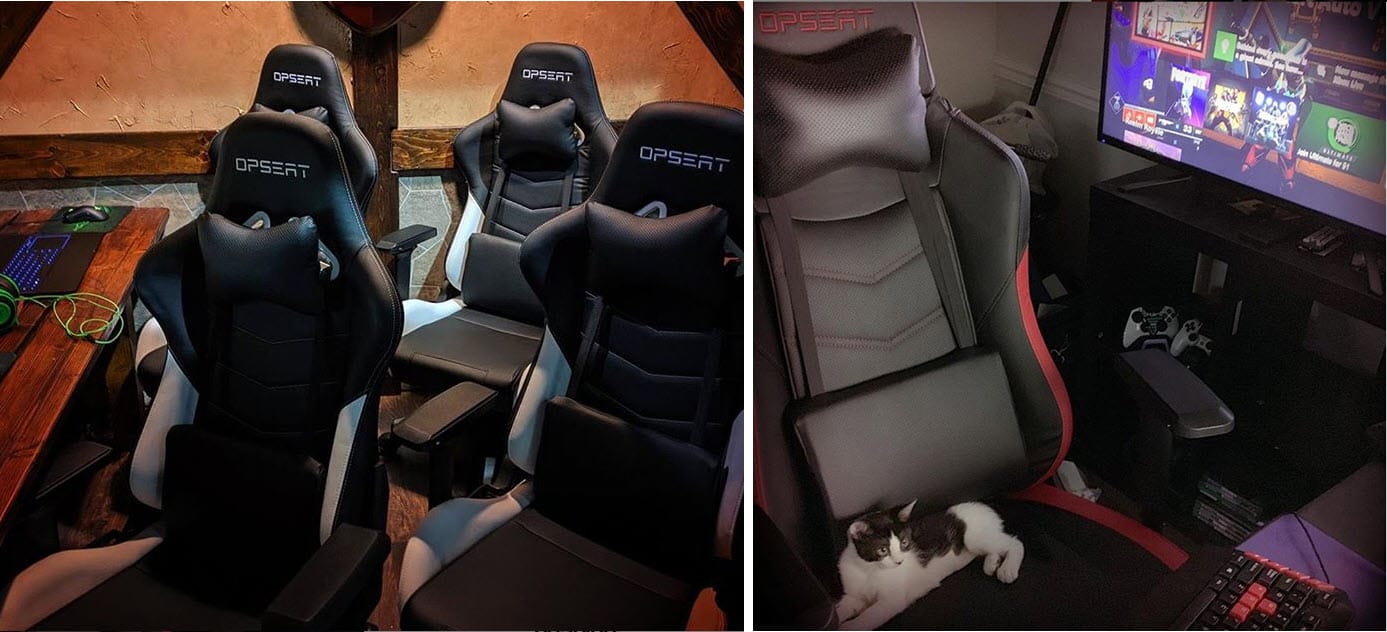 Opseat was founded by esports enthusiasts John Rendemonti and Seth Mattox. In 2011, they monetized their gaming passion by selling esports training services. In 2015, after years of gaming and working online, back pain among their team was becoming an issue. Sensing an opportunity, they launched the Opseat gaming chair brand. The goal was to become an esports-centric brand offering high quality at low prices.
Today they offer a streamlined product line. It includes a flagship chair, a wider version, and a gaming desk.
Small product lines help to concentrate on research and development. Other companies like Secretlab and Noblechairs also have small product lines. The result of focused R&D is big upgrades every two years.
This is also true with Opseat. In 2019, they upgraded their chairs with a completely new design. Gone are the traditional racing style seat. The new models offer better breathability, durability, and ergonomic support. Even better, the upgraded build materials also made the new versions more durable. As a result, Opseat's chair warranty doubled, from one to two years.
Opseat Master Series
The Master Series is Opseat's flagship gaming chair. It has premium features, a sleek modern look, and an amazingly low price.
Features
Master Series chairs have the same high-end features as the best pro esports chairs. However, compared to pro chairs, Master Series models are around $200 cheaper.
Functionality: 4D adjustable armrests; recline to 180°; 12° tilt-lock.
Comfort: cold molded foam padding; memory foam neck and lumbar support pillows.
Upholstery: breathable perforated PU leather with high quality color accent stitching.
 Support: metal frame, heavy duty base, nylon wheels, support for 300 pounds.
Warranty: 2-year warranty
Upholstery
Opseat's high-density molded foam feels firm but pliant. When you sit, it compresses enough to take the shape of your body. When you stand up, it springs back into the original shape.
As a full-time working chair, OPSEAT models hold up well. The quality of padding should hold up to full-time use beyond its 2-year warranty.
The biggest problem with cheaper PU leathers is that they lack breathability. Opseat gets around this by perforating the fabric.
That means you can save money — without compromising on quality. Expect a soft, cool seat with rich padding that supports excellent a healthy sitting posture.
Sizing
The massive lumbar cushion makes the Master Series a versatile chair that can suit a range of sizes. Opseat rates the Master Series for users 5'2″ to 6'5″, weighing up to 300 pounds.
Seat width & depth: 19.5″ (W) x 21″ (D)
Backrest height & width: 33″ (H), 30″ (W)
Total height: 51″ to 53″
Average sized bodies can expect a snug fit. Smaller sizes will enjoy enough room to cross their legs. People with extra-wide hips might feel restricted.
Other Opseat Products
Beyond the Master Series, Opseat also sells a wider chair and a gaming desk.
Opseat Grandmaster Series
Regular price: $299
The Grandmaster Series has the same features as the Master Series. The difference is the sizing. The Grandmaster Series supports people with wider hips or legs.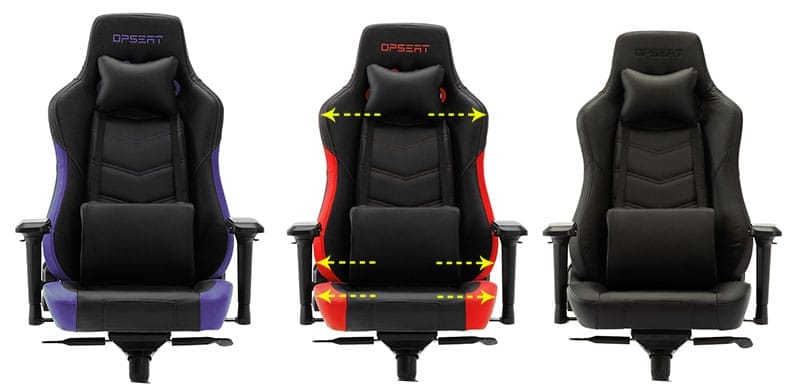 It offers 6″ more sitting width, a more open winged backrest and more cold molded foam. Average sizes can sit cross-legged in this chair. Wider bodies will get a snug fit.
Note that both chairs have 21″ wide seats. The Master Series has less usable room because of vertical ridges that lock the legs within those 21″. In contrast, the Grandmaster has a flat seat that allows the legs to spread beyond the 21″ edges. The Grandmaster also offers wider dimensions across the lower backrest.
OPEDGE gaming desk
The third product in Opseat's line is the OPEDGE gaming desk. Many fixed desks are too high or too low. Even with a gaming chair, this can compromise posture, wellness, and productivity.
The OPEDGE provides a clean platform with cable management and adjustable height. This helps you to game longer while preventing pain in the forearms.
This desk supports 250 pounds of weight and offers thoughtful features:
Durable formica desktop surface: no mousepad required. Scratchproof and very easy to clean.
Adjustable height: adjust between 21″ to 31″ high.
Adjustable feet: each leg of the desk has rotating leveling pads to eliminate wobble.
The OPEDGE gaming desk is made in the USA and comes with a 1-year warranty. There are two options. The standard model is 48″ wide ($150), good enough to support two monitors and a gaming rig. The wide model ($200) is 72″ wide, which is a good fit for three monitors.
Conclusion: no longer for sale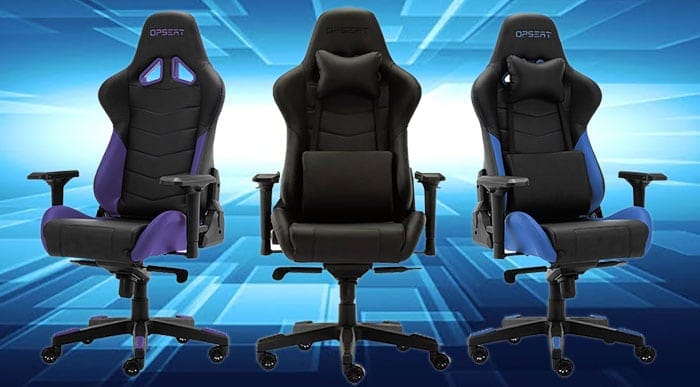 Opseat chairs are no longer in production, or available for sale. This article remains online for historical purposes only. This was the first gaming chair brand in history to offer pro features for under $300.