Vertagear is an American company based in Los Angeles. They make five gaming chairs spread over an S-Line for average sizes and a P-Line for larger bodies. This Vertagear SL5000 gaming chair review looks at their flagship model. The SL5000 is a popular pro esports chair. It offers plush comfort, versatile sizing, and superb ergonomic features.
There are some shared qualities among all models. First, all Vertagear gaming chairs come with a 2-year warranty on parts, plus a 10-year warranty on the metal frame.
All models also use the same padding and faux leather covers. The padding is high-density foam with a resiliency of 4lbs per cubic foot. The cover is a premium blend of PVC leather. PVC leather is thicker, stronger and more durable than other faux leathers/. On the downside, it's the least breathable type. Vertagear gets around this by using a blend with an open-cell structure. That gives added breathability, preventing heat buildup and clamminess.
But what's the difference between the SL5000 and other Vertagear models? What are the good and bad points of the SL5000?
Keep reading to learn answers to those questions and more.
Vertagear SL5000 gaming chair review
The SL5000 delivers what power users need. It's a wide, roomy chair that will support a range of sizes without ever feeling snug. The neck and back support cushions keep your posture on-point. Soft breathable leather and dense padding provide a firm, comfortable seat. You can sit in this chair for hours.
If you have bad posture, this chair will fix it with prolonged use. The longer you sit, the more your posture will improve.
Vertagear SL5000 key features
We've already covered the steel frame, dense padding and high quality upholstery. As for premium features, the SL5000 offers two.
First is the tilt lock. This allows you to adjust the tilt of the seat in 4 alternative upwards angles. If sitting for long, adjusting the tilt lock every so often is an easy way to further reduce pressure on your spine. Try it: set the tilt one click upwards and then lean back in the chair. It keeps your posture aligned, but with a slight change. Refreshing!
The second premium feature is the 4-directional armrests. These move in all imaginable positions. The purpose of 4D armrests is to suit all desk setups while ensuring proper elbow support for the user.
Summary of Vertagear SL5000 features
Functionality: 4D adjustable armrests; recline to 140°; 4-angle tilt-lock.
Comfort: high density cold cure foam padding.
Upholstery: high quality PVC leather with open cell structure for advanced breathability.
Support: heavy gauge welded steel frame; aluminium base; class 4 gas lift; PU casters.
Warranty: 2-year warranty on parts, 10-year warranty on the steel frame.
Free shipping: included.
Buy the SL5000 direct from Vertagear
The Vertagear SL5000 is also available on Amazon for $389.99.
Vertagear SL5000 sizing
The Vertagear team produces two product lines. The P-Line is for heavyweight users; the S-Line is for average sizes. Among the S-Line, the SL5000 is the biggest chair with the widest seat. It supports a range of the most average to tall sizes.
Among the S-Line chairs, the SL5000 is the biggest model with the deepest and widest seat.
| | Vertagear SL5000 | SL2000 | SL4000 |
| --- | --- | --- | --- |
| Seat Width | 15.4" | 14.2" | 14.6" |
| Seat Depth | 19" | 18" | 17.5" |
| Backrest Height | 32.3" | 33.9" | 30.75" |
| Floor to Seat Range | 18.1" to 22.1" | 16.5" to 20.5" | 16.3" to 20.3" |
| Overall height | 50.4" to 54.4" | 50.4" to 54.4" | 47" to 51" |
| Weight support | Up to 260 pounds | Up to 240 pounds | Up to 200 pounds |
| Height support | 5'7" to 6'4" | 5'7" to 6'4" | 5'6" to 5'11" |
Shorter people in the 5'7″ range will find the SL5000 gives a roomy fit with plenty of legroom. Taller people up to 6'4″ will find a more snug fit, like sitting in a race car seat.
Vertagear SL5000 upholstery options
Like all Vertagear chairs, the SL5000 uses synthetic PVC leather on the front and back. Compared to PU leather, PVC is more durable but less breathable. That's why Vertagear's blend has an open-cell structure to limit heat buildup.
The standard SL5000 comes in five color variations:
Pros and cons
There are things to like and dislike about the Vertagear SL5000 gaming chair. Below we list this model's pros and cons.
What we like
This is a luxury gaming chair for power users. With its versatile sizing, a wide range of users can fit in this chair.
Adjusting to your size is simple. First, use the gas lift to raise or lower the chair until your eyes are level with the screen. Then, set the recline between 135° and 135° – this is the ideal working position. Finally, slide the lumbar support cushion to fit into the indent of your spine.
Then lean back and let the chair support your muscles while you work.
What we don't like
Most luxury gaming chairs cost between $350 to $500. Priced at $389.99 on Amazon, the SL5000 is near the high end of that range. This chair is expensive!
For some people, it might be worth saving a few dollars by investing in a cheap gaming chair. Those will save you money and also provide decent ergonomic support. However, with full-time use, çheap chairs break down fast.
Paying more for a luxury chair like the SL5000 get you a solid build with superb comfort and great support. If those things aren't important to you, buy a cheaper chair.
Buying advice
Are you thinking of buying a Vertagear SL5000 gaming chair? This section will help you make an informed buying decision.
Who should buy a Vertagear SL5000?
The Vertagear SL5000 is for power users who spend long hours sitting. The high price is an investment. By paying more, you ensure the most solid build with the highest quality padding. Out of the box, the SL5000 delivers. It's easy to put together and immediately comfortable. However, for the first few days, your body might feel sore after sitting for a long time.
That's because the SL5000 keeps your body in perfect ergonomic alignment. If you're not used to sitting with pristine posture, it will take your body a few days to adjust.
After the adjustment period, the value of this gaming chair will become clear. You will be able to sit longer in perfect comfort. When stood up, you will stand straighter. With good posture comes more energy. Thus you will find yourself sitting longer and working harder.
For driven people wanting a performance edge, the SL5000 is a worthwhile investment.
Vertagear SL5000 alternatives
Among luxury gaming chairs, the Secretlab Titan is our top pick. It's cheaper than the SL5000. It's also is a taller chair, although the SL5000 has a slightly wider seat. The Titan stands out with an internal lumbar system that eliminates the need for a lumbar pillow. That gives the chair a sleek look with more precise lumbar support.
Detailed Secretlab Titan review
Another worthy alternative is the Clutch Chairz Throttle Series. It's more expensive than the SL5000 and slightly smaller. Otherwise, it has a similar package of features. Those include dense padding, high-end upholstery, and 4D armrests.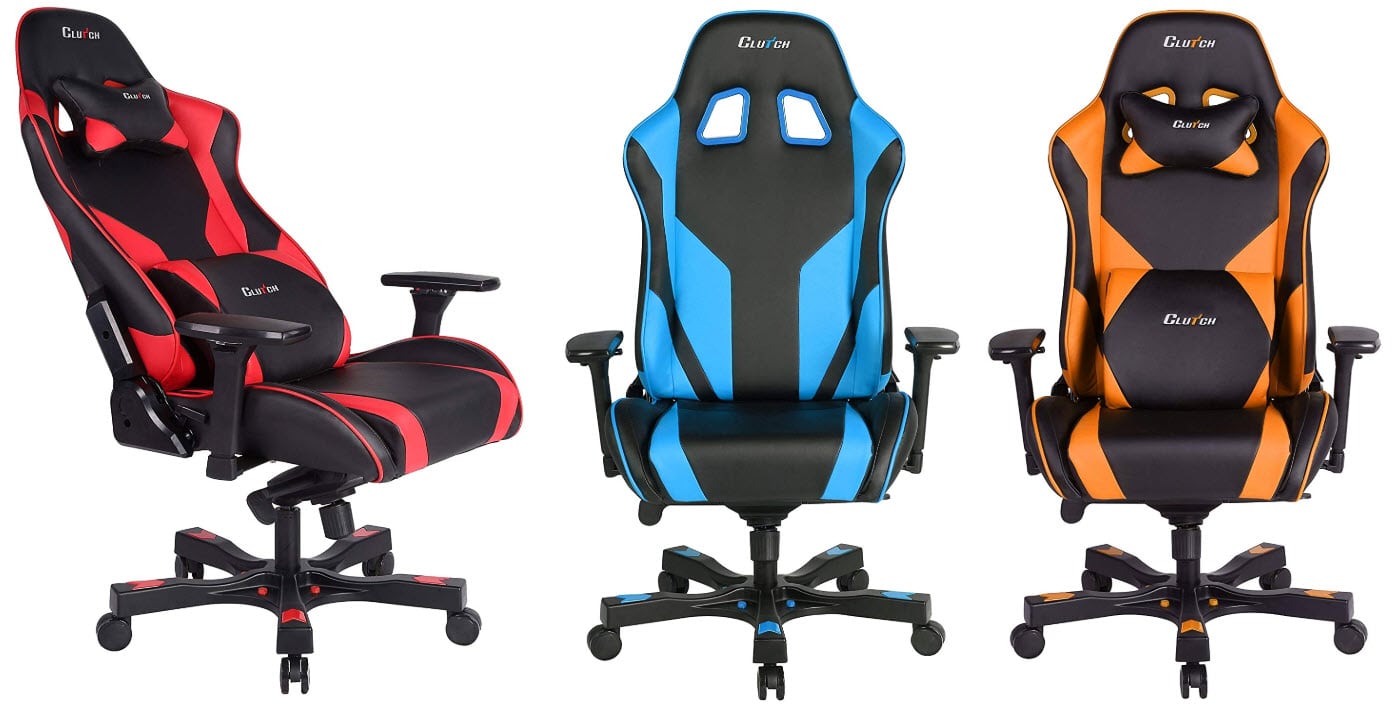 Detailed Clutch Throttle Series review
Here's how the measurements of all three chairs stack up:
| | Vertagear SL5000 | Secretlab Titan | Clutch Throttle Series |
| --- | --- | --- | --- |
| Seat Width | 22.6" | 22" | 21.6" |
| Seat Depth | 19" | 21" | 22.4" |
| Backrest Width | 20.5" | 23" | 22" |
| Backrest Height | 32.3" | 33" | 33" |
| Floor to Seat Range | 18.1" to 22.1" | 19.5" to 23" | 15" to 18" |
| Overall height | 50.4" to 54.4" | 52.5" to 56" | 48" to 51" |
| Weight support | Up to 260 pounds | Up to 270 pounds | Up to 330 pounds |
| Height support | 5'7" to 6'4" | 5'9" to 6'7" | 5'6" to 6'3" |
The reason so many luxury chairs use similar dimensions is to suit the widest range of users. Most people not too tall, short, or wide will fit in these chairs.
For other luxury options, check our review of the best high-end gaming chairs.
How to buy the Vertagear SL5000
There are two ways to buy the Vertagear SL5000. First, you can buy on Amazon. Second, you can buy directly from Vertagear. It's worth checking the prices on both before buying. Sale prices (for Cyber Monday, Christmas etc) are only available from the Vertagear website.
Buy the SL5000 direct from Vertagear
The Vertagear SL5000 is also available on Amazon for $389.99.
Conclusion
The Vertagear SL5000 is an expensive gaming chair. Gaming chairs at this level of quality cost more for a few reasons. First, they use high-quality materials, to higher quality engineering standards. Second, Vertagear has excellent customer service. If anything goes wrong within the warranty period, consider it covered.
Third, gaming chairs of this quality work really well. Cheaper chairs will start to rattle and get squeaky with heavy use. The SL5000 feels solid out of the box. With heavy use, it provides consistent comfort and support.
In fact, it's such a solid chair that once you get past the wow factor, you might even forget about it! Without any aches or pains to worry about, your mind will be on work, not on your chair.
Are you looking to improve your posture, gain energy and boost work performance? The Vertagear SL5000 is a great option — if you can handle the price.