Vertagear is an American company based in Los Angeles. They make five gaming chairs spread over an S-Line for average sizes and a P-Line for larger bodies. This Vertagear SL5000 gaming chair review looks at their flagship model. The SL5000 is a popular pro esports chair. It offers plush comfort, versatile sizing, and superb ergonomic features.
There are some shared qualities among all models. First, all Vertagear gaming chairs come with a 2-year warranty on parts, plus a 10-year warranty on the metal frame.
All models also use the same padding and faux leather covers. The padding is high-density foam with resiliency of 4lbs per cubic foot. The cover is a premium blend of PVC leather.
PVC leather is thicker, stronger, and more durable than other faux leathers. On the downside, it's the least breathable type. Vertagear gets around this by using a blend with an open-cell structure. That gives added breathability, preventing heat buildup and clamminess.
But what's the difference between the SL5000 and other Vertagear models? How does the SL5000 compare to other pro chairs? We answer those questions and more in the following sections.
Vertagear SL5000 gaming chair review
The SL5000 delivers a solid but not spectacular set of features. This section breaks down its key features and selling points.
Features
The SL5000 has everything the best pro chairs offer, minus a seat angle tilt-lock system. That means you can rock the chair and adjust the tension, but not lock it at angles. Tilt-lock is a handy feature that gives you more adjustment options. The purpose of having options on gaming chairs is to switch up the back muscles at work while you sit. That helps to distribute loads and keep your body fresh.
Without a tilt lock system, you can still do a lot with this chair. Beyond rocking, you can adjust the backrest, the height of the seat, and the 4D armrests.
These features over the thick padded frame deliver over long periods. Even better, these chairs keep the spine aligned while sitting. That means the longer you sit in one, the better your posture will become. That opens the door to many benefits. Expect noticeable improvements in your health, wellness, and productivity.
Summary of Vertagear SL5000 features
Functionality: 4D adjustable armrests; recline to 140°; seat rocking and tilt-tension.
Comfort: high density cold cure foam padding; neck & lumbar pillows.
Cover: high quality PVC leather with open cell structure for advanced breathability.
Support: heavy gauge welded steel frame; aluminium base; class 4 gas lift; PU casters.
Warranty: 2-year warranty on parts, 10-year warranty on the steel frame.
Buy the SL5000 direct from Vertagear
The Vertagear SL5000 is also available on Amazon for $389.00.
Sizing
The Vertagear team produces two product lines. The P-Line is for heavyweight users; the S-Line is for average sizes. Among the S-Line, the SL5000 is the biggest chair with the widest seat.
| | Vertagear SL5000 | SL2000 | SL4000 |
| --- | --- | --- | --- |
| Seat Width x Depth | 22.6" (W) x 19" (D) | 20.9" (W) x 17.75" (D) | 20.5" (W) x 17.5" (D) |
| Backrest Width X Height | 20.5" (W) x 32.3" (H) | 21.3" (W) x 33.9" (H) | 20.7" (W) x 30.7" (H) |
| Floor to Seat Range | 17" to 20.5" | 17" to 20.5" | 18" to 21.5" |
| Overall height | 48.6" to 52.6" | 49.2" to 53.2" | 47.25" to 51.2" |
| Size rating | 5'7" to 6'4"; up to 260 pounds | 5'7" to 6'4"; up to 240 pounds | 5'7" to 5'11"; up to 200 pounds |
Shorter people will find the SL5000 gives a roomy fit with plenty of legroom. Taller people up to 6'4″ will find a more snug fit, like sitting in a race car seat.
Warranty
All Vertagear gaming chairs come with a 2-year warranty on basic parts. Advanced parts like the seat spring mechanism and 4D armrests come with a 5-year warranty. On top of that, you also get a 10-year warranty on the steel frame. Check out the full warranty details on the Vertagear website.
On most chairs, a 2-year warranty is standard. Getting five years on the complex parts is a great indication of how long you can expect Vertagear chairs to last.
How to buy the SL5000
There are two ways to buy the Vertagear SL5000 chair. First, you can buy on Amazon. Second, you can buy directly from Vertagear.
On Vertagear.com, SL5000 chairs sell for $389. But it's worth checking the Vertagear discounts page before buying. Very often, they run discounts of $50 off SL5000 chairs. Getting an SL5000 at a discounted price of $339 is an excellent bargain.
Buy the SL5000 direct from Vertagear
The Vertagear SL5000 is also available on Amazon for $389.00.
SL5000 style options
This section outlines the different SL5000 chair style options.
Two-tone PVC leather
The stock SL5000 chairs come in four two-tone styles and one all-black edition. This gives you a wide range of options from colorful to conservative.
Mindnight Blue special edition
Vertagear's Hygenn X fabric has coffee-infused fibers and Silver Lining Embroidery. These work together to limit odors and control bacteria buildup.
The Midnight Blue Hygenn X is the latest addition to the SL5000 lineup. Its antibacterial fabric helps to ensure a clean and healthy workspace. What's more, it's a stunning design. The Silver Embroidery contrast with the Midnight Blue for a clean and elegant look. This model is only available on Vertagear.com.
Buying advice
Are you thinking of buying a Vertagear SL5000 gaming chair? This section will help you make an informed buying decision.
Pros and cons
There are things to like and dislike about the Vertagear SL5000 gaming chair. Below we list this model's pros and cons.
What we like
The SL5000 is a roomy, comfortable chair with solid adjustable features. The versatile dimensions are a good fit for most average-sized users.
The point of a gaming chair is to support your body over long periods of sitting. The chair does the work holding your body up against gravity. In theory, that leaves a lot more energy to spend on high-powered computing.
In reality, the SL5000 delivers these qualities with solid consistency. Adjusting the support for your act proportions is easy. First, use the gas lift to raise or lower the chair until your eyes are level with the screen. Then, set the recline between 100° and 110° — this is the best position for upright computing. Next, slide the lumbar support cushion to fit into the curve of your lower back. Then, lean back.
Snuggle the curve in your neck against the neck pillow. This lets the chair do the work of holding your body up against gravity.
What we don't like
Our biggest gripe about the SL5000 chair is the lack of a seat-angle tilt-lock. It's the only feature the best pro chairs have, but the SL5000 lacks. Given that adjustability is at the heart of a gaming chair's effectiveness, it's significant.

Because of that omission, we classify the SL5000 as a high-end consumer-class chair. With a tilt-lock, it would rank among the best full-featured pro chairs.
Who should buy a Vertagear SL5000?
Despite the lack of tilt-lock, the Vertagear SL5000 is a full-time working chair. When you sit in a chair full-time, you become hyper-aware of its strengths and weaknesses.
Luckily, under full-time loads is where the SL5000 shines. For one thing, the build is super-solid. For another, the padding is dense and very resilient. When you sit, it gives just enough to cradle your body. When you stand, it pops back into its original shape. In fact, you can expect the padding to hold to its original shape for years.
If you only need a chair for casual gaming, save some money and buy a cheap chair. But for full-time use, the SL5000 is a solid investment that offers excellent value for money.
Vertagear SL5000 alternatives
Among Vertagear models, the SL2000 chair is the most obvious alternative. Both chairs offer similar dimensions, although the SL2000 only comes with 2D armrests. As well, the SL2000 model is around $50 cheaper. To compare all Vertagear models, check out our detailed brand overview:
Vertagear brand review: comparing their best chairs
Beyond Vertagear chairs, there are several other high-end picks worth considering.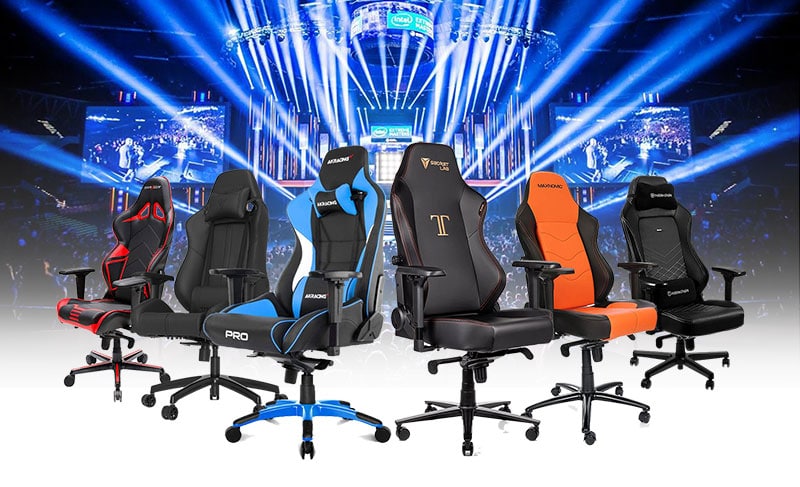 Among pro esports gaming chairs, the Secretlab Titan is our top pick. Maxnomic and AKRacing also make high-end models. That said, the only big feature that pro chairs have over the SL5000 is seat angle tilt-lock. If that's not an important feature to you, then choosing an alternative will depend on your style preferences. Check out all Vertagear SL5000 alternatives in our detailed review:
Conclusion
Vertagear's flagship SL5000 has a lot going for it. The versatile dimensions ensure a good fit for most average sizes. The superb build and crisp ergonomic features become evident the moment you sit down in one. But over an extended period is when you will truly come to appreciate this chair.
The SL5000 is easy to set up and has an intuitive learning curve. After assembly, set the recline within the sweet-spot working range of 100° to 110°. Then adjust the neck and lumbar pillows to fit in the curves of your upper and lower spine. Finally, lean your body against the backrest.
The thick padding cushions your body. At the same time, the armrests and backrest absorb the bulk of your body's weight. Sitting upright in the chair will also put you at an optimal eye level to your computer screen. That's at the point you can forget that you're sitting and lose yourself in work.
After hours of high-octane productivity, your mind should feel fried. At the same time, you can expect your body to feel fresh.
That summarizes the incentive to invest in a chair like a Vertagear SL5000. It's comfortable and good for your back over long periods of computing. Less strain on your body frees your mind to soar. After an intense day of productive work, your body will still feel fresh. That's the ideal time to step away from the computer to focus on other aspects of wellness.
Tidy up the house. Go for a bike ride. Prepare a nice meal. When it's time to go back to work, imagine how nice it will feel to have a Vertagear SL5000 waiting for you.
Buy the SL5000 direct from Vertagear
The Vertagear SL5000 is also available on Amazon for $389.00.