Arozzi is a Swedish gaming chair manufacturer. Its flagship chair is the Arozzi Vernazza, a compact model with pro ergonomic features. New to the Vernazza product line are four mesh fabric chairs. This article reviews all Arozzi Vernazza mesh fabric chair models.
Both leather and fabric Vernazza chairs have the same ergonomic features. Fabric editions have slightly larger dimensions and a lower padding density.
Foam density measures as kilograms per cubic meter (kg/ m³ ). The higher the number, the greater the firmness and durability of the foam.
Leather Vernazza chairs have a seat foam density of 70 kg/m³. Vernazza mesh chairs have a seat foam density of 60 kg/m³. The lower number indicates a softer seat with less resistance.
Buy the Vernazza fabric chair on Amazon $345.75
Vernazza mesh fabric chair review
The mesh fabric Arozzi Vernazza comes in four different color options. All models use 100% polyester mesh fabric. Compared to PU leather, mesh fabric is more breathable and durable. It's also softer to the touch.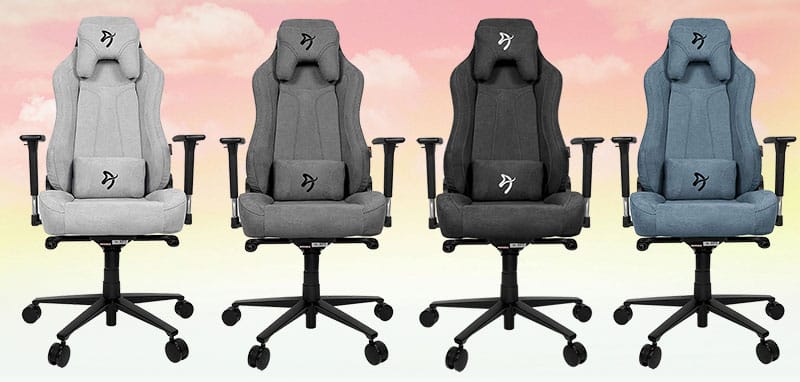 Soft fabric plus a softer density of foam makes for a very comfortable seat.
Fabric Vernazza alternatives
There are two groups of alternatives to consider to Vernazza fabric chairs.
Conclusion
The Arozzi Vernazza mesh fabric chair is attractive and comfortable. It has solid features including 3D armrests, deep recline, and a multifunction tilt-lock. The mesh fabric covers are breathable, ultra-durable, and soft to the touch.
The downside is the price. You can get cheaper alternatives with better features from other brands. If you don't mind paying a premium, expect a solid, comfortable, durable gaming chair.
Buy the Vernazza fabric chair on Amazon $345.75
To learn more about Arozzi's line of gaming chairs, check out our detailed Arozzi brand review.