The Secretlab Stealth edition is the original Titan design. First released in 2016, this model shattered the gaming chair template. Instead of a confining seat with bladed edges, its seat is flat, wide, and spacious. In place of a lumbar pillow, it comes with an integrated lumbar. On top of that, the styling is superb: sleek, sophisticated, and versatile. Today, it remains one of the most popular Secretlab designs. This Secretlab Titan Stealth review explains why.
When the Titan Stealth emerged in 2016, Secretlab was a tiny Singaporean startup. That early design made a bold statement with unique features and nuanced aesthetics. It's gone through several revisions since then.
For instance, Secretlab recently released an upgraded version. 2022 Series Titan Stealth chairs come in small, medium, and XL sizes.
Under the hood, the new editions also boast upgraded lumbar support, a refined seat style, and plenty of enhancements. As a result, this review covers both versions.
For testing, we used a Titan 2020 Series edition. To appease those seeking the latest and the greatest, we also include insights into the 2022 Series.
Technical Reviews: Titan EVO 2022 Series | Titan 2020 Series
Secretlab Titan Stealth 2020 Series review
This review uses a 2020 Series Titan Stealth to cover the design aspects. It also sheds light on the differences between the 2020 and 2022 Series Stealth editions.
Design
The Titan Stealth is a large, matte-black leather chair. This material embodies 'stealth' with a clean look that integrates seamlessly into all types of room designs.
Cross-pattern carbon fiber accents line the sides of the seat and backrest. Binding accents to leather is bright red embroidery that gives the chair a subtle but striking 'pop' of color.
Despite its apparent executive looks, this model also works well at a gaming workstation. After almost a year of using this chair, I find the design surprisingly complex.
The matte leather changes tone depending on light sources. Sunlight, room lighting, dark lighting, and RGB colors all reflect differently. Across the spectrum, it retains a sleek, stealthy look.
Features
The Stealth edition is now available in both 2022 and 2020 Series editions. Here we summarize the technical specs of each iteration.
Integrated Lumbar Support
Titan lumbar support systems differ in both versions:
The 2022 Series highlight feature is a 4-Way L-ADAPT Lumbar Support System. Two knobs on both sides of the backrest let you adjust the support in four directions (up/down, forward/back).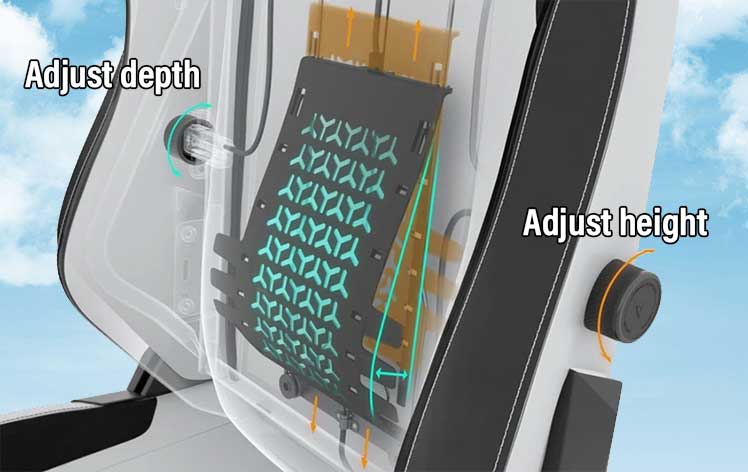 Turn the left dial to adjust the height of the unit. Once it hits your lower back sweet spot, turn the knob on your right to set your depth.
The 2020 Titan lumbar is depth-adjustable with a fixed height. Because of its placement, Secretlab recommended it for users 5'9″ (175 cm) and up.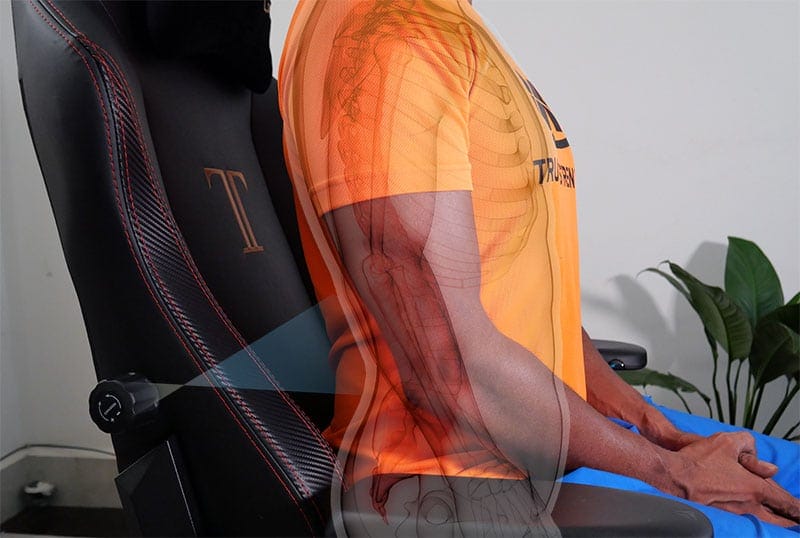 I'm 5'9″ and it just barely fits. If you're even an inch shorter, choose a different model (if good back support is a priority). Assuming it fits, adjust the depth to hit directly into the small of your back. With comfortable pressure in place, sitting up straight becomes easy!
Memory Foam Headrest
Both versions come with a memory foam headrest covered in velour. The Secretlab logo is embroidered on the front of the pillow in bronze. The application differs in each Series:
2022 Series chairs come with a magnetic headrest. Freed from straps, it delivers a much cleaner look with a larger adjustment range.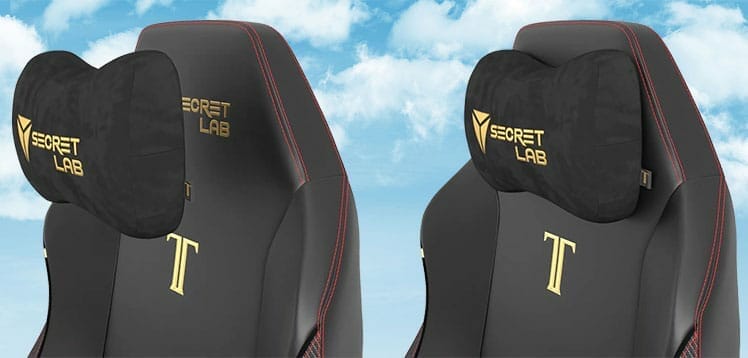 The 2020 headrest uses traditional straps. It's old-school by comparison, with a smaller adjustable range. Even so, it still ranks as one of the most comfortable and effective headrests on the market.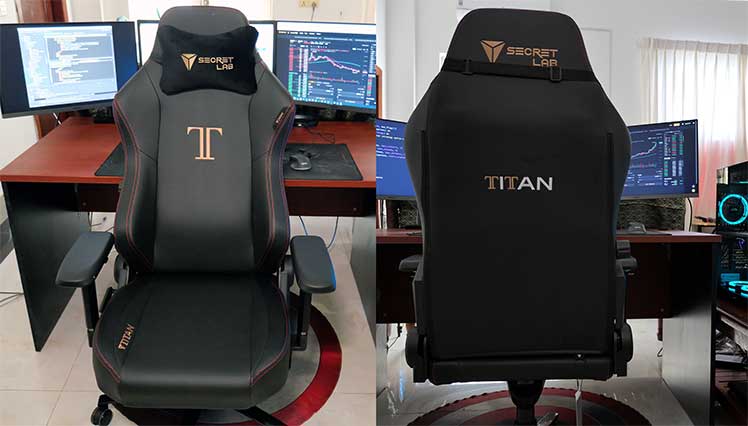 Multiple recline and tilt options
Both versions come with backrest recline and seat tilting functionality. Unlike most other chairs, this model includes a forward-tilting backrest. That inclines 5 degrees forward to an 85-degree angle. Combined, these features offer several opportunities to move your body while sitting.
The forward-leaning backrest is designed to support pro esports players. During competitive gameplay, most tend to remove the lumbar pillow and lean forward to get a closer view of the screen.
Even though I don't play competitive FPS games, I still find this feature useful. For instance, when doing complex Photoshop or color correction work, the forward tilt encourages a straight back instead of a bent one with a craned neck.
Flat Seat Styles
Standard gaming chairs come with bladed seat edges designed to restrict leg movement. In comparison, Titan chairs have flat, wide seats offering enough room to sit cross-legged. Between the two series are slight variations.
The 2020 edition has an almost-flat seat pan that promotes spacious comfort. The 2022 Series adds slight ridges. Even so, they're mild enough to enable very comfortable cross-legged sitting.
Another enhancement in the newer version is a waterfall seat edge. It provides a slight downward curve that reduces pressure on the thighs as you sit.
Summary of features
2022 Series versions offer several upgrades. These include a magnetic headrest, improved lumbar support, and seat enhancements. style. It also comes with an upgraded Neo Hybrid Leatherette – it's 4 times more durable than the 2020 Series edition.
Functionality: 4D armrests; multifunction tilt-lock; recline from 85-165°.
New 2022 Series Features: integrated 3D-adjustable lumbar support; magnetic headrest pillow; pebble seat base with waterfall edge.
Sizing: small 4'11" to 5'6″; medium 5'7″ to 6'2″; XL 5'11" to 6'9″.
Warranty: five years.
Functionality: integrated lumbar support; 4D armrests; recline from 85°-165°; multifunction tilt mechanism.
Upholstery: choice of premium PU leather, genuine leather or Softweave Fabric.
Comfort: patent-pending cold cure foam; memory foam head pillow with cooling gel insert.
Support: carbon steel frame; Class 4 KGS gas lift; aluminium base; XL PU caster wheels.
Warranty: 3 years, extendable to 5 years with a social share (details).
Titan Stealth chairs are available in North America, the EU and UK, Oceania, Singapore, and Malaysia.
Size specifications
2022 Series chairs come in small, medium, and XL sizes. The 2020 Series Titan is a large model suited for sizes 5'9″ (175 cm) and up.
[table id=109 responsive="scroll" /]
Seat width x depth: 20.5″ (W) x 19.7″ (D)
Backrest width x height: 21.7″ (W) x 33″ (W)
Seat height range: 18.7-22.4″
Chair height: 51.7-55.4″
Size rating: 5'9″ to 6'7″, up to 290 pounds
Titan Stealth chair advice
Here is some additional info to help you decide whether the Titan Stealth is right for your needs.
Who Is The Stealth Edition Titan For?
The Titan Stealth is a high-end gaming chair with sleek, stealthy good looks. It appeals to power users seeking to integrate modern ergonomic styling into a workstation.
For Full-Time Power Users
Did you know that all gaming chairs provide ergonomic support for good posture? While that Titan costs over $400, several cheaper gaming chairs do a similar job.
Even so, the Titan ranks as the best luxury gaming chair on the market. With a higher price, you get better adjustability, superior durability, and higher build quality.
These extras are most valuable for full-timers who spend long hours sitting. That includes desk workers, content creators, full-time gamers, and others who are desk-bound.
For Conservative Tastes
Secretlab has over 30 mind-blowing designs in its collection. There are pink chairs, vivid yellow ones, and others with elaborately embroidered artwork. If you find the choices overwhelming, the Stealth chair is a nice default pick.
Its stealthy nature lets it blend well into all types of workstations. Under the fluorescent lights of a corporate office, it looks like a luxury executive chair.
In a more casual, work-from-home setting, subtle touches add pop. Bright red stitching, golden embroidered logos, and carbon fiber side wings give the Stealth classy personality. Against matte black leatherette, it's a sleek combination that's subdued yet charismatic.
Bottom line: if you can't decide which design to choose, the Stealth edition works well in various environments.
How to use a Secretlab Titan chair
The point of all ergonomic chairs is to support a neutral posture over long periods of sitting. This position exerts the least amount of stress on a seated body. It also keeps the spine in a healthy alignment. This configuration best helps users to sit longer, feel better, and be more productive.
In a Titan chair, there are two keys to maintaining a neutral position. First, adjust the seat height so your feet plant firmly on the floor. Second, tuck your hips deep into the seat pan when you sit down. Follow the steps in this guide to achieve perfection:
With your feet planted and proper lumbar support, maintaining a neutral posture becomes much easier.
Neutral sitting benefits
Getting adjusted to sitting properly in a Titan chair should take around one week. In that time, your back will get used to the lumbar support, while the padding will adapt to the nuances of your body. Even if neutral sitting feels strange, try to power through until it starts becoming a habit. Then, expect these benefits and more:
Less headaches: good posture reduces neck and shoulder tension, which causes migraines.
Energy boost: with good support and a healthy spinal alignment, muscles work efficiently. As a result, users enjoy a surplus of energy that can go into distraction-free computing.
Richer blood oxygen levels: good sitting posture opens up the chest cavity, encouraging deeper breathing. That yields many benefits including stabilized blood pressure, a slowed heart rate, and reduced anxiety.
Improved digestion: slouching compresses organs, slows digestion, and causes constipation. Neutral sitting reverses this by reducing abdominal pressure.
To unlock the full benefits of your Titan Stealth chair, tuck your hips, use the lumbar, and follow these tips:
Other Secretlab Titan designs
Here's a quick summary of some other TItan designs to compare the Stealth edition with:
Softweave fabric gaming chairs
Secretlab's faux leather upholstery is the best in the business. It's buttery soft, breathable, and easy to clean. Even so, Titan SoftWeave editions have advantages as well.
2022 Series SoftWeave Titan chairs come in seven refreshing styles. All come upholstered in soft fabric that is even more breathable and durable.
New styles include Plush Pink, Mint Green, Frost Blue, and Arctic White. These join classics like Triple Black and Cookies & Cream. See here for reviews of every design in the collection:
Pro esports team chairs
Several of the world's best esports teams partner with Secretlab. Titan specialty chairs are available representing Team Liquid, Evil Geniuses, Cloud9, Team Secret, G2, and others.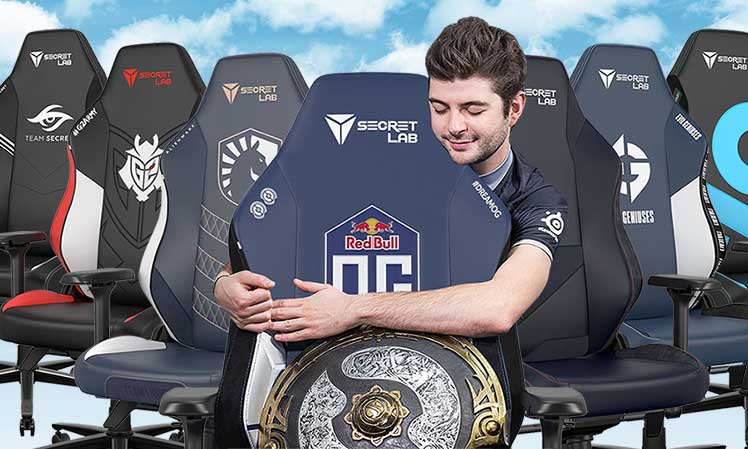 All models come in 2022 Series (S, M, XL) and 2020 Series (Titan and Omega) editions. Check out all designs in this review:
League of Legends gaming chairs
There are eight designs in Secretlab's League of Legends collection. Find here Ruination chairs, Ionia models, and K/DA designs.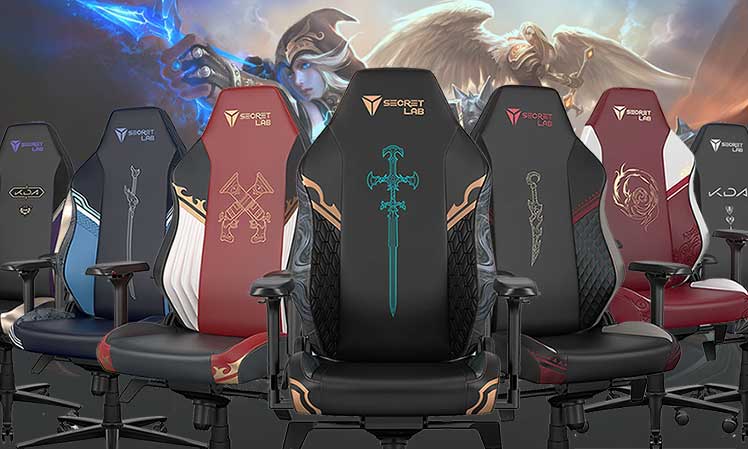 Each model comes with elaborately embroidered artwork reflecting the rich lore of the game. The Viego edition shows off the Blade of the Ruined King in brilliant green embroidery.
Yasuo's Ionia edition shows a virtual tempest embroidered in a traditional Ukiyo-e art style. There's also a K/DA All Out chair with fractal side wings that reflect stunning rainbows of light. Check out the whole LoL collection:
Conclusion
The Secretlab Titan is the top-rated pro esports chair on ChairsFX. Among its 35 design variants, the Titan Stealth remains one of the most popular.
If struggling to choose the perfect design for your workspace, the Stealth edition is a great option. As an office chair, it makes a bold executive statement. In a gaming room, it makes a sleek, contemporary one. Expect luxurious comfort, improved posture, and a major productivity edge over your peers.
Titan Stealth chairs are available in North America, the EU and UK, Oceania, Singapore, and Malaysia.