Based in South Florida, Nokaxus has distribution centers across America. Selling gaming chairs direct to consumers cuts out middleman fees. Thus, they offer affordable chairs with free shipping across the country. The Nokaxus Classic 6008 footrest gaming chair is their most popular model. Are these footrest chairs any good? Find the answer in this Nokaxus Classic 6008 gaming chair review.

In America, Nokaxus now sells its gaming chairs via nokaxuschair.com. At present, all 6008 Series footrest models are available.
Nokaxus footrest chair reviews
This section breaks down the qualities of all Nokaxus 6008 footrest gaming chairs.
Nokaxus 6008 footrest gaming chairs stand out for a few reasons. First, they comes in seven striking color schemes. These are attractive chairs. Second, they have impressive features for the money. These chairs come with a footrest, massage unit, deep recline, and more.
Chair features
Nokaxus 6008 chairs have features that emphasize casual comfort. Ergonomic features are basic: you get 2D armrests plus standard rocking function with tilt-tension.
Comfort-boosting features are the retractable footrest and the USB-powered lumbar pillow massage unit. The retractable footrest lets you use these chairs as recliners or office chairs. The lumbar massage unit works well at getting the blood flowing along your spine. Instead of using that feature all the time, consider saving it for those times that you need a boost.
Functionality: 2D armrests; retractable footrest; massage unit; deep recline to 180°
Comfort: high density sponge padding + standard padding; neck and lumbar cushions
Support: heavy duty steel frame that supports up to 350 pounds
Warranty: 1-year warranty; 24 months of after-care support
Buy a Nokaxus 6008 footrest chair for $189.99 $199.99
Use the coupon code chairsFX to get $10 off when you buy direct. Nokaxus footrest chairs are also available on Amazon for $189.99.
Sizing
A big difference between other footrest chairs and 6008 chairs is the sizing. Most other footrest chairs are compact, slim-fitting models best suited to small sizes. In contrast, Nokaxus 6008 chairs are big and beefy. The support users from 5'7″ to 6'3″, with a maximum weight capacity of 350 pounds.
Seat width & depth: 22″ (W) x 21″ (D)
Backrest height & width: 36.2″ (H), 23.2″ (W)
Floor to seat range: 19.3″ (H), 22.4″ (W)
Total height: 55.5″ to 58.6″
Alternatives
There are several alternatives to Nokaxus chairs. Check out our best footrest gaming chairs article. There, Nokaxus ranks as the top office-style footrest gaming chair.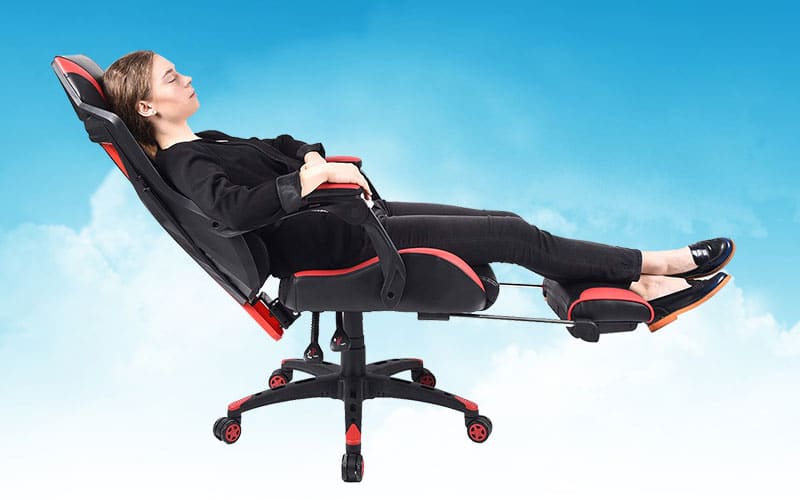 It ranks at the top for a few reasons. With 2D armrests and a massage pillow, it has richer features than competing chairs. On top of that, the spacious dimensions of Nokaxus chairs are adult-sized. In contrast, many of the competing models are sized for slim, tiny bodies.
Pros and cons
Pros: these chairs are great for casual relaxing and light office work. The sturdy steel frame can take a beating, while the large dimensions will fit all members of the family.
Cons: as a dedicated office chair, this model falls short. It uses a lower quality of padding best suited to part-time use. For full-time use, consider paying more for a pro esports ergonomic chair.
Conclusion
Given the price, dimensions, and features, the Nokaxus 6008 chair is ideal for a casual home office. Use it upright as an ergonomic office chair. When it's time to relax, kick up the footrest and use it as a recliner. For console gaming in front of your TV, extend the footrest and lower the seat.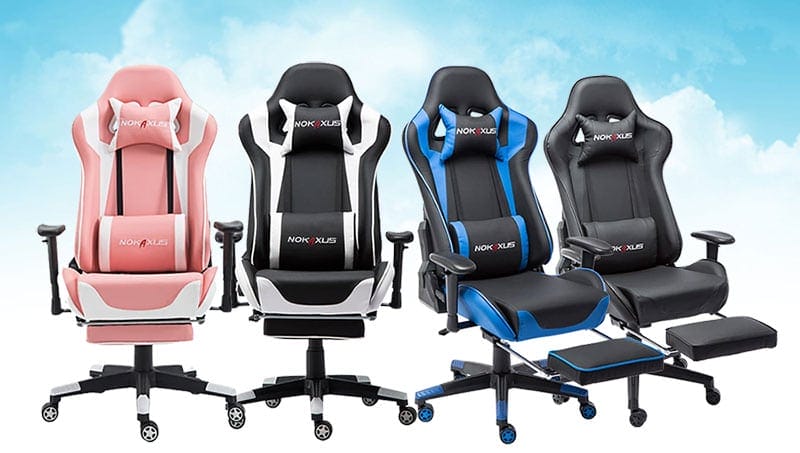 It's a versatile and spacious chair with solid features and an excellent price.
Nokaxus 6008 footrest chair $189.99$199.99
Use the coupon code chairsFX to get $10 off when you buy direct. Nokaxus footrest chairs are also available on Amazon for $189.99.