Many of the top gaming brands upgraded their flagship chairs in 2019. Killabee joined the party with an upgraded version of their 9015 Footrest Series. This Killabee 8204 review examines the new version of their flagship gaming chair.
The Killabee 9015 Footrest Series is one of the top-selling gaming chairs on Amazon. It's not a conventional gaming chair because it lacks two features. First, it has fixed armrests, not adjustable ones. Second, it has no neck support pillow. Instead, there's a fixed ridge in the backrest that offers partial neck support.
The Killabee 8204 is the upgraded version of the 9015 model. The problem with fixed arm and neck support is that all bodies are different. Having adjustable options can make a big difference in the quality of ergonomics. The 8204 addresses the design limits of the old model and adds some interesting new features.
Killabee 8204 gaming chair review
Killabee's old flagship model was the 9015 Series. It's one of the top-selling gaming chairs on Amazon with a retractable footrest. The new Killabee 8204 also has a footrest, but adds some interesting new features.
Killabee 8204 key features
The old 9015 Series only came with a lumbar support cushion. The 8204 upgrade adds an adjustable neck pillow. You can slide it up or down so that it perfectly supports your neck while sitting. Other notable upgrades include 1D-adjustable armrests and a USB-powered lumbar massage unit.
The Killabee 8204 comes in three color combinations. All use decent-quality PU leather. The difference between the 8204's leather and more expensive ones are minute. Higher quality PU leather looks and feels more like real leather. It's more breathable in hot weather. Plus it will last longer under a full-time sitting load.
But only gaming chair connoisseurs will notice the difference. The Killabee 8204 is an entry-level budget model. Users at that level will find that the PU leather looks good, feels nice and is easy to clean. Summary of features:
Unique feature: USB-powered lumbar massage unit.
Functionality: 1D armrests (up and down); recline to 170°; retractable footrest.
Comfort: memory foam padding; neck and lumbar pillows.
Upholstery: PU leather in three color combinations
Support: steel frame; heavy duty metal base; 4 gas lift; rubber casters.
Killabee 8204 sizing
Compared to the legacy model, the Killabee 8204 is a versatile chair that fits average to large sizes.
The 8204 model is larger in all aspects. Of note is the extra-wide seat that should accommodate most large bodies.
| | Old Killabee 9015 | New Killabee 8204 |
| --- | --- | --- |
| Seat Width x Depth | 21.3" (W) x 20.1" (D) | 22.4" (W) x 21.7" (D) |
| Backrest Width x Height | 21.3" (W) x 31.9" (H) | 22.4" (W) x 32.7" (H) |
| Overall Height | 48.4" to 51.2" | 49.6" to 52.8" |
| Height Support | 5'6" to 5'9" | 5'8" to 6'1" |
| Weight Support | Up to 250 pounds | Up to 350 pounds |
These dimensions hit a sweet spot that should fit most average sizes.
Those extremely short should consider a specialty compact chair. Users wanting super-sized width should check out the best gaming chairs for heavyweights instead.
Killabee 8204 warranty
The 8204 comes with Killabee's standard 1-year warranty. This covers full-time use of the chairs for up to 40 hours per week.
These terms are impressive. Most cheap gaming chairs also come with 1-year warranties. But most are better suited to part-time use.
That's because the padding on cheap chairs tend to flatten out if used full-time. That's not the case with the Killabee 8204, which holds up well to heavy sitting.
Given the 1-year warranty, usage conditions and price, the 8204 offers excellent value.
What we like and dislike
Killabee's original footrest gaming chair is an Amazon best-seller. Its 2019 successor improves on the original, but also has some limitations to be aware of.
What we like
Two areas where the 8204 stand out above the older model is the sizing and ergonomics. The old model was a compact chair best suited to short, slim users. For large adults, it looks like a chair for kids. The 8204 makes everything bigger.
With bigger backrest and neck pillow, it also offers better back support than the old model.
What we don't like
Chairs as cheap as the Killabee 8204 need to cut corners to keep the price low. The 8204 cuts corners by using memory foam padding instead of cold cure foam. Cold cure foam offers superior resistance and durability. Memory foam is softer and more comfortable, but tends to flatten out over time.
After a year of sitting in your Killabee 8204, the padding may flatten. If you can feel the steel support under the padding, it's time for a replacement.
If you want a gaming chair that lasts for years, buy an expensive one.
Killabee gaming chair buying advice
The Killabee 8204 is a cheap footrest gaming chair with plush comfort and solid support. But is it the right chair for you? Keep reading to find out.
Who should buy a Killabee 8204
The Killabee 8204 is a large chair that will fit most normal-sized adults. The memory foam is thick enough to support full-time use. Having a retractable footrest also gives you more options to support your body. When you start to get tired sitting upright, pop out the footrest and put your feet up.
Because of the footrest feature, we like the 8204 more as an entertainment chair than a working one. Buy it for the bedroom or home office. Enjoy high-end ergonomics, La-Z-Boy style reclining and heavy duty support.
Killabee 8204 alternatives
First to consider are other Killabee models in our Killabee Brand Review.
A second obvious alternative is the older version of the 8204. The Killabee 9015 is Killabee's best selling gaming chair. Compared to the 8204 it is a smaller chair with less features and an alternative design.
Third is Killabee's biggest competitor, Elecwish. Elecwish makes an entire line of footrest gaming chairs that are also top-sellers. The big difference between Elecwish models and the 8204 is the size. The 8204 is a bigger chair that offers better support for large sizes.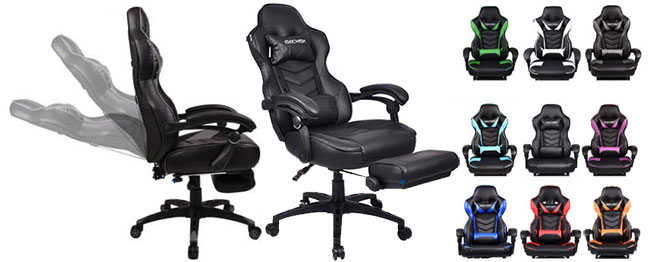 Finally, check our list of best gaming chairs with footrests for similar models.
Conclusion
Gaming chairs are exploding in popularity. Competition is intense among the top brands. Companies stay on top by listening to their users and striving for innovation.
The Killabee 8204 is the upgraded version of Killabee's flagship footrest gaming chair. It offers larger dimensions, thicker padding and better ergonomics.
A key difference between this model and competing footrest chairs is the size. The Killabee 8204 is one of the largest footrest gaming chairs on the market.
That opens up the joys of footrest gaming chairs to a bigger market. Large users wanting ergonomics with the comfort of a footrest will love this product. Average users wanting roomy support will also enjoy the Killabee 8204.