The original Herman Miller Sayle sported an unusual design that delivered high-quality ergonomics. In 2020, the company released a gaming version of the Sayle in a range of brilliant colors. How does the Sayle stack up as a PC gaming chair? This Herman Miller Sayle gaming chair review has the answer.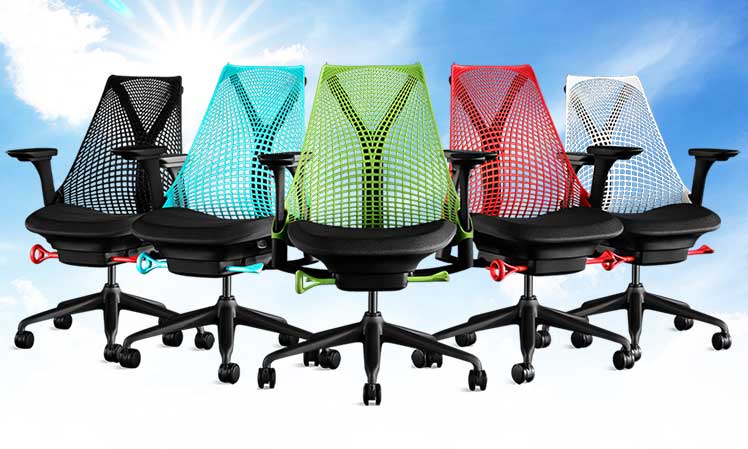 For several years, the term 'gaming chair' referred to racing-style PC chairs. In 2020, Herman Miller co-opted the term for its new gaming furniture collection. It includes a desk, a monitor arm, and a choice of three gaming chairs. Of the three, the Sayle is the cheapest chair in the collection, with the most striking design.
Sayl gaming edition from Herman Miller $945
Despite its lower price, there's a chance the design may scare some people away. This chair's star feature is an ultra-adaptive plastic backrest. At a glance, it's a jarring, synthetic look that resembles a laundry basket.
It's an acquired taste. Give it time. Once the purpose of the design becomes clear, it becomes more palatable. With time to digest, it will likely become the showpiece of your game room.
Herman Miller Sayle Gaming Chair Review
The original Sayle was designed by Yves Béhar in 2011. The backrest concept takes inspiration from the Golden Gate Bridge. The point was to apply bridge suspension principles to an ergonomic chair.
As a result, the Sayl's backrest fuses an unframed plastic backrest shell to a central suspension tower. As the user moves, the tower flexes, while the shell stretches or contracts to provide tension where needed.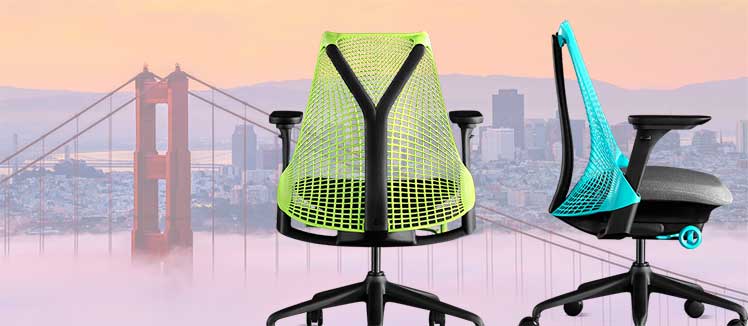 From the side, the chair resembles a full mainsail. The name "Sayl" reflects the sailing vessels that pass under suspension bridges.
Sayle Gaming Chair Features
The Sayle's ultra-adaptive backrest is its first highlight feature. The second is robust synchronous tilt functionality. This provides support for leaning backward or forward while gaming.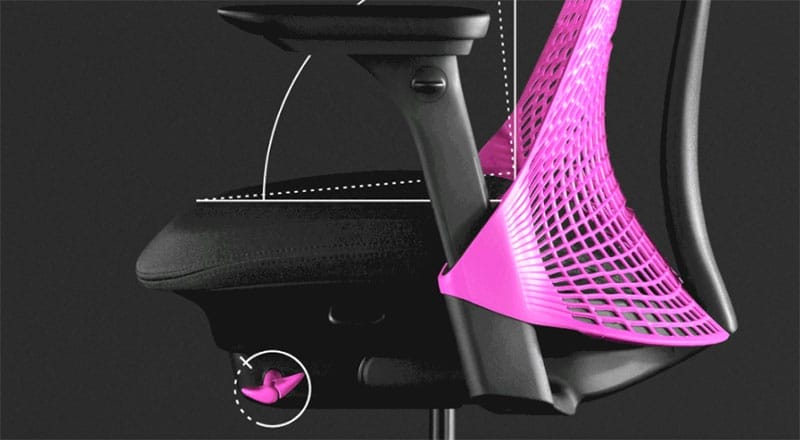 With its synchro-tilt feature activated, the seat tilts up as you lean back. When you lean forward, it tilts down. That maintains good posture by keeping your thighs parallel to the floor. At the same time, it promotes healthy movement in the hips as the user changes positions.
Complex synchro-tilt functionality is what makes most premium ergonomic chairs so expensive. No other model under $1000 offers such rich functionality (or a 12-year warranty).
Summary of Features
To keep the cost of this chair low, Herman Miller has made one crucial cutback. Instead of an infinite-locking recline, the Sayle's backrest can only lock in three reclined positions.
Synchro-tilt: seat pan angle -3° to 13°; backrest reclines to 91°, 101°, or 124°.
3D Intelligent backrest: an unframed 3D Intelligent back stretches or contracts to support the back as the user moves.
Posturefit: a unit at the rear of the backrest supports the sacrum (the lowest point of the spine) to reinforce the pelvis. That prevents slouching and sitting fatigue.
Seat adjustments: contoured seat pad; adjust the seat's height and depth; downwards tilt to -3°.
Armrests: 4D adjustable (adjust the height, angles, width, and depth).
Warranty: 12 years.
Beyond that limitation, this chair's features are comparable with Herman Miller's Aeron and Embody chairs.
Dimensions
The Sayle has wider seat and backrest dimensions than the Aeron and Embody chairs. It's a versatile chair designed to fit a wide range of sizes out of the box.
Seat Size: 24.5″ (W) x 16-18″ (D)
Backrest: 16.8″ (W) x 20.9″ (H)
Seat height: 15″ to 20″
Chair height: 33.75″ to 40.75″
Size rating: 5'3″ to 6'7″; 350 pounds
Sayle Design Options
The Sayle Gaming Chair comes in five styles. You also get the option of choosing a grey or black padded fabric seat.
Taller users also have the option of adding a larger gas lift cylinder for an extra $50.
Alternatives
Here's how the Sayle compares with Herman Miller's other two gaming chairs:
Embody Gaming Chair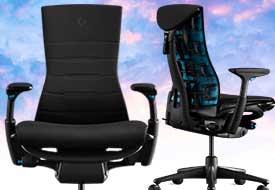 The Embody has a more adaptive backrest and better armrest adjustability. The Sayle beats it with a better sync-tilt range, wider seat, and larger weight capacity.
Aeron Gaming Chair
The Aeron comes in ultra-adaptive mesh, with a better sync-tilt and recline-lock range. Otherwise, its features are comparable with the Sayle's.
Compared with the Aeron and Embody chairs, the Sayle offers very good value for money. It's significantly cheaper than both, with comparable features.
Pros and cons
Given its features, the Sayle Gaming Chair offers incredible value for money. It has one of the most robust synchro-tilt ranges in the world (only the Aeron chair beats it). As well, Herman Miller's 12-year warranty covers 24-hour use of the chair.
If anything goes wrong in the next 12 years, parts and support are covered. Spreading the cost of this chair over 12 years works out to sixty dollars per year!
Pros
Breathable, adaptive backrest
High-end lumbar support
Robust synchro-tilt functionality
12-year warranty
Cons
The jarring design is an acquired taste
Can only recline and lock in three positions
Given the features and price, it's hard to find fault with this gaming chair. The biggest issue is the jarring backrest design. If you can acquire an appreciation for it, the Sayle is one of the best gaming chairs money can buy.
Conclusion
To enjoy healthy ergonomic support while gaming at a desk, there are two viable options. First, you can choose an office-style model like the Sayle. That gets you gold standard ergonomic features, 12-year durability, and superb posture support. No matter what position you sit in, the Sayle will keep your posture in a clean, healthy alignment.
As a primary work-from-home seat, some gamers find the support too good. Like all task chairs, you can't slouch or lounge in a Sayle chair. No matter how you sit, it will keep your body locked, loaded, and ready to perform tasks.
In contrast, racing-style gaming chairs provide decent posture support, plus deep recline functionality. That type of seating is more diverse. Beyond work, you can use a racing-style chair for relaxing, watching movies, or even napping.
Even so, not even the best gaming chair can match the posture support or durability of the Sayle chair. If you can live with its functional and aesthetic quirks, it's one of the best gaming chair values on the market.
Sayl Gaming Chair from Herman Miller $945
Related Articles