GTRacing makes cheap gaming chairs under $200. They're a market leader with a reputation for excellence. The new GTRacing Luxury Series chairs straddle the $200 mark with an intriguing set of high-end features. This GTRacing Luxury Series review looks at the best chairs in this new product line.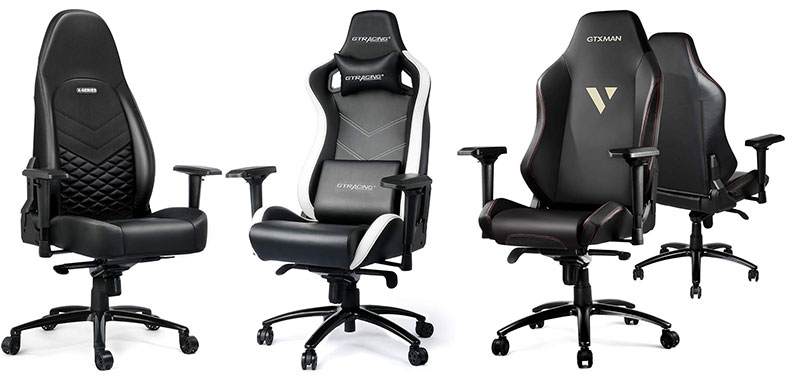 In-depth GTRacing GTX010 review
This review starts by taking a close look at the GTXMAN GTX010. This is one of four high-end gaming chairs in GTRacing's new Luxury Series.
The GTX010 is a large luxury model with an affordable price. It boasts 4D armrests, support for 400 pounds and an attractive contemporary design.
Check GTX010 prices from GTRacing
This model is available on Amazon for $249.99 with a 1-year warranty. You can also buy direct from GTRacing, which usually sells for about $5-$10 less. Buying direct from GTRacing also gets you an extended two-year warranty.
GTX010 key features
Cold cure foam padding is the premium padding choice in the furniture industry. It's used in theater seats, luxury car seat and also the GTX010 gaming chair.
The GTX010 padding is ultra-firm and dense, which lets users sit longer in pure comfort.
Covering the padding is high quality PU leather. The GTX010 uses a premium blend with exceptional softness and breathability.
The GTXMAN's padding and leather combination matches up with the most expensive chairs. With the extended 2-year warranty, you can also expect the durability to match the top chairs as well.
The other noteworthy standout is the 4D adjustable armrests. This feature is usually reserved for the most expensive chairs. On the GTXMAN, these offer optimal adjustability that will suit most preferences.
The GTXMAN also includes deep recline to 170° and more. Summary of features:
Functionality: 4D armrests; 20° tilt lock; recline to 170°
Comfort: premium cold foam padding; neck and lumbar pillows.
Upholstery: carbon PU leather with red colored stitching along the seat and backrest.
Support: steel frame; metal base; class 4 gas lift; rubber casters.
Warranty: one year on parts; 30 days return policy. Buying direct extends the warranty to two years.
Free shipping: included.
Check GTX010 prices from GTRacing
Available on Amazon for $249.99 with a 1-year warranty. Buy direct from GTRacing for extended 2-year warranty.
GTX010 sizing
The GTRacing GTXMAN GTX010 is a super-sized chair designed to fit big heavy bodies:
The styling is similar to our top-rated chair, the large-sized Secretlab Titan.
The GTXMAN GTX010 is bigger and wider than the Titan, but a bit smaller than the Secretlab Titan XL.
| | Titan | Titan XL | GTXMAN GTX010 |
| --- | --- | --- | --- |
| Seat Width x Depth | 20.5" (W) x 19.7"(D) | 22.6" (W) x 19.9" (D) | 21.65" (W) x 22.05" (D) |
| Backrest Width x Height | 21.7" (W) x 33" (H) | 22" (W) x 33.5" (H) | 21.06" (W) x 33.28" (H) |
| Floor to Seat Range | 18.7" to 22.4" | 19.1" to 22.8" | 18.9" to 21.3" |
| Overall height | 51.7" to 55.4" | 52.6" to 56.3" | 48" to 50.8" |
| Height Support | 5'9" to 6'7" | 5'11" to 6'10" | 5'9" to 6'6" |
| Weight Support | Up to 290 pounds | Up to 390 pounds | Up to 400 pounds |
These numbers show that the GTXMAN GTX010 is a good choice for extra-large users. Shorter users wanting enough leg room to cross their legs will also enjoy this model.
Check GTX010 prices from GTRacing
Available on Amazon for $249.99 with a 1-year warranty. Buy direct from GTRacing for extended 2-year warranty.
Luxury Series warranty
GTRacing sells their gaming chairs on several platforms including Amazon, Newegg, Lazada, etc. They also sell chairs directly from their own website. Buying direct saves GTRacing third-party commissions, which is why they provide incentives to do so.
When you buy GTRacing products from third-party vendors, you get their standard warranty. That is a 30-day return policy and 1-year warranty. If you register on their website and buy direct, they double the warranty to two years.
Comparable chairs with 4D armrests and 2-year warranties cost over $300. The 2-year warranty pushes the GTX010 into that luxury class – without a luxury price.
Other Luxury Series models
The other Luxury Series chairs have different styling than the GTX010 and a few other notable differences.
GTRACING Pro Series GT-X320BW
Amazon price: Price not available
The GTRACING Pro Series GT-X320BW offers impressive luxury for the price. Like the GTXMAN GTX010, it boasts 170° recline, 4D armrests and supports up to 400 pounds. It's dimensions are a little larger than the GTXMAN, and a bit better suited for holding extra wide bodies.
Seat width & depth: 21.65″ (W) x 22.83″ (D)
Backrest height & width: 33.07″ (H), 21.25″ (W)
Total height: 51.37″ to 55.31″
Available on Amazon for Price not available with a 1-year warranty. Buy direct from GTRacing for extended 2-year warranty.
Luxury Series GTXM Black
Amazon price: $199.99
The Luxury Series GTXM Black is like a knockoff version of the pricey Noblechairs ICON. The GTRacing version has the same features and length of warranty, but costs around $180 less.
Features are the same as other Luxury Series models. The GTXM has 4D armrests, 170° recline, support for 400 pounds and a 2-year warranty.
Seat width & depth: 19.6″ (W) x 21.6″ (D)
Backrest height & width: 32.3″ (H), 17.7″ (W)
Total height: 50.5″ to 54.5″
Available on Amazon for $199.99 with a 1-year warranty. Buy direct from GTRacing for extended 2-year warranty.
GTRacing Luxury Series buying advice
These are cheap super-sized gaming chairs that offer plush comfort and solid support. This section provides more insights for potential buyers.
Who should buy Luxury Series gaming chairs?
The chairs in the GTRacing Luxury Series all share the same qualities. These are extra-wide chairs best suited to big and tall bodies. All models come with premium padding and features, making them suitable for full-time use.
The main difference between cheap and expensive chairs is the support level. Cheap chairs best support part-time sitting. Sitting full-time in cheap chairs will wear out the leather and flatten the padding.
In contrast, the cold foam padding in expensive chairs holds up well to full-time sitting. Even after a year of heavy use, you can expect cold foam padding to retain its original shape.
The wide sizes and cold foam padding makes Luxury Series versatile chairs. They're cheap enough to use for part-time pleasure, but solid enough for full-time sitting.
The only ones who should not consider these models are extra small users. These are large chairs that will make small users feel engulfed.
What we like and dislike
As with all chairs, there are negatives and positives about the GTRacing Luxury Series
What we like
If these chairs $350, we'd consider them decent values. You get plush padding, attractive leather and 4D adjustable armrests. You also get a wide, roomy seat that supports up to 400 pounds. These chairs feel super solid.
Buying direct gets you an extended 2-year warranty. That's the same warranty as leading luxury brands like DXRacer and Noblechairs.
For the price, these chairs offer great value for money.
What we don't like
The entire Luxury Series is made up of new products that may or may not catch on. Because they come from a trusted brand like GTRacing, the quality is not in question.
But not everyone is comfortable taking a chance on new products. If you prefer a heavy duty gaming chair from a trusted brand, there are many other options. See alternatives in the next section.
Luxury Series alternatives
GTRacing's new Series is among a special class of reinforced chairs that support up to 400 pounds. Check our Heavyweight Gaming Chair Guide to see how other 400-pound models compare.
Because of its price, these models also rate as affordable gaming chairs. On ChairsFX, we define affordable chairs as those costing between $200 to $300. To see competing models in that price class, check our review of the best affordable gaming chairs.
Finally, to see how these model stack up to other GTRacing chairs, check our GTRacing Brand Review.
Conclusion
The gaming chair market is booming, with 5% growth forecast in the next 5 years. That has resulted in fierce competition among the top brands.
The GTRacing Luxury Series is a good example of how that competition benefits consumers. These chairs offer high-end quality ergonomics at discount prices. As an example, the GTX010 gives you everything you need in a luxury gaming chair:
GTRacing made their mark by selling cheap gaming chairs with solid features. Their foray into the premium gaming chair arena is a promising sign.
These are solid gaming chairs with attractive prices and impressive features.