GTRacing specializes in reversing-engineering popular premium gaming chairs into affordable ones. The GTRacing Ace L3 is its most luxurious gaming chair. It comes stacked with an integrated lumbar, pro ergonomics, and an extra-wide seat – for less than $300. This GTRacing Ace L3 review covers one of the best luxury values on the market.
For the past few years, the Secretlab Titan 2020 Series reigned as the world's best luxury game chair. The GTRacing Ace L3 replicates the flagship features that make the Titan so popular.
Side-by-side, both models are almost identical. Under the hood, specifications are also a near-match. GTRacing's point here was to capture the attention of Titan fans by offering lower prices.
GTRacing Ace L3 Gaming Chair Review
Behold the luxury flagship of the GTRacing gaming chair collection. The Ace L3 gaming chair is essentially a cheaper version of the Titan 2020 Series.
It's a smart concept, but past its prime. That's because Secretlab has since released an upgraded Titan 2022 Series. The new version blows away the older one with new features, designs, and sizes.
That changes the allure of the GTRacing Ace L3. It's now a cheaper version of an outdated chair that's no longer in production.
Even so, it provides good value for those wanting a premium chair for an affordable price.
L3 Chair Features
The Ace L3 offers two highlight features stacked on top of a premium ergonomic framework.
Flat, wide seat style
The GTRacing Ace collection also includes S1 (small) and M1 (medium-sized) gaming chairs. Both come with bladed seat edges designed to restrict leg movement. In contrast, the L3 chair has a flat seat style that provides plenty of legroom.
With restricted legroom, it becomes easier to sit with a good neutral posture. However, sitting with good posture all the time can get annoying.
A flat seat style gives users a choice. If you want to deviate from a neutral position, you're free to sit cross-legged or splay your legs.
Integrated lumbar support
The Secretlab Titan's integrated lumbar is one of its most popular features. As a result, several brands have released integrated lumbar versions of their own. The Ace L3 version works the same as the others.
Turn a dial on the side of the chair to increase or reduce the depth of support. New users will need a few days to play around with the depth to find their sweet spot.
It works well but lacks height adjustability. As a result, it won't fit shorter users below the recommended height range.
Summary of Features
Functionality: integrated lumbar; 4D armrests; recline to 160°; multifunction tilt-lock.
Comfort: high-density foam padding; neck support pillow.
Foundation: steel frame; Class 3 gas lift; 60 mm PU-coated casters.
Warranty: one year (extendable to five years).
Ace L3 Chair Sizing
The L3 has similar dimensions as the Titan 2020 Series. Both support tall sizes with enough width for heavy set figures. Here's how the two chairs compare:
| | Ace L3 | Titan 2020 Series |
| --- | --- | --- |
| Seat width x depth | 21.6" (W) x 20.8" (D) | 20.5" (W) x 19.7" (D) |
| Backrest width x height | 21.25" (W) x 32.68" (H) | 21.7" (W) x 33" (H) |
| Floor to seat range | 18.89" to 22.04" | 18.7" to 22.4" |
| Overall height | 50.7" to 53.9" | 51.7" to 55.4" |
| Size rating | 5'9" to 6'5"; 350 pounds | 5'9" to 6'7"; 290 pounds |
| Price | $299.99 | $399-$459 |
The biggest difference is that the L3 chair has a larger weight capacity. Moderately thick and tall users will find a good fit. Extra-wide users should look into a big and tall gaming chair instead.
Ace L3 Pros and Cons
Head-to-head with the Titan 2020 Series, the Ace L3 delivers a similar experience for less money. Only hard-core gaming chair connoisseurs will notice slight differences.
First, the Titan's padding is an ultra-firm 67kg/m³. In comparison, the Ace L3 version is a squishier 55kg/m³. Most beginners prize softer, squishier padding because it's more comfortable.
On the flip side, power users tend to prefer the durability and consistency of firmer padding. To keep your posture crisp and healthy, firmer padding wins out.
Another subtle difference is the overall quality of the build. The Titan adds some finer touches (metal-plated armrests, forward-leaning support) that the L3 chair lacks.
Pros
Fully-adjustable ergonomic features
Potent integrated lumbar support
Four attractive, professional designs
Spacious, comfortable dimensions
Cons
Unoriginal replica of the outdated Titan 2020 Series
Integrated lumbar lets you adjust the depth, but not the height
On the upside, the Ace L3 offers very good value for money. People accustomed to $75 office chairs might shudder at paying $400 for a premium gaming chair.
Spending $299.99 is a bit more palatable. By adding carbon-copy Titan features and a 5-year warranty, GTRacing makes the L3 chair hard to resist.
Ace L3 Designs
Here's a quick look at all four Ace L3 chair designs.
Ace L3 Black
The Ace L3 Black is the GTRacing version of the Titan 2020 Series Stealth. Both come clad in black PU leather with some striking yet subtle effects.
Carbon Fiber wings flow along the sides of the seat and backrest. Flanking those are four lines of racing-red stitching. It's a beguiling effect that becomes more apparent the closer you are to the chair.
Gold embroidered GTRacing symbols adorn the front and back of the L3 Black. Those add contrast and versatility. In brighter light, the gold accents give the black leather a brownish tinge. In darker conditions, the jet-black material shows through.
Choose this model if you want a conservative design with subtle pops of personality.
Ace L3 Lava
The Ace L3 Lava has the same dark PU leather base as the L3 BLack chair. Instead of Carbon wings, this model has vivid orange leather ones. Accenting those are four lines of bright orange stitching.
This model has more 'pop' than the L3 Black. Its bright orange delivers a less formal, more playful effect – without gaudiness. In an office setting, the L3 BLack would work better. In a work-from-home setting, the L3 Lava can add more pop to your workstation dynamic.
Ace L3 Ash
The Ace L3 Ash is an interesting corporate-style alternative with gamer appeal. Instead of a black PU leather base, it comes clad in a steely grey.
Red threading runs along the side wings, paired with strips of black PU leather. There's a lighting bolt embroidered on the front of the chair, giving it a gamer-type feel.
Grey upholstery works well for those wanting an alternative design within a corporate context. In a home office, expect this design to bring a serious, business-minded air to your battle station.
Ace L3 Chair Alternatives
The most viable alternatives to the L3 Series are listed below:
Other Integrated Lumbar Chairs
A few other brands have also made Titan clones with integrated lumbar support and wide seats. Similar models come from Arozzi, Boulies, and Noblechairs.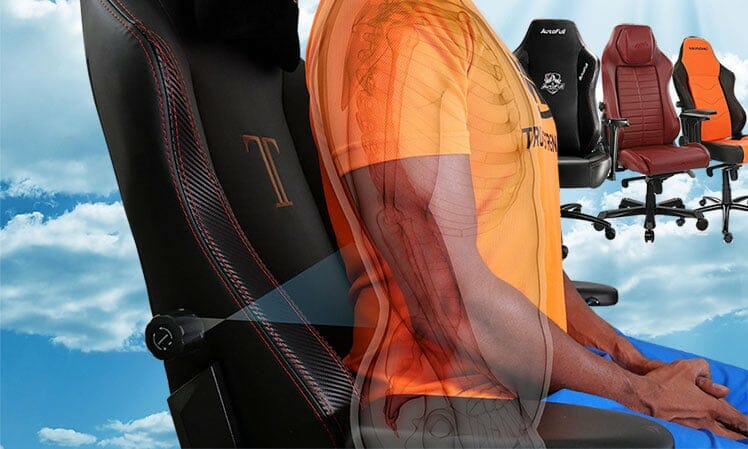 DXRacer also makes an integrated lumbar chair, although with unique qualities instead of cloned ones. Most of the alternatives cost over $400. Check out the full collection below:
Other GTRacing Ace Chairs
The Ace L3 Series is a full-featured luxury chair designed for average to tall sizes. Within the Ace collection, there are also models for small and medium-sized users.
All come with 4D armrests and the option for a 5-year warranty. The small S1 edition has the most basic features and the lowest price. In comparison, the Ace L3 has the most advanced features and the highest price.
Choosing between models is easy. Stick with the size ranges, or cut corners on cost with the S1 chair.
| | | | |
| --- | --- | --- | --- |
| Model | Sizing | Features | Price |
| Ace S1 | 5'3″ to 5'11" | 4D armrests | $159.90 |
| Ace M1 | 5'4″ to 6'1″ | 4D arms; multifunction tilt | $199.99 |
| Ace L3 | 5'8″ to 6'2″ | 4D arms; multifunction tilt; integrated lumbar | $299 |
For a more detailed comparison of all three models, see this feature:
Conclusion
The average American male stands 5'10" tall and weighs around 197 pounds. This falls within the Ace L3's suggested range of 5'9″ and up.
Slim sizes will find enough room to sit cross-legged. Wider figures will appreciate the extra space along the sides of the seat.
Are these chairs right for you? GTRacing's point here is to offer a cheaper clone of a competitor's chair. The designs look great, the chair works well, and the warranty is solid.
On top of that, its affordable price tag makes the Ace L3 very enticing.
Ace L3 chairs from GTRacing $299.99
Related Articles