Gaming chairs aren't just for playtime. The DXRacer Drifting Series is a gaming chair for office workers. Office workers spend their days sitting upright while working at computers. This chair supports upright work with dense padding, a narrow fit and high-end features. Keep reading for a full DXRacer Drifting Series review.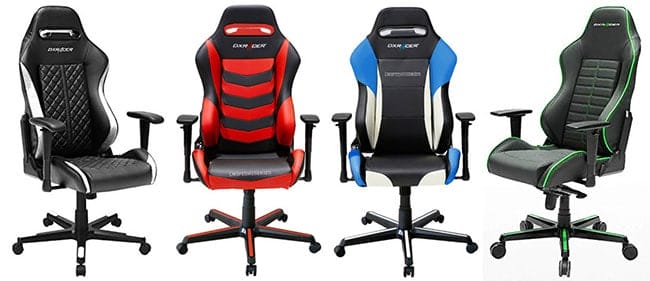 The DXRacer Drifting Series (aka D-Series) is one of the best premium chairs in the world. It shares the same dimensions as the DXRacer Formula Series, with slight modifications. These mods support the upright working posture typical of office workers.
DXracer Drifting Series Models
The Drifting Series comes in four options that use the same padding but different types and styles of covers. These cover types are:
PU leather: PU stands for polyurethane, which is a plastic polymer made out of a petroleum base. Traditional PU leather is made from split leather. Split leather coats polyurethane over a thin layer of animal hide. In some cases, animal hide is replaced with synthetic fabric to produce 100% vegan leather.
PU leather is supple, soft and waterproof. However, while real leather takes a decade to degrade, PU leather takes around 2-3 years.
PVC leather: polyvinylchloride is also known as vinyl or faux leather. This is a flexible plastic produced using PVC resin and plasticizing additives. These create a finely textured yet ultra-durable finish.
Like PU leather, PVC coats one side of a fabric backing and sometimes a center layer of foam. The end result is a much more durable fabric that is easier to maintain over a longer period of time.
Drifting Series Buying Advice
Below we answer common questions people have about the DXRacer Drifting Series.
DXracer Drifting and Formula Series Differences
The D-Series is a next-generation upgrade of the DXRacer Formula Series. Both share the exact same dimensions. However, the the D-Series boasts superior upholstery and padding.
The D-Series is an upgrade over the F-Series, billed by DXRacer as a "performance chair". Essentially, it's geared towards professionals, through some key differences.
More snug seating experience: the wings of both the seat and backrest are quite narrow. This forces you into a more professional posture. Conversely, the F-Series has more wiggle room better suited to casual gamers.
Thicker, denser padding: the padding on the D-Series is thicker and also much more dense. In fact, some people might find the padding too hard for comfort as first (you get used to it).
Improved upholstery: the F-Series blends mesh fabric and PU leather. The Drifting Series chairs are all leather. Some models use PU leather, others PVC leather and others use both.
Padded 3D armrests: F-Series armrests only go up and down. D-Series upgraded ones also go side-to side and forwards/ backwards. D-Series armrests also have softer padding than F-Series ones.
What we like about the Drifting Series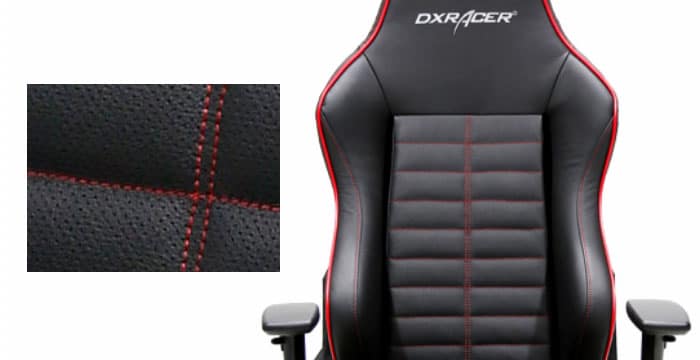 The DXracer Formula Series is an almost perfect chair in our opinion. The more expensive Drift Series is a worthy upgrade for office workers, but not gamers.
For gamers, the wider seat of the F-Series will allow for more casual leg positioning. The Drift will generally keep you snugly locked into a professional seated position.
The Drifting Series also features more muted styling better suited to offices. On the other hand, the flashy colors of the F-Series would look just fine in a teenager's bedroom.
If you are looking for a high-end ergonomic work chair, the Drift Series is a near-perfect option.
What we don't like
This is not a chair for slackers. In the Formula Series, there's enough room to curl up in weird positions if you ever need to get super-comfy.
The DXRacer Drifting Series has no time for that. It is a business chair, for people producing tangible output. It's got a snug fit that leaves little room for curling up your knees or temporarily slouching. It's kind of stiff and rigid and not very cooperative with sloppy habits.
If you are serious about boosting work performance, the D-Series is a sound investment. If you're a dabbler, it might feel too stiff and formal compared to a gamer-oriented chair.
Who is the the DXracer Drifting Series for?
The Drifting Series is for average sized professionals who spend long hours sitting. Once you buy one and discover the benefits, you'll never be able to work in a cheap office chair again.
The brilliance of the D-Series is how comfortable they are while keeping your posture straight. As an investment for better health, comfort and productivity, these chairs are paradigm-changing. Professionals will be blown away by the positive benefits they get out of this product.
DXracer Drifting Series alternatives
If you are not entirely sold on the DXracer Drift Series, the most obvious alternative is the DXRacer Formula Series – basically a gamer variation of the D-Series.
Otherwise, check out similarly-priced options in our review of the best premium gaming chairs. If you find those chairs too expensive, check out our review of the best budget chairs on the market.
Conclusion
The DXRacer Drifting Series is a luxurious chair with great features. This is a high-end product. If looking to boost wellness and productivity, this is the perfect chair for home or office.