Based out of Mjölby, Sweden, Arozzi has been making high-quality gaming chairs since 2015. The new Primo gaming chair is the most luxurious Arozzi chair to date. This collection has flat, wide seats, integrated lumbar support, and ultra-minimalist designs. Without logos or flashy stripes, these deliver classically austere Swedish aesthetics. This Arozzi Primo gaming chair review explores an intriguing new work-from-home option.
Before the release of the Primo, the Vernazza was the flagship of the Arozzi gaming chair collection. That racing-style model had been Arozzi's flagship gaming chair for years. The Vernazza is still a great luxury option, but the Primo beats it. Check this review for the reasons.
Arozzi Primo Gaming Chair Review
The Arozzi Primo does not bring a new concept to the table. Rather, it's a reimagined version of the Secretlab Titan, the world's most popular gaming chair.
This chair has the same highlight features as the Titan. Those include a flat, wide seat style and integrated lumbar support.
Primo Chair Features
Like the Titan, the Arozzi Primo has integrated lumbar support instead of a pillow. It also has a flat, wide seat and a rich suite of rich ergonomic features.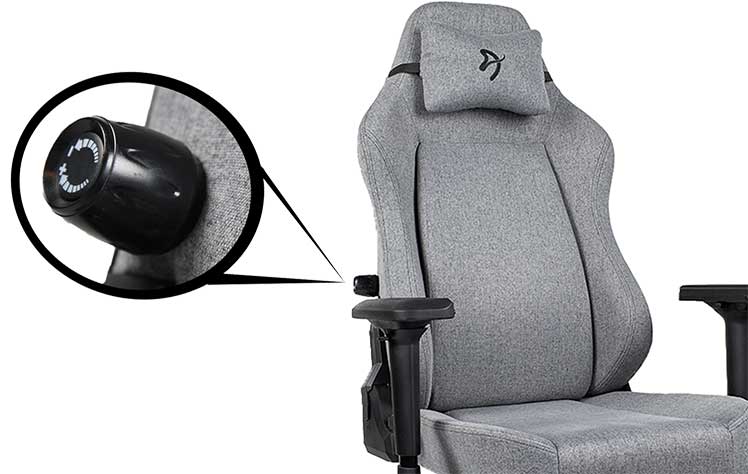 Key features:
Functionality: 4D armrests; recline to 145 degrees; multifunction tilt-lock.
Comfort: resilient foam padding (70kg/m³); lumbar support and headrest cushions.
Upholstery: premium synthetic woven fabric.
Warranty: two years.
The density of the foam is worth mentioning. Most ultra-firm gaming chair seating tops out at 67kg/m³. In comparison, the Primo's density is 70kg/m³. When brand new, this stuff feels extremely stiff.
Dimensions
Predictably, the Primo's dimensions closely match those of the Titan:
| | Primo | Titan |
| --- | --- | --- |
| Seat width x depth | 20.5" (W) x 20.5" (D) | 20.5" (W) x 19.7" (D) |
| Backrest width x height | 21.25" (W) x 32.75" (H) | 21.7" (W) x 33" (H) |
| Floor to seat range | 18.75 to 22.75" | 18.7" to 22.4" |
| Size rating | 5'11" to 6'10"; 390 pounds | 5'9" to 6'7"; 290 pounds |
Primo Chair Designs
Arozzi Primo gaming chairs come in both PU leather and fabric editions.
PU Leather Primo chairs
The PU leather chairs feature a black leather base with carbon fiber accents on the seat and backrest edges. There are three designs.
Beyond the all-black version, two models come with red or gold accent stitching.
Woven Fabric Primo chairs
Many people prefer fabric gaming chairs for their softness and superior durability. To that end, the Primo also comes in four woven fabric variations. There are three dark grey editions with black, gold, or red accents. There's also a light grey version with a black embroidered Arozzi logo.
Like PU leather versions, the styling is basic. Without racing stripes or fancy colors, the result is sleek, subdued, and ultra-breathable.
Four soft fabric models are now available:
Pros and cons
Reviewed in a vacuum, the Arozzi Primo is an excellent gaming chair for full-time users. Its flat, wide seat doesn't restrict leg movement. In fact, it offers enough room to sit cross-legged.
As well, the integrated lumbar support works better than a pillow. Turn the dial on the side of the backrest to increase or decrease the depth of support. Once you find your sweet, spot, the support stays locked in place for consistent lower back support.
There are two downsides. First, the Primo's padding is the firmest in the business. Out of the box, it feels rock-hard! You'll need to endure a few weeks of stiffness before it eventually adapts to your body shape.
Pros
Minimalist Executive Designs
Integrated Lumbar
Premium Ergonomic Features
Cons
More expensive than the Titan
Only comes with a 2-year warranty
Offers no unique features
The other downside is a big one. The Primo chair copies the Secretlab Titan design, but it's an inferior version. For one thing, it costs more than the Titan up-front. For another, it has a shorter warranty.
| | | |
| --- | --- | --- |
| | Secretlab Titan | Arozzi Primo |
| Retail Price | $399 | $499.99 |
| Warranty | 5 years | 2 years |
| Price per year | $79.80 | $249.99 |
Conclusion
The Arozzi Primo is a clone of the Secretlab Titan. It has the same features and dimensions as the Titan, with a few twists. On the downside, it costs more and comes with a shorter warranty.
On the upside, Primo chairs offer the cleanest minimalist designs on the market. Instead of flashy, distracting designs, these are plain, basic, serious ones.
If you need serious back support to crunch numbers on Wall Street, a Primo chair will slide in seamlessly. But if working from home, a Primo chair will work spectacularly. Then, you can enjoy the posture support of an office chair, plus the reclining comfort of a La-Z-Boy.
Primo WF-BKGY Fabric Chair from Amazon $599.99
The Primo PU leather edition is also available from Amazon for $401.69.
Related Articles