After a year off because of the pandemic, Riot Games' Mid-Season Invitational (MSI) is back. From May 6, the world's best League of Legends players gather in Reykjavik, Iceland to compete. For the event, Riot collaborated with Secretlab on a new chair design. This report covers the release of the new Secretlab MSI 2021 gaming chair.
Secretlab has been the official chair partner for Riot Games since 2019. For every annual event (LCS, LEC, LCK, Worlds), there are unique Secretlab chair designs.
Usually, each design is a limited edition. Once stocks run out, they're gone for good. At present, the only old model still in stock is the 2020 Worlds special edition chair.
Secretlab MSI 2021 special edition chair
MSI 2021 features a neon green color scheme and the motto "Break Out". Both aspects are nicely reflected in the new Secretlab Titan chair.
The design features a black PU leather base with white and green color accents. Embroidered touches add extra flair. Green threads on the side wings add pop to the black base.
On the front, the MSI logo is embroidered in white. On the back, leather and embroidered accents reflect the 2021 tourney's look.
Secretlab MSI chair specs
Usually, Secretlab special edition chairs come in both Titan (large) and Omega (compact) chairs. The new Secretlab chair for MSI 2021 is only available as a Titan chair.
That's a larger model than the Omega, with a few unique features. First, it has a depth-adjustable internal lumbar instead of a pillow. Second, it has a flat wide seat offering plenty of legroom. Quick specs:
Functionality: integrated lumbar support; 4D armrests; recline from 85°-165°; multifunction tilt mechanism.
Upholstery: choice of premium PU leather, genuine leather or Softweave Fabric.
Comfort: patent-pending cold cure foam; memory foam head pillow with cooling gel insert.
Support: carbon steel frame; Class 4 KGS gas lift; aluminium base; XL PU caster wheels.
Size rating: 5'9″ to 6'7″, 290-pound weight capacity
Warranty: three years, with an option for a free extension to five years (details).
TItan MSI chair from Secretlab $429
This model is only available from Secretlab in America, the UK, EU, and Singapore. Click the button to access the store in your region.
About MSI 2021
This year's Mid-Season Invitational (MSI) is the sixth annual. This is the first international competition of LOL's Season 11.
In previous years, winners of minor leagues had to win matches to face teams from the larger regions. This year, each of the 12 premier League of Legends leagues have a team taking part.
The event takes place in Reykjavik from May 6-23 (match schedule).
How to watch
To get in on the action, log into lolesports.com during live games or VODs. Doing so will you a series of in-game rewards.
Notably, Secretlab has teamed with Riot for exclusive drops on May 21 and 23. Watch the designated games and receive a free Secretlab in-game LOL icon.
That also qualifies you for a chance to win a free MSI 2021 edition chair (details).
Giveaway: Prestige Edition MSI 2021 chair
To celebrate the return of the MSI after a 1-year hiatus, Secretlab has a special giveaway planned. The company is hosting a contest to give away a Secretlab MSI 2021 Prestige Edition chair.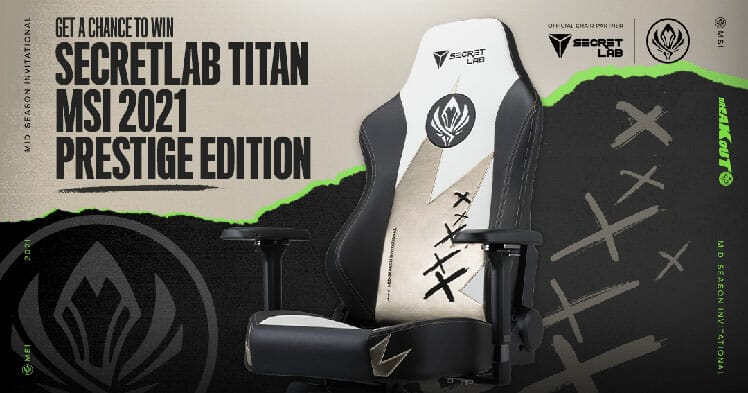 This model is not for sale, only available as a one-of-a-kind exclusive. The contest is open to residents of America, Canada, the UK, EU, Australia, and Singapore.
Conclusion
During MSI 2021 matches, you'll notice all players using striking Titan gaming chairs. As you get caught up in the action, the desire to use the same model as top esports pros might surge.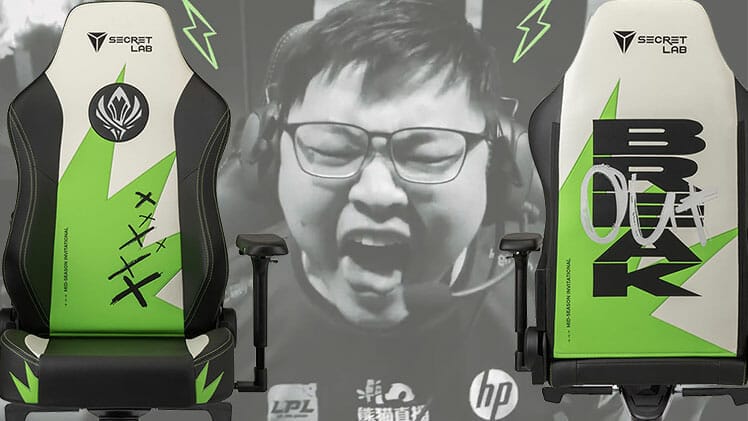 If that happens, click the button below to Break Out with your own MSI 2021 gaming chair.
TItan MSI chair from Secretlab $429
This model is only available from Secretlab in America, the UK, EU, and Singapore. Click the button to access the store in your region.