Riot Games' virtual music group K/DA is back. The group released a new track earlier this week. On Halloween, K/DA returns to the stage to kick off the League of Legends finals. To celebrate, Secretlab has released a new K/DA All Out edition. This joins the K/DA Pop Stars edition released earlier this year.
League of Legends is a video game published by Riot Games. K/DA is a virtual pop music group that started as a League of Legends player skin promotion. The four members of the group represent four characters in the video game.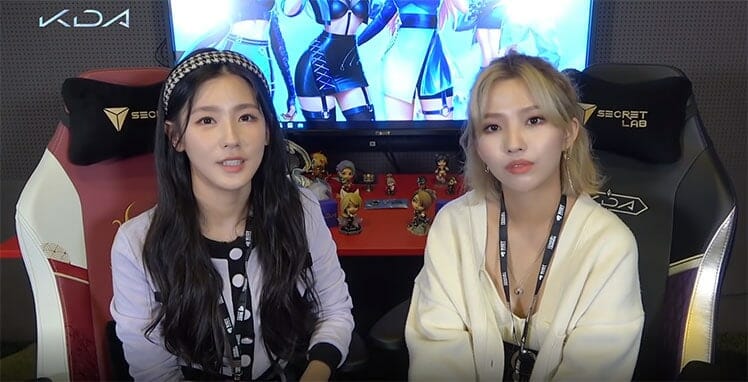 Each character in the group is voiced by a real pop star: two Koreans and two Americans. In 2018, K/DA released its first song Pop Stars. The group recently released an EP on Spotify after a 2-year hiatus.
Secretlab K/DA gaming chairs
There are now two K/DA designs in the Secretlab gaming chair collection. Both editions come in Omega and Titan variants. The Omega is a smaller, slim-fitting chair with a memory foam lumbar pillow. The Titan is a larger, wider model with a depth-adjustable internal lumbar support. Learn the differences in detail in our Titan vs Omega comparison feature.
Introduction to K/DA
Kill Death Assist (ratio) is a measure of success when playing the League of Legends video game. In 2018, LOL publisher Riot Games released new player skins for the game. To hype the release, they formed a virtual pop music group voiced by real Korean and American pop stars.
A few days before the 2018 LOL finals, the K/DA track Pop Stars dropped on Youtube. It featured a delightfully catchy song and amazing animations of the virtual singers. A few days later at the World Championships, the virtual singers teamed up with the real ones. What followed was a mind-blowing live performance mixing real people with virtual characters.
Conclusion
Secretlab K/DA gaming chairs have wide appeal, with designs that suit both genders. K/DA songs glisten with vibrant themes of empowerment. That has inspired millions. On Youtube, Twitch, and Twitter, there are endless K/DA remixes, reaction videos, game streams, dance, and cosplay performances.
However you're inspired to go all out in expressing yourself, these chairs provide superb support. Gamers, K-pop fans, cosplayers, and even grumpy old office workers can enjoy sitting with perfect posture for long periods. Either design will bring vibrancy to a workspace.

Omega models have slimmer dimensions well-suited to small, slim sizes. Titan chairs offer more legroom and more sophisticated lumbar support. Both provide superb comfort and posture support for long periods of sitting.
If you're a K/DA fan who spends long periods sitting, the only question is which model to choose. Early K/DA fans might prefer the Pop Stars design. Newer fans may prefer the All Out Editions. Either one will serve for years as the most comfortable computing chair you've ever had.
Click the link below to browse all League of Legends Secretlab chairs. The collection includes two K/DA chairs and three character chairs (Yasuo, Akali, Ahri). There are also Champions chairs used at the LOL Finals.
All Secretlab League of Legends chairs
The Ionia collection is for users in North America, Europe, the UK, Australia, Singapore, and South Korea. Click to access the appropriate store for your region.