The Game of Thrones Iron 10-year anniversary is upon us. To celebrate, Secretlab has released a new Iron Anniversary Edition gaming chair. It tops a collection that includes chairs from Houses Targaryen, Stark, and Lannister. No matter what house you're identify with, there's something cosy here just for you.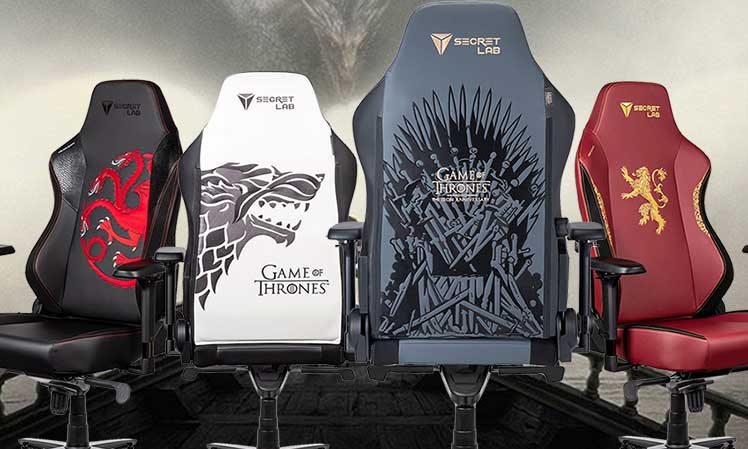 In April 2011, Game of Thrones premiered on HBO. To mark the occasion, HBO is holding a lavish recollection of the series.
As part of the celebration, Secretlab has added a fourth Game of Thrones gaming chair to its collection.
All models are available in Titan (large) and Omega (small) variants. The Titan is a larger chair with a flat seat and integrated lumbar. The Omega is a smaller chair with bladed seat edges and a memory foam lumbar pillow. Check out our Titan vs Omega comparison for detailed specs of both chairs.
Secretlab Game of Thrones collection
Here is a look at all Game of THrones chairs in the Secretlab collection. Beyond the new Iron anniversary edition, there are three other designs. Each represents one of the great houses in the Game of Thrones story.
Other popular Secretlab designs
Beyond the Game of Thrones collection, Secretlab has several other brilliant ones on offer. Here are a few worth considering:
Conclusion
Game of Thrones was captivating for millions. The new Iron Throne Anniversary edition is a chance to look back on the best parts of that journey.
This steel-grey leather gives it an almost corporate feel. That balances out with the stunning embroidery and subtle black color accents.
It's the ultimate seat of power for a Game of Thrones fan. If not quite ready for Kinghood, maybe a House Targaryen, Stark, or Lannister chair will do.
Want more info about Secretlab chairs? Get a comprehensive look at all models, designs, and specs below: