The League of Legends Ruination is upon us. Trying to resurrect his dead wife, the Mad King Viego triggered a magical catastrophe. That covered the Blessed Isles in Black Mist. It also turned Viego into a powerful, unliving wraith. As the Black Mist threatens Runeterra, defenders of the Bilgewater lead the resistance. These concepts come to life in Secretlab's new Ruination gaming chair collection.
This gaming chair release coincides with the Rise of the Sentinels in-game event. Earlier this month, LoL patch 11.14 was rolled out. In it, several League of Legends Champions became corrupted by the Black Mist. Others continued to fight back as Sentinels.
Secretlab Ruination Gaming Chairs
The Ruination joins an existing Secretlab League of Legends gaming chair collection. It also includes an Ionia and K/DA series, making for a total of eight LOL designs.
Here's a look at the three new designs:
Viego Edition
Viego is one of the most iconic figures in League of Legends history. In game lore, his life events caused the Ruination that happened 1,000 years ago. To bring his wife back from the dead, he'll stop at nothing.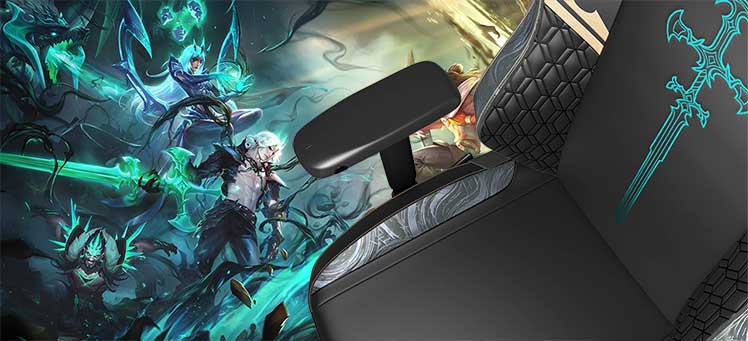 Black Mist pours from his cruel, broken heart as he wields the shimmering Blade of the Ruined King. The mist serves as a prison of souls, trapping any being in touches in into his service.
The Secretlab League of Legends Viego Edition pays homage with a royal design. It's a dark leatherette chair with the Blade of the Ruined King embroidered on the front.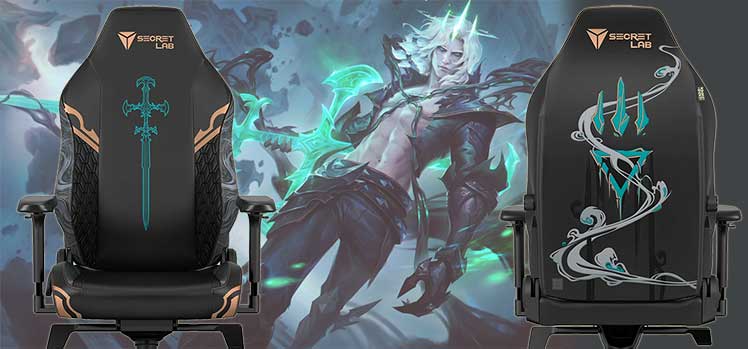 Embroidered on the back is the Ruined King's crown, against ominous wisps of black mist. Show your opponents who rules sovereign in a choice of small, medium, or large Titan 2022 Series sizes.
All models are available from Secretlab in North America, the EU, UK, Oceania, Singapore, and Malaysia.
Titan Viego Edition (medium) $449
Viego Edition (small) $429 | Viego Edition XL $499
Miss Fortune
Sarah Fortune is a gorgeous Bilgewater captain famed for her ruthlessness. As a child, she watched as the reaver king Gangplank murder her family. She avenged them years later by blowing up his flagship while he was still aboard.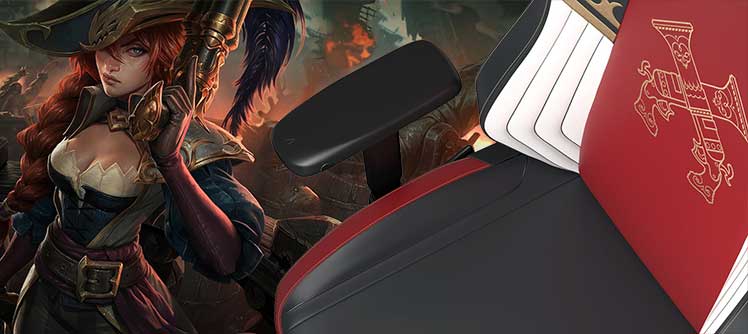 After arriving in Bilgewater, she killed her first man within minutes. She received a bounty for his head, then took on bounty hunter work full time.
As the Black Mist approaches, she patrols the seas with her loyal crew, ready for any threat that comes her way.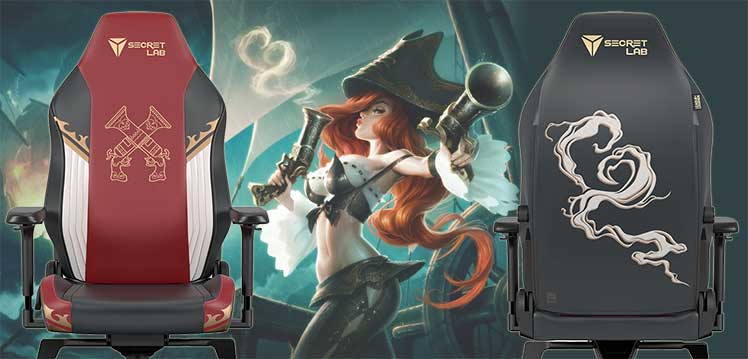 The Miss Fortune gaming chair comes in a deep red leatherette. Her iconic pistols (named 'Shock' and 'Awe') are embroidered on the front. On the back, a wisp of smoke serves as a warning that Shock and Awe are locked and loaded.
Titan Miss Fortune Edition (medium) $449
Miss Fortune Edition (small) $429 | Miss Fortune Edition XL $499
Pyke Edition
Pyke started out in Bilgewater working the slaughter docks. Every day, he hauled monstrous creatures into the butcheries that lined the waterfront. He eventually worked his way up to becoming one of the most skilled harpooners in the land.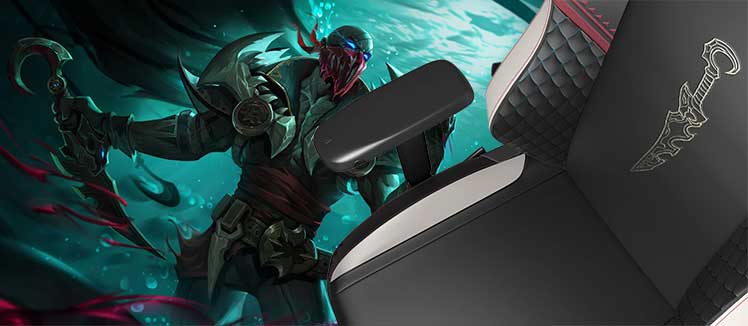 On a hunt, he was swallowed by a jaull-fish and abandoned by his captain. Instead of dying on the seafloor, an ancient force took over his body and crushed his mind. A new hunger overtook him for vengeance and retribution against profiteers.
He now Captains the Terror as the infamous Bloodharbor Ripper. Ship captains, bankers, and others profiting from the slaughter docks are his targets. As a result, the city that profits from hunting monsters now finds a monster hunting them.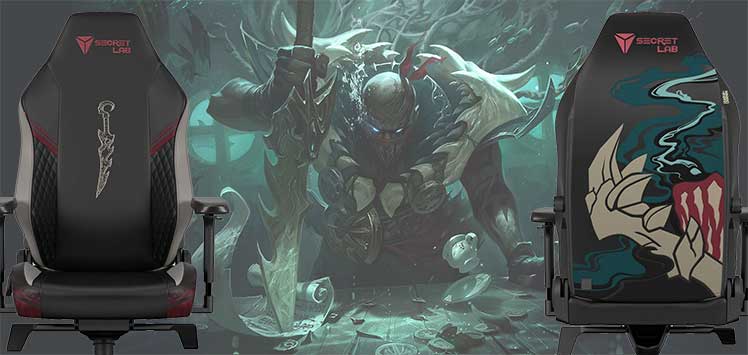 Secretlab's League of Legends Pyke Edition reflects his story with rich detail. The side wings feature the distinctive scales of a jaull-fish. Pyke's Bone Skewer weapon decorates the front, contrasted with maroon accents.
On the back of the chair is a closer look at his Bone Skewer, set against the dark waters of his hunting territory.
Titan Pyke Edition (medium) $449
Pyke Edition (small) $429 | Pyke Edition XL $499
Other Special Secretlab Collections
With the release of the 2022 Series, all Titan EVO chairs are now available in small, medium, and XL sizes. In some cases, 2020 Series Titan and Omega chairs are also available (while stocks last).
Between the two series, there are now ninety variants to choose from. Here are some other noteworthy collections:
Other League of Legends Gaming Chairs
Secretlab's first batch of League of Legends gaming chairs came out last year. It contains an Ionia collection of three Champions chairs featuring Yasuo, Akali, and Ahri.
It also includes a pair of K/DA gaming chairs, Riot's popular virtual girl-power music group. The first is a Pop Stars edition, while the second pays tribute to their second album All Out.
Until stocks last, these chairs are available in both 2020 and 2022 Series versions.
Titan EVO SoftWeave Plus Fabric Chairs
The new 2022 Series includes six stunning new fabric gaming chair designs. These come upholstered in SoftWeave Plus, an upgraded luxury fabric.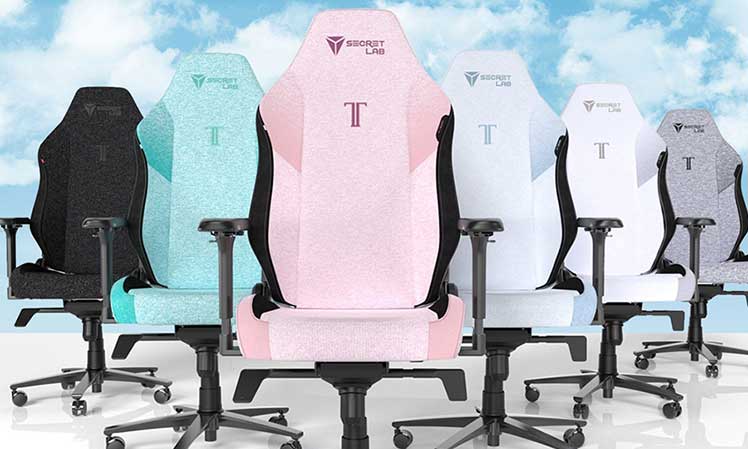 SoftWeave Plus is an advanced technical knit that interlaces loops of high-strength yarn fibers. It's softer than its predecessor, 3.5 times more durable, and also more nuanced.
Each SoftWeave Plus design features elaborate 3D layered gradients on the side wings. With six unique designs to choose from, there's a cool breathable option for all tastes.
Secretlab Game of Thrones
The Secretlab Game of Thrones collection includes three chairs for each of the great houses. There's a dark House Targaryen one, a WHite House Stark edition, and a posh maroon House Lannister chair.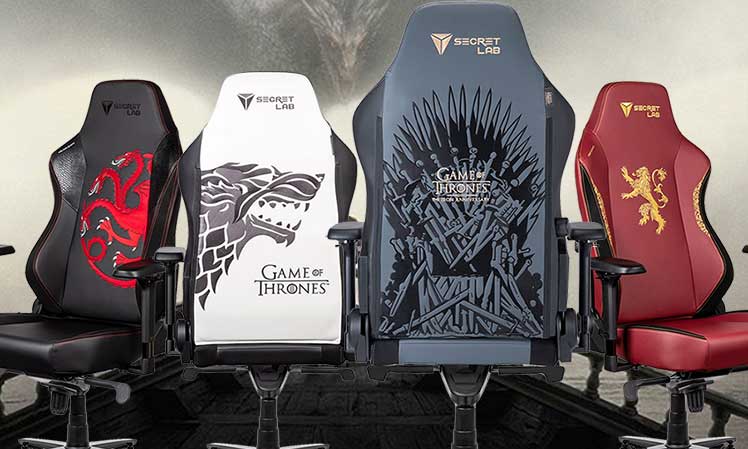 Recently, Secretlab also released an Iron Anniversary edition to celebrate the 10th year since the show's debut. GOT chairs are available in both 2020 and 2022 Series editions. At present, the Iron Anniversary chair is only available as a 2020 Series version.
About the Titan EVO 2022 Series
The Secretlab Titan EVO 2022 Series is the most advanced gaming chair on the market. For a deep dive into its merits, see this Titan EVO 2022 Series Gaming Chair Review. Here are the highlights:
Three Sizes to Choose From
The new Titan EVO 2022 Series is available in three sizes. Now, there's a Titan gaming chair to fit all body types:
This makes the buying process very easy. Simply choose the size that matches your height. In most cases, there should be enough room for both slim and thick figures.
[table id=109 responsive="scroll" /]
Ergonomic Features
The Titan EVO 2022 Series comes packed with new features. One of the most impressive is an upgraded internal lumbar support system. The previous version only lets you adjust the depth.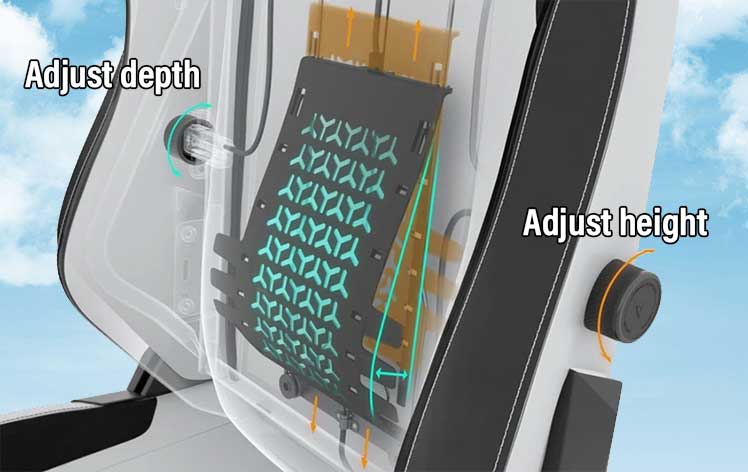 The upgraded version also lets you adjust the height. Coupled with three chair sizes, this feature lets you tailor back support to a very precise degree.
Another upgrade drawing rave reviews is the strapless magnetic headrest pillow. Magnets keep the pillow in place between the top of the "T" to the upper lip of the headrest.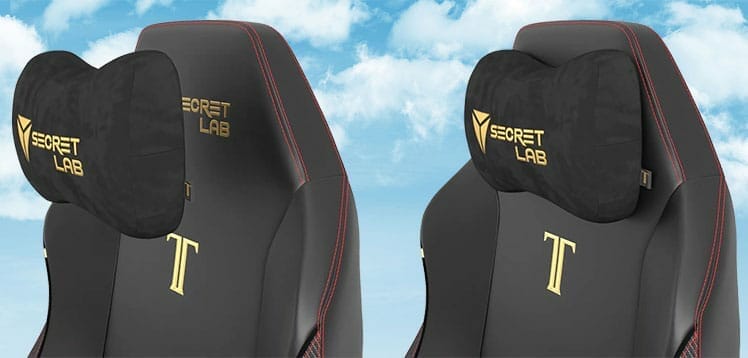 That provides even more opportunities to deliver a custom fit tailored to your body type. Summary of features:
Functionality: 4D armrests; multifunction tilt-lock; recline from 85-165°.
New 2022 Series Features: integrated 3D-adjustable lumbar support; magnetic headrest pillow; pebble seat base with waterfall edge.
Sizing: small 4'11" to 5'6″; medium 5'7″ to 6'2″; XL 5'11" to 6'9″.
Warranty: five years.
Conclusion
Every year, hype begins for the League of Legends Finals in late summer. The LoL Finals is the culmination of tournaments seeking to crown a global esports team champion.
Last year, Secretlab began the annual hype with its Ionia collection release. When K/DA released its second EP, Secretlab followed up with an All Out gaming chair.
This year, Secretlab gets the annual hype started with three Ruination gaming chairs. The Viego, Miss Fortune, and Pyke chairs all come as 2022 Series versions.
As League of Legends fervor builds, look for further Secretlab designs to emerge later this year. Keep track of all new models via our LoL design tracker: