Imitation is the sincerest form of flattery. Secretlab released the Titan Evo 2022 Series last year. It evolved the gaming chair to a higher level with innovative new back support features. In a show of sincere flattery, Anda Seat has launched a new chair series. It 'reimagines' the Titan by incorporating its best features into the new Kaiser 3 Series. To set it apart, the Kaiser 3 also debuts a new tabletop + chair system.
Secretlab's Titan 2022 chair introduced the world's first 4-way integrated lumbar support. It lets you adjust both depth and height. The Titan 2022 also debuted a pioneering strapless magnetic headrest pillow. These features are two of the highlights of the new Kaiser 3 Series.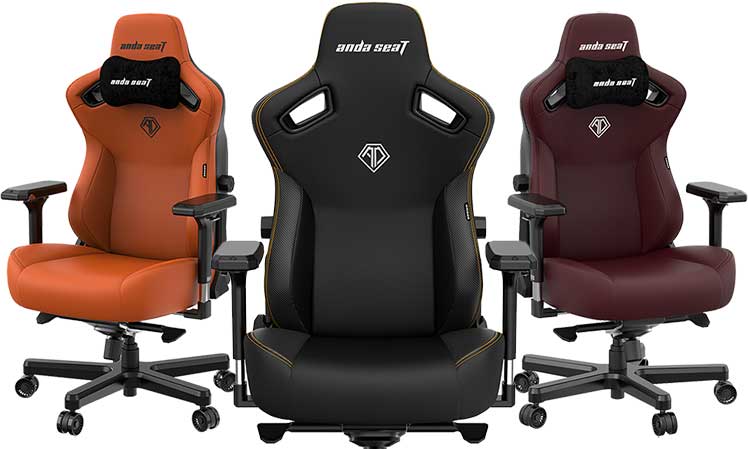 But instead of a straight copy, the Kaiser adds one feature to set itself apart. The Anda Seat Magnetic mounted retractable tabletop attaches to Kaiser 3 armrests. Snap into place to enjoy a base for mobile, laptop, and console gaming.
March 7 is the official release date for the Kaiser 3 Series. At present, Anda Seat hasn't released price details for the tabletop. However, the company has promised all will be revealed on March 7. Then, "there will be up to $50 Off discounts available, and extra free gifts for Kaiser 3 orders."
Kaiser 3 from Anda Seat $499.99
Available from Anda Seat (from March 7) in the US, Canada, UK, EU, and Australia.
Overview: Anda Seat Kaiser 3 Series
Here's a preview of Kaiser 3 Series specs before the release date:
Features
There are three highlight features. First, the 4-way integrated lumbar is both depth and height-adjustable. Second, all models have flat, spacious seats offering plenty of legroom.

The third is a magnetic headrest pillow. Without straps, it delivers a clean look and a wider adjustment range. Summary:
Lumbar support: integrated, height and depth-adjustable
Headrest: magnetic strapless memory foam pillow with cooling gel insert
Adjustments: 90-165° recline; 4D armrests; multifunction tilt lock
Add-on: Magnetic mounted retractable tabletop
Warranty: two years
Medium and XL Sizes
Kaiser 3 Series chairs come in large and XL sizes. At present, prices are the same for both. Specs:
| | | |
| --- | --- | --- |
| Spec | Large | XL |
| Seat | 20.2″ (W) x 19.6″ (D) | 20.8″ (W) x 22.4″ (D) |
| Backrest | 21.2″ (W) x 33.4″ (H) | 22.8″ (W) x 33.4″ (H) |
| Seat height | 17-19.6″ | 17.3-20″ |
| Size rating | 5'9″ to 6'3″, 265 pounds | 6'0″ to 6'10", 396 pounds |
Available Styles
At present, the Kaiser 3 Series comes in nine different styles. There are grey and black fabric editions, plus seven PVC leatherette ones.
Anda Seat's PVC leatherette is thicker than PU leather. It's durable, scratch-resistant, and decently breathable. Kaiser 3 fabric editions are softer, a bit more breathable, and a lot more durable.
On the downside, fabrics are harder to clean and vulnerable to liquid stains (coffee, red wine, etc).
Kaiser 3 from Anda Seat $499.99
Available from Anda Seat in the US, Canada, UK, EU, and Australia.
Kaiser 3 Series vs Titan Evo 2022
The Kaiser 3 takes inspiration from the Secretlab Titan Evo 2022 Series. It copies the Titan's innovative lumbar and headrest tweaks. Here's a head-to-head comparison:
| | | |
| --- | --- | --- |
| | Titan 2022 | Kaiser 3 |
| Lumbar support | Height and depth-adjustable integrated lumbar | Same as the Titan |
| Headrest | Strapless magnetic memory foam pillow with cooling gel insert | Same as the Titan |
| Adjustability | 4D arms; multifunction tilt; 85-165° recline | 4D arms; multifunction tilt; 90-165° recline |
| Styles | 43 styles (8 fabric, 35 leatherette) | 9 styles (2 fabric, 7 PVC leatherette) |
| Warranty | 2 years | 5 years |
| Sizes | Small, medium, XL | Large, XL |
| Price | $549 to $674 | $499.99 |
Upfront, the Kaiser 3 is a bit cheaper than Titan chairs. However, Titan chairs come with a 5-year warranty. That works out to a cost of $109.80 to $134.80 per year. In comparison, with a 2-year warranty, Kaiser 3 chairs cost $249.99 per (guaranteed) year.
Tabletop For Console or Mobile Gamers
The perfect setup for mobile gamers still doesn't exist. Anda Seat's Magnetic mounted retractable tabletop might change that. It comes with a pop-up mobile device holder.

For console gamers, we count five home seating options in 2022. These are classic desk setup, sofa gaming, sitting on the floor, gaming in bed, or using a console chair. Anda Seat's retractable tabletop looks likely to become a sixth console gaming option. It also looks promising for mobile gamers.
Anda Seat hasn't released price details for these tabletops just yet. Look for details to emerge in the coming days.
Conclusion
Anda Seat releases its new flagship gaming chair on March 7, 2022. At first glance, the Kaiser 3 Series looks like a reimagination of the Secretlab Titan 2022 Series.
Like the Titan, it has a 4-way adjustable integrated lumbar and magnetic headrest. The Kaiser 3 differs with a cheaper price, fewer styles, and a shorter warranty.
Luckily, it's not just a straight copy of another brand's ideas. The Kaiser 3 sets itself apart with a pioneering magnetic lapboard system. For mobile and console gamers, this idea has potential.
Check out the Anda Seat website on March 7 for details. Then, Kaiser 3 chairs will be available for pre-order. As well, expect pricing details and pre-orders to open on the magnetic tabletops.
Kaiser 3 from Anda Seat $499.99
Available from Anda Seat (from March 7) in the US, Canada, UK, EU, and Australia.