Riot Games has named AKRacing as the official chair supplier of LEC for the 2020 season. A 2020 League of Legends European Championships (LEC) chair will be out later this year. This is a huge step for AKRacing to show off their (awesome) chairs on the mainstream esports stage.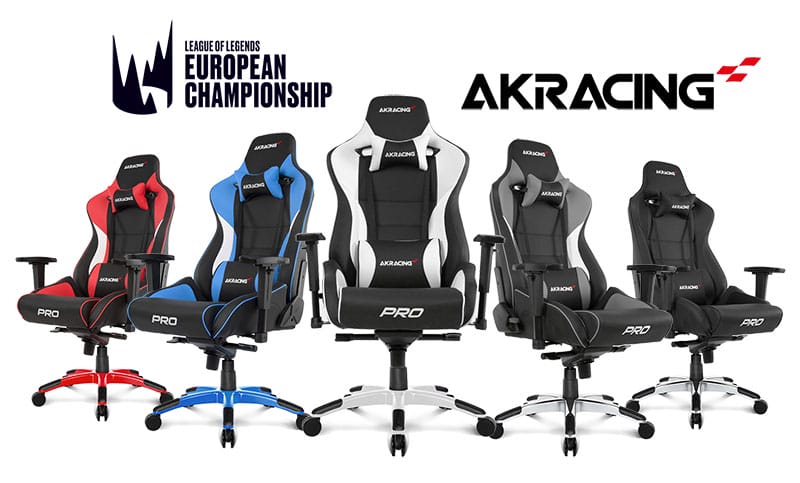 Over the past two years, the LEC was partnered with DXRacer. Last year, Riot Games signed a multi-year deal with Secretlab for the top LoL tournaments. Those are the LCS, Mid-Season Invitational, All-Star Event, and World Championship.
Secretlab is now one of the top gaming chair companies in the world with a huge presence in pro esports. They're partnered with Valve, Blizzard, HBO and several esports teams.
This deal puts AKRacing in a comparable position to Secretlab, exposure-wise. Last year, the 2019 LEC Summer Finals averaged 517,018 fans watching, with a peak of 864,337 fans. That means massive exposure for AKRacing and their chairs in 2020.
About AKRacing
AKRacing began in 2001 as a Taiwanese maker of luxury car seats. Then the American auto industry crashed. After that, DXRacer launched the world's first gaming chair in 2006.
Two years later, AKRacing followed DXRacer's winning formula. They modded their racing car seats and released their first gaming chair in 2008. In 2017, the company set up an American office in Oxnard, California. That gave them a platform to expand into into major US retailers like Walmart and Staples.
In 2018, the company streamlined their gaming chair line into two groups:
Core Series: standard gaming chairs with above average features.
Master Series: pro quality chairs that rank among the best in the industry.
Related AKRacing articles
ChairsFX has been raving about the quality of AKRacing chairs for a while. Now that they're on the pro esports circuit, we're excited that more people will learn about this awesome brand. Check out our other AKRacing articles: