Ergonomic seating in the workplace has two main objectives. The first is to increase efficiency by reducing fatigue. The second is to support proper posture. The entire esports industry uses PC gaming chairs to meet these objectives. Pros rely on gaming chair ergonomics for full-time training. This article explains why gaming chairs are also the best choice for office workers and full-time computer users.
PC gaming chairs are the best option for two reasons. First, they offer great ergonomics. Second, they are affordable.
In most offices, users must conform to the equipment provided at their workstation. In contrast, the goal of ergonomics is for the equipment to adapt to the user. Practicing good ergonomics in the workplace is a no-brainer. Doing so yields many benefits including improved productivity and increased worker satisfaction.
Ergonomic problems in modern offices
In the year 2000, J. Fernandez and M. Goodman published the defining paper on office ergonomics. In Ergonomics in the Workplace, they noted that when selecting chairs, most office designers only consider cost and appearance. Factors they should considered include:
Ergonomics: proper fit for individual users; comfort for users — not the buyer
Adjustability: range and ease of adjustability of the user.
Economic factors: cost of chair; maintenance; lifespan of chair.
Safety: tipping over, collapsing under weight, etc.
Other factors: swivel (to reduce awkward postures); adjustable armrests; casters.
Choose chairs based only on looks and price can cripple a company's staff.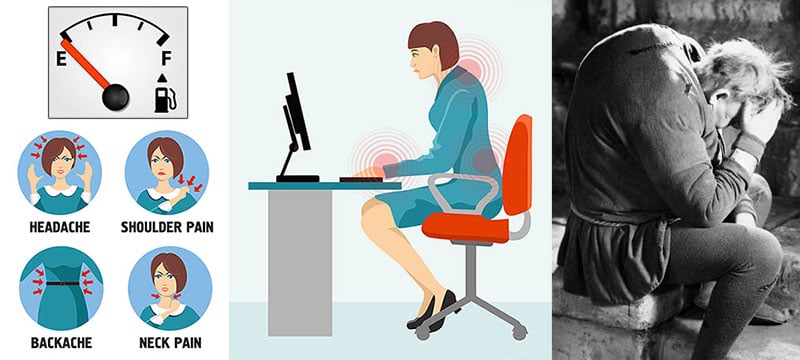 Cheap office chairs without back support hinder worker efficiency. Staff using cheap chairs tend to suffer from poor posture, discomfort, and chronic health issues.
It's not noticeable in an instant. But over time, the damage caused by cheap office chairs can be catastrophic.
Ergonomic chair options for the office
In the modern workplace, there are three legitimate seating options. These are office chairs, ergonomic task chairs and PC gaming chairs.
Office chairs are the worst ergonomic option. Our office chair vs. gaming chair comparison explains why. In brief, office chairs don't support your back while sitting. That places strain on your back and upper body muscles. As your back tires, the spine will begin to wilt into a slouch.
Slouching is habit-forming. Once you get used to sitting that way, all sorts of health issues can arise. In the end, slouching office workers become sickly, lethargic and depressed.
So office chairs are the worst option for full-time computer users. Below is a look at the two best options for people who sit full-time.
Best PC gaming chairs for office workers
The best gaming chairs for office workers are the ones most used by esports pros. These models cost between $350 to $500. In 2020, Secretlab is the industry leader. Several of the world's top esports teams use their chairs for full-time training. Secretlab chairs also grace the stage at the world's top esports tournaments.
Office workers who can't afford high-end can get cheap chairs for less than $200. The best cheap PC chairs provide basic ergonomic support with less durability than top models. Expect padding on cheap models to flatten within six months if you use them full time. Even so, cheap PC chairs still provide a huge upgrade over office chairs.
Top brands
Among our top-rated pro esports chairs, a pair of Secretlab gaming chairs are the industry leaders. The Secretlab Titan is roomier, with an internal lumbar. Turn the knob to increase or decrease support into the curve of your lower back. That unique feature gives back support comparable to the most expensive task chairs.
The Omega is a compact alternative. It uses a traditional gaming chair lumbar pillow. Otherwise, it has the same features as the Titan, with smaller dimensions.
There are a few other brands with comparable wide and compact models. These come from DXRacer, AKRacing, and Vertagear.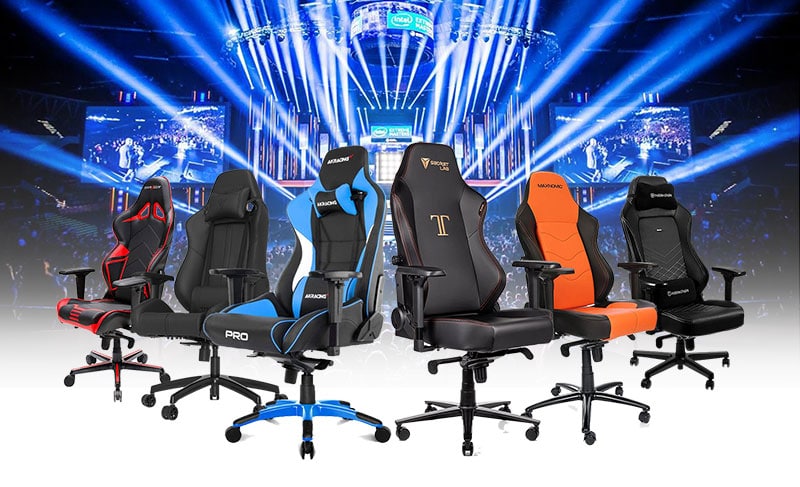 Compare the best wide and compact models in our 2020 review:
Best pro esports chairs of 2020
Conclusion
Many professionals do complex work while sitting for long periods at a computer. Digital marketers process spreadsheets all day. Writers churn out thousands of words under tight deadlines. Programmers sit most of their days away solving complex math problems.
These jobs are all mentally taxing. If the body wears down, work performance will degrade. Employees who slouch at their workstations are a sign of trouble. Whether it's broken confidence or struggles with posture, it needs attention. Otherwise, productivity will spiral until they no longer provide value.
The first thing needed to reverse a lethargic work life is a good ergonomic chair. PC gaming chairs are the most effective solution, offering the best value for money. These chairs are good for your back. They make a difference with advanced ergonomics and thick, luxurious padding. Gaming chairs are comfortable, affordable and effective.
What's more, using one will help you to develop — and maintain — good posture. With good posture comes many benefits. These include more energy, boosted confidence and greater output at work.
The second thing needed is the same healthy lifestyle approach that pro gamers use. When away from the computer, make sure to get adequate rest, exercise and nutrition.
Combined, these two tactics will supercharge your wellness. The gaming chair is key.
Are you looking for a performance edge over your peers? A PC gaming chair will let you sit longer, work smarter and be more productive.