Expensive Herman Miller ergonomic chairs come with a robust "synchro-tilt". That feature angles the seat in proportion with the backrest as you recline. Ergonomic chairs without synchro-tilt cost a lot less, with otherwise the same features. This article reviews the best conventional tilt task chairs currently available for sale.
Conventional tilt task chairs support a healthy upright posture while sitting. An upright sitting posture is what most people use while doing demanding tasks at a computer. Gamers, programmers, and others doing intensive computing can gain from using these chairs.
All models on this list have a few features in common:
Seat: adjustable height and depth.
Lumbar support: depth-adjustable, or height and depth adjustable.
Armrests: at least 2D adjustable.
Backrest recline: from 100° to at least 130°
Conventional tilt ergonomic chair reviews
Chairs in this review are listed from the cheapest to the most expensive.
Sidiz T50
Amazon price: $359.00
Ranked: #1
The Sidiz T50 is the cheapest model on this list. It's the smaller cousin of the Sidiz T80, a luxurious synchro-tilt model.
The T50 has the same features as the T80, minus the synchro-tilt. For that omission, you save over $300.
Features
The Sidiz T50 comes in a few variations. The model listed here includes a headrest, adjustable lumbar support, and adjustable armrests.
Backrest: recline and lock in five positions between 90° and 115°.
Lumbar support: height and depth adjustable.
Headrest: included with this model.
Upholstery: breathable mesh.
Seat: height and depth adjustable.
Armrests: 3D adjustable (up/down, forward/back, angled left or right)
Warranty: 30-day money back guarantee; 3-year warranty.
Sizing
Sidiz lists the T50 with a maximum weight capacity of 250 pounds. They don't include a height rating.
Seat width & depth: 19.3″ (W) x 18.3″ to 21″ (D)
Backrest width & height: 19.1″ (W) x 23″ (H)
Seat height: 15.7″ (W) x 18.7″ (H)
ChairsFX size rating: 5'3″ to 6'0″; up to 250 pounds
Buying advice
The Sidiz T50 has the same adjustable features as other chairs, a solid warranty, and the lowest price.
If you're not impressed by the world's best esports gaming chairs, the Sidiz T50 is a viable alternative to consider.
Cougar Argo
Amazon price: $499.99
Ranked: #2
The Cougar Argo is a new product from an established gaming brand. Cougar started out in 2007 as a producer of PC gaming hardware and peripherals. They launched a gaming chair division a few years ago with a handful of racing-style gaming chairs.
The company bills its new Argo chair as the "evolution of the gaming chair revolution". Does it deliver an evolution? ChairsFX investigates.
Features
Backrest: rock, recline, or lock at angles between 105° and 130°.
Headrest: adjust the angle; adjust up or down; slide out of the way.
Depth adjustable seat: the 20″ seat can adjust forward or back with a range of 2.4″
Armrests: 3D adjustable (up/down, forward/back, angled left or right)
Warranty: 2-year warranty on the aluminum frame and base.
Sizing
The Argo has a weight capacity of 330 pounds. Cougar doesn't include a size rating.
Seat width & depth: 19.6″ (W) x 16.5″-18.5″ (D)
Backrest width & height: 19.5″ (W) x 22.4″ (H)
Size rating: 5'3″ to 6'0″; up to 240 pounds
ChairsFX size rating: combined, the height of the backrest and neck support covers 29.72″. The seat width (and space between the armrests) is 20″. These dimensions are a suitable for slim figures between 5'6″ to 6'0″. People with extra-wide wide hips or thick legs may find too tight a squeeze into this chair.
Buying advice
The Cougar Argo doesn't deliver a revolution. Rather, it offers similar ergonomic features as the other chairs in this review. But given the price and features, it's a great option, revolution or not. Standout features include the striking orange and black frame, depth-adjustable lumbar, and an included head support.
Buy the Cougar Argo on Amazon $499.99
To learn more about this chair, check out our detailed Cougar Argo chair review.
NeueChair (Secretlab)
Direct buy price: $549
Ranked: #3
Neue (pronounced 'noy-yuh') means 'new movement' in German. It's also the name of a Secretlab subsidiary launched in late 2018. The NeueChair is its first product release.
This model is tailored for productivity. It works fine as a gaming chair but isn't ideal for napping or watching movies. Rather, for upright working, it delivers a crisp computing experience.
Features
NeueChairs have three ergonomic keys. First is a backrest recline with angle-lock and tension functions. That lets you angle the backrest as a rocker or at a fixed angle. Second is a height and depth adjustable lumbar support. This offers the same caliber of lumbar supporting precision as the Herman Miller Aeron chair.
The third key is an adaptive mesh fabric that ties the whole thing together. NeueMesh is a 3-layer mesh that combines top-grade polyester fiber and DuPont yarn. This material is optimal for long hours of sitting: breathable, comfortable, and durable.
On top of the ergonomic features are some slick enhancements. For instance, under each armrest is a Controlshift lever. Press the right lever to adjust the height of the chair. Press the left to lock or unlock the backrest tilt. Once you get used to this, it becomes very convenient to slip your fingers under the armrests to adjust.
Summary of features

Armrests: 2D adjustable (up and down, side-to-side).
Seat: height and depth adjustable.
Backrest: recline from 85° to 130°; tilt tension and angle lock.
Lumbar: height & depth adjustable
Warranty: 12 years on the frame; 5 years on components; 3 years on armrests, casters & gas lift.

Sizing
The NeueChair is for average adult sizes. It's a smaller seat than the Omega, Secretlab's smallest gaming chair. But the NeueChair has a flat seat, while the Omega has ridged edges. The flat seat allows a wider spread of the legs, resulting in a roomier fit.
Seat width & depth: 19.6″ (W) x 16.5″-18.5″ (D)
Backrest width & height: 19.5″ (W) x 22.4″ (H)
Size rating: 5'3″ to 6'0″; up to 240 pounds
Buying advice
While sitting, the NeueChair will keep you in position for healthy computing. There's enough play in the backrest to keep your body moving. At the same time, the adjustable lumbar ensures a perfect fit for your body. Given the price, warranty, and company behind the product, the NeueChair is a solid option to consider.
Vertagear Triiger 350
Direct buy price: $799 ($999 with neck support)
Ranked: #4
Vertagear is a gaming chair company based out of Los Angeles. The company released its first gaming chairs in 2015. A year later, they came out with a line of ergonomic task chairs to complement their collection.
The Vertagear Triiger 350 has the same features as the other models, but a higher price tag. Is it worth the extra money? Let's investigate…
Features
The keys to the back support on the Triiger 350 are the adjustable lumbar support and tilt-locking backrest. You can adjust the height of the lumbar and also its angle to alter the depth. Leaning back with the backrest at a locked angle ensures a crisp upright working posture.
You can also enable the tilt-lock or adjust the height of the chair using 'triigers' under each armrest. These triggers take a while to get used to — most chairs stash the controls under the seat. Once you get the hang of it, it's a lot of fun shifting things while you work. For instance, you can lock the seat at an angle while cracking out an intense burst of work. Once you're done, flick the left lever under the armrest to unlock the seat and enable rocking.
Adding a luxurious finish are premium calfskin leather accents on the seat and backrest. Those fit between bands of reinforced DuPont TPEE mesh. This material is breathable with an elastic quality engineered to retain its shape for years.
Summary of features
Clever extras start with height and recline controls using levers under each armrest. Another standout is the 65mm Holtron Hub-Less Casters. These come with rubber casters in the cavity that dampen noise down to almost zero.
Armrests: 2D adjustable (up and down, side-to-side).
Seat: height and depth adjustable.
Backrest: 90° to 123° recline with 22 lockable positions.
Lumbar: height & depth adjustable.
Warranty: 2 years on parts, 10 years on the frame.
Sizing
Triiger 350 dimensions resemble those of the NeueChair. It's for average sizes, but with enough room for those with wide hips.
Seat width & depth: 19.7″ (W) x 18.5″ to 20″ (D)
Backrest width & height: 18.3″ (W) x 21.4″ (H)
Size rating: 5'5″ to 6'2″; up to 330 pounds
Buying advice
There's also a Triiger 350 Special Edition. That model costs $200 more than the stock Triiger 350 chair. It comes with a headrest, red calfskin leather accents and brilliant red paint on the back.
Conventional tilt chair pros and cons
This section summarizes what's to like and dislike about conventional tilt chairs.
Pros
Minus synchro-tilt, conventional tilt chairs have similar features as pricey Herman Miller chairs. But conventional tilt chairs are several hundred dollars cheaper.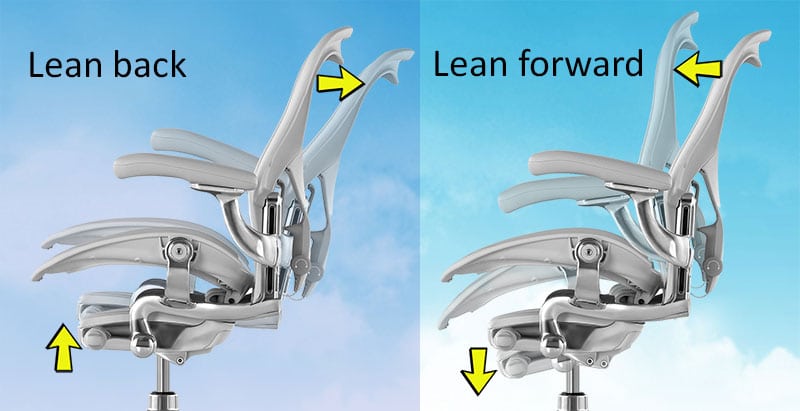 Testing out any of these chairs reveals synchro-tilt as luxurious but unnecessary. Without that feature, these chairs are still super comfortable. One reason is that all models have breathable mesh seats and backrests that always stay cool.
Another is the quality of the back support. All four models support good posture while allowing your seated body to move in the chair. In that sense, they do the same job as chairs $1000 more expensive.
When you need to refresh, simply recline back or forward a few degrees. Such small changes are all you need to activate new muscles while putting tired ones to rest.
Cons
The biggest drawback to conventional tilt chairs is that they force you to sit upright at all times. All models have limited recline that will always keep you in a working position.
When sitting down for work all day, leaning into a deep recline is a nice way to take a break. When using a conventional tilt task chair, you won't get that chance.
It's a minor quibble, but one to consider before buying one of these chairs.
Conclusion
The best ergonomic chairs from top companies like Herman Miller and Steelcase can cost over $1000. A big part of the high price is the synchro-tilt feature. That angles the seat up at a 2:1 ration as you deepen the backrest recline. It's a cool feature to have, but an expensive one.
Minus synchro-tilt, the four options listed in this guide deliver the same ergonomic features as the best chairs.
The price of these chairs is in a similar range as the world's best pro esports chairs. So, if you're looking for high-end ergonomic sitting support, there are three strong options:
Synchro-tilt task chairs: top models include the Herman Miller Aeron, Steelcase Gesture, and Sidiz T80.
Pro esports gaming chairs: Secretlab, Maxnomic and other brands offer chairs with spacious dimensions, multifunction tilt-lock, 4D armrests, and dense cold foam padding.
Conventional tilt ergonomic chairs: the Sidiz T50, Cougar Argo, NeueChair and Triiger 350 offer great features and affordable prices.