Even if not a fan of gaming chairs, you should appreciate the effects they've had on the seating industry. Many traditional office chair makers now offer comparable ergonomic features. This article reviews a new breed of big and tall office chairs.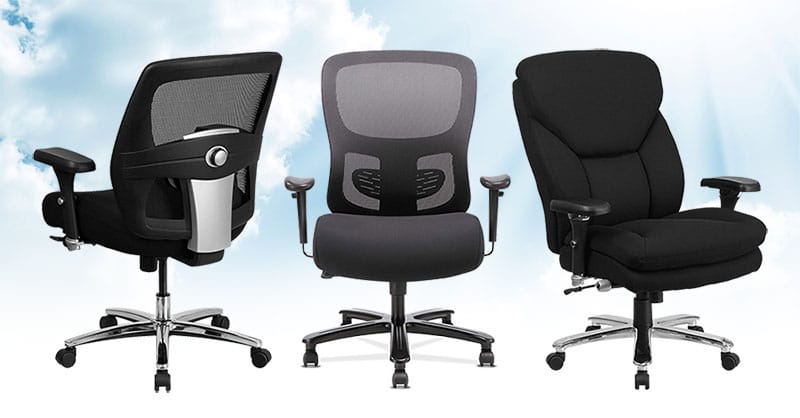 Traditional office chairs have fixed backrests, fixed armrests, and adjustable seat height. Gaming chairs exceed office chairs with a reclining backrest, adjustable spine support pillows, and adjustable armrests.
A new breed of big and tall office chairs fits between the two feature sets. These are more expensive than traditional office chairs but cheaper than pro PC gaming chairs.
Best big & tall ergonomic office chairs
At present, there are only a handful of models offering adjustable armrests and lumbar support. Models are listed from most expensive to cheapest. All except the cheapest option come with solid warranties from major office chair brands.
Big and tall gaming chair alternatives
For extra-large users, the best alternatives are big and tall gaming chairs. The best models cost between $529 to $229 and come with exceptional features. Those include tall reclining backrests, 4D adjustable armrests, and multifunction tilt-lock. All gaming chairs also come with height-adjustable neck and lumbar support pillows.
If you're not a fan of gaming chairs, there is also a range of office chairs to consider. At the top of the list are pricey ergonomic task chairs from Herman Miller, Steelcase, and other top brands.
Note that none of these model are specialized for big and tall users. If you have extra-wide proportions, all of these models may be too small for you.
Conclusion
At present, there are only a few big and tall ergonomic office chairs available. Models often go out of stock, replaced by new ones.
On the bright side, heavyweight computer users seeking potent posture support now have more choices. If you're not a fan of gaming chairs, these big and tall models are a great ergonomic alternative.