Internet computing became an essential part of office culture in the 1990s. Then, ergonomics were terrible and back problems were common. Today, most savvy professionals use ergonomic office chairs. These support good sitting posture, improve wellness and boost productivity. So which ergonomic office chairs are best for your back? What models yield the best productivity and wellness benefits? This article summarizes the best ergonomic office chairs available for sale in 2020.
Herman Miller released the world's first ergonomic office chair in 1994. At the time, Internet computing wasn't yet ubiquitous — some still worked with pen and paper. As a result, the Herman Miller Aeron was dubbed an "ergonomic task chair". The name implies that these chairs would support good posture while doing all types of seated tasks.
What is an ergonomic task chair?
An ergonomic task chair is also called an ergonomic office chair. It is an office chair with adjustable parts. Its parts support good posture and comfort over long periods of sitting.
The best ergonomic office chairs have these as standard features:
Height: adjust the height of the seat and the backrest.
Seat depth: adjust the depth of the seat forwards or backward to match the nuances of your body type.
Back adjustments: adjust the angle of the backrest or the seat. You can also adjust the height and depth of the lower back support.
Arm support: armrests offer 3-directional or 4-directional adjustability. That gives you many options to support your arms while computing.
Head and neck support: some chairs offer such good back support that you don't even need neck support. The ones that do offer neck supports let you adjust the height and angle.
The adjustable features of ergonomic office chairs yield many benefits. When you sit in a good-quality task chair, the first thing you will notice is how comfortable it is. Over the long term, expect improvements in your posture, energy levels, and productivity.
That is because ergonomic chairs are the very best chairs for your back. Sitting in one will reduce pressure on your hips while promoting dynamic sitting. That nurtures strong core muscles that help you develop healthy posture habits.
Best mainstream ergonomic office chairs
These three ergonomic chairs are by far the most established and popular in the world. They are also the most expensive. Browse these models to get an idea of what the very best ergonomic chairs have to offer.
Best alternative ergonomic task chairs
This section looks at the best alternative task chairs on the market. This took a while — there are tons of models offering vague features for ridiculous prices.
The following three models are (in our opinion) the best in their price ranges. The first model is a viable alternative to the big three from Herman Miller and Steelcase. The other two are decent chairs priced in the same range as the world's best PC gaming chairs.
Best office gaming chair alternatives
When Internet computing arose in the early 90s, task chair makers stepped up. Also around that time, the Starcraft craze sparked the rise of the global esports boom.
As gamers played longer, back issues became common. For two reasons, task chair makers failed to align with this market. First, the average gamer can't afford to spend over $1000 for a chair. Second, super-precise "intelligent" mesh and other gimmicks were too fancy.
In 2006, PC gaming chairs arose to fill the gap. Like ergonomic task chairs, gaming chairs are adjustable. On pro models, you can adjust the recline, seat tilt, lumbar support, back support and armrests.
Unlike conservative task chairs, gaming chairs come in a range of colors and styles. They're also insanely comfortable and good for your back.
So what's the difference between a task chair and a gaming chair? For one thing, gaming chairs are a lot cheaper. For another, gaming chairs offer effective but less advanced back support.
Below are three popular gaming chairs used by top pro esports players. These models stand up very well against ergonomic task chairs in the same price range.
Conclusion
On Google Trends, the search term "work from home" is now more popular than it has ever been. Working from home has become essential for many.
In a home office setup, having a good ergonomic chair makes a huge difference. A good ergonomic chair will support good posture and improve your well-being. As a result, you will be able to sit longer, work harder and be more productive.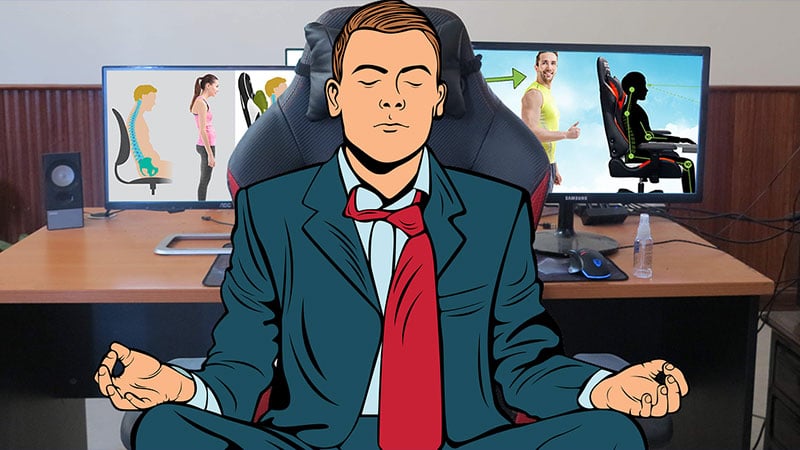 If new to working from home, check out our home office setup guide for support.