F
lexispot makes home office furniture for health-conscious desk workers. One of its latest releases is a motorized adjustable bed base. Flexispot touts its adjustability as useful for better sleeping. But paired with an Xbox, this becomes the ultimate bed for console gamers. Buyer beware: if you play video games in this thing, you might not leave your bedroom for weeks!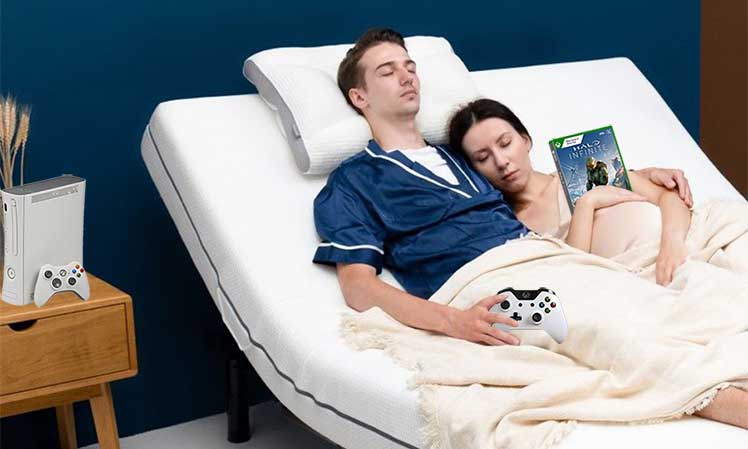 Before the Flexispot bed base, there were two ways to play console video games in a bedroom. First, bring in a desk and gaming chair. Second, play video games in bed using pillows to prop yourself up.
The first option clutters your bedroom and makes you feel like you're in an office. The second can ruin your back. Extended gaming in bed will crane your neck, flatten your spine, and often leave you feeling sore!
Flexispot Adjustable Bed Base Details
This queen-sized (80″ x 60″) bed base is compatible with various mattresses and outer bed frames. It has adjustable legs that you can set at 3, 6, or 9 inches high.
An included wired remote has two buttons. Press the top one to angle the bed from 0-60°. To seal the deal, it also comes with an impressive 10-year warranty.
Adjustable Bed Base EB011 Specs
Dimensions: 80″ x 60″
Base height: 3, 6, or 9 inches
Back angle range: 0-60°
Controls: wired 2-button device
Warranty: 10 years
Physical Benefits of a Reclining Bed
For bedroom gaming, pop the bed's back angle up to its full 60 degrees. That will support your back in a relaxed recline with no strain on your neck.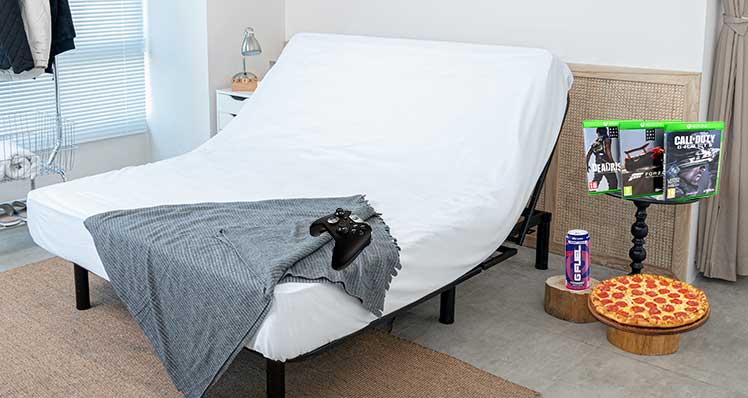 Note that Flexispot does not market this as a gamer's bed (that's my idea). Rather, the Flexispot person I spoke to noted that resting in a reclined position has proven health benefits.
Indeed, according to Healthline(1), sleeping in a recline keeps your trunk upright and your airways open. In some cases, that's a better option than sleeping flat:
Reduce heartburn: acid reflux leaks stomach acid into the esophagus. This causes heartburn. Sleeping in a reclined position gets help from gravity to keep acid down in the stomach(2).
Reduce sleep apnea: this condition relaxes the throat to the point of blocking airways. It causes snoring, poor deep sleep, and fatigue during the day. One study found that a 7.5-degree elevation significantly improved symptoms(3).
Pregnancy support: most doctors recommend that pregnant women sleep on their side. Sleeping on the back causes high blood pressure and poor blood circulation for the fetus. If that's not comfortable, sleeping in a reclined position works well.(4).
Downsides of Excessive Reclining in Bed
Humans are designed to sleep laying down flat on their back or side. Beyond the health issues mentioned above, regular sleeping in a reclined position isn't ideal.
For a start, extended sleeping in a recline leads to long periods with bent knees. That tightens hips, calves, and hamstrings(5). Over time, that causes imbalances resulting in very bad posture.
On top of that, bent knees motionless for hours promotes deep vein thrombosis. This is a clot that can form in the legs with restricted blood flow.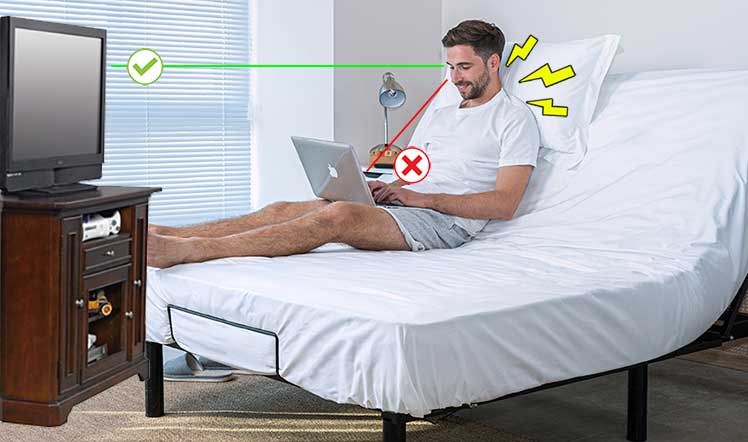 This is why I tout the EB011 Bed Base as the ultimate bed for console gamers. With a TV set at the right height, you can game comfortably in this bed for hours — without having to crane your neck.
In fact, for short bouts of gaming, reading, or journal writing before sleep, it's a very useful bedroom accessory!
Conclusion: Best Furniture For Console Gamers
The ultimate PC gaming setup includes a desk, gaming chair, and computer screens. In my opinion, this is also the best option for Xbox, PlayStation, and other console gamers.
A desk + ergonomic chair combo forces you to sit upright with a healthy posture while gaming. However, unlike PC gamers, console gamers can also connect to a television.

In a living room, that means sitting on the couch or the floor. Sofas provide notoriously bad posture support. Sitting on the floor distorts and stresses muscles.
The Flexispot EB011 bed base provides a better option that you use in the bedroom. Put on your pajamas, angle the backrest, and enjoy healthy gaming without strain. As a bonus, if you suffer from sleep apnea or acid reflux, reclined sleeping helps.
EB011 Base From Flexispot $299.99
Footnotes